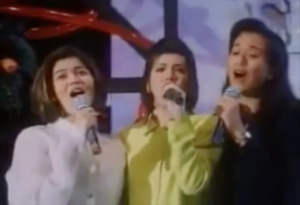 One of the most antipated films of 1996, Do Re Mi the movie stars no less than Donna Cruz, Regine Velasquez, and Mikee Cojuangco- the country's hottest stars -- as three friends who have two things in common - love for singing and having fun. Synopsis: Coming from three different family backgrounds, the girls took a chance and struggled to get their "singing career break" - going to Japan. The movie is directed by Ike Jarlego Jr., and produced by NEO Films (A VIVA films subsidiary).
Watch the low res intro (40 seconds):
Copyright NEO Films. All rights reserved. No copyright infringement intended.
---
Some scenes from the movie: