The DonnaCruz.com website started in 1996 as a fan site for Donna Cruz, started by a die-hard Donna Cruz fan, Cheryl Fuerte. It was hosted in Geocities in 1996. In 1997-1998 the site URL was upgraded to "donnacruz.home.ml.org", and Donna Cruz has recognized this to be her official website by then. Donna started communicating with her fans through the guestbook in 1997, and from the messageboards in 1998. In July 1999, the website's URL was officially DonnaCruz.com, and this has been one of the longest-running, and multi-awarded celebrity website in the Philippines since the '90s. This website has won several awards from the Philippine Web Awards:
WEBSITE AWARDS
Best Website Award at the 4th Philippine Web Awards in 2001
Best Website Award at the 2nd Philippine Web Awards in 1999
People's Choice Award at the 1st Philippine Web Awards in 1998 (1998 Webby Awards)
AWARDS NIGHTS IMAGES
-More info about the
Philippine Web Awards
-More pictures from the
Philippine Web Awards Flickr Gallery
A TRIP DOWN MEMORY LANE
If you're in the mood, take a trip to the 1998 version of the Donna Cruz website:
1998.donnacruz.com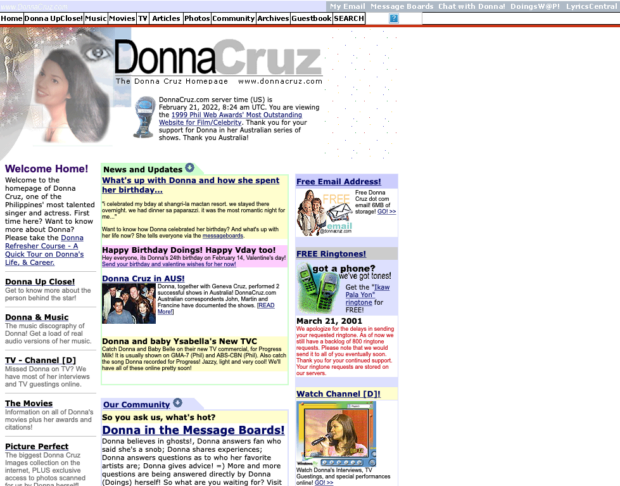 ---
If you have any comments or feedback please contact the webmaster below:
WEBMASTER
Cheryl Fuerte cherylfuerte@protonmail.ch Tel: +1 (858) 633-3333
ACKNOWLEDGMENT of COPYRIGHTED MATERIALS
All content, images, videos, sounds, written content, and everything else contained in this website are being used in compliance with
Section 107
 of the 
Fair Use Copyright Law (United States)
and 
Section 185 of the Intellectual Property Code of the Copyright Law (Philippines)
.