ALL MUSIC > HULOG NG LANGIT
HULOG NG LANGIT
Viva Records (1999)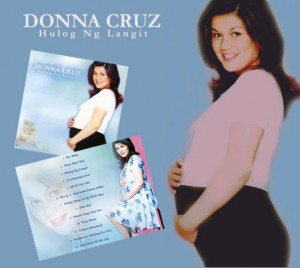 Released September 1999, this album expresses all the feelings that Donna has being an expectant mother. Songs in this album have been specially chosen by Donna herself. This album has been awarded Gold Record.
Donna also sang the Disney theme "The Story of my Life" (by Alan Menken) in this album, along with a very special song rendition of "Someone's Waiting for You" for the baby that's currently in her tummy (who turned out to be Baby Belle!).

Donna sometimes fondly "renames" the song "Ikaw Pala 'Yon" to "Ikaw Pala Yong" and dedicates this song to her husband Yong Larrazabal III. Included in this album are a some special tracks such as "You and I" (a duet with Janno Gibbs) and a very nice rendition of "I Only Wanna Be With You" (yes that song popularized by Vonda Shepard as one of the theme songs in the 90s hit TV series 'Ally Mc Beal').

TRACK LISTING:
For Baby
Ikaw Pala 'Yon
Hulog ng Langit
Everlasting Love
All of my Life
You and I (duet with Janno Gibbs)
I Only Wanna Be with You
Sino Ba?
Narito ang Puso ko
Ever Since
I Have Dreamed
Someone's Waiting for You
The Story of my Life
PLAY ALBUM ON SPOTIFY:

(You need the Spotify app to play the songs.)