Donna Cruz in Sydney, Australia! November 25, 2000 Written by John Cook
Donna and Geneva Cruz had their first concert in Sydney last night. A young crowd (I was there to help increase the average age) enjoyed their performance. The venue, Planet Hollywood could only hold a relatively small crowd - but that made the concert more intimate than the average show.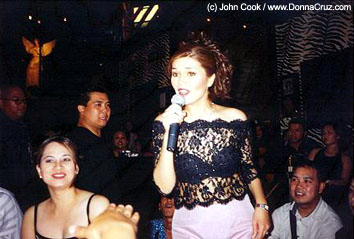 After the local acts, Donna and Geneva sang the Let's Get Loud duet. Geneva then performed solo starting off with her rendition of I Can't Get No Satisfaction then singing a medley of her hits. Geneva has a powerful voice and gave a performance full of action. (Luckily for the audience she did not get me up on stage to dance).
Donna started off her set with Only Me and You / Ikaw At Ako combination. Donna has the sweetest voice ever. She was very natural on stage - to me she was very happy to be on stage singing and entertaining. Donna even gave me a wave, which made me feel as if I was in the clouds.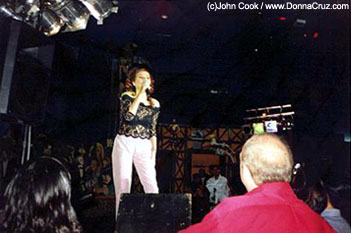 Donna continued her set with a song from Jewel - Foolish Games. Following was Smile. Later on was Habang May Buhay - during which Donna ventured out into the audience.
As she came near to us - Donna handed the mike to my wife, Rowena to sing a couple of lines. (Donna had to give Rowena a mini arm wrestle to get back the mike).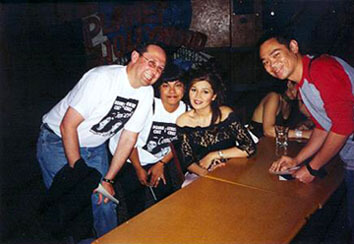 I'm pleased to say that Donna gave us all a mention. She explained about her webpage and invited the audience to view and join up. Donna even announced members who attended last night - Martin, Queenie and myself.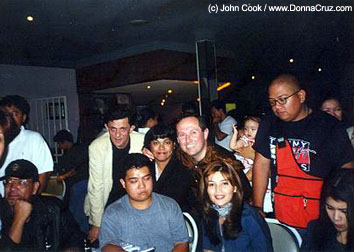 (Inset: Top, L-R: Martin C.[in offwhite coat], Rowena and John.) Donna and Geneva finished their show with a duet of Silent Night. What can I say - Donna was simply wonderful. It was my highlight of the year - even better than the Olympics - talaga! We are off to the Whitlam Centre for tonight's final show. My only request - Donna to sing Ikaw Pala Yon.
---
About the author
John Cook
is one of the original pioneering members of DonnaCruz.com who regularly contributes and participates in our website activities. John is married to Rowena and they (with the kids) are living in Australia.