A Chat session with Donna Cruz and fans
Date : 2004-03-21 21:00:00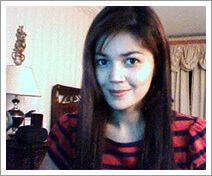 After a long while, Donna chats online again with her fans! The chat lasted — believe it or not, 5 hours – until 2:30am of March 22nd! That's how fun Donna is – she chats to death with her fans til dawn! About 40-50 unique chatters came in and out of the chatroom during the said period, asking Donna a lot of questions, from family, lovelife, showbusiness, and some even asked for advices! Read the transcript below and relive the chat experience once more. Thanks to everyone who has participated. Thanks to JayDJ of TitikPilipino.com for promoting this chat event.
---
Chat begins
Session Start: Sun Mar 21 20:37:48 2004
Session Ident: #doingschat
* Now talking in #doingschat
* Topic is 'Chat with Donna – March 21, 2004 9PM'
* Set by inday on Sat Mar 20 23:14:20
* ChanServ sets mode: +o inday
[doings] 2 ang anne natin dito. isa taga cebu and yung isa sa cali 🙂
[xenn] mamya nalang 🙂
[tsinelas`] inday si cheryl?
[inday] hello guys
[doings] inday!
[xenn] hello inday
[tsinelas`] ay ate doings.. taga cebu din ako ah.
[babyanne168] im from cebu:)
[jezika] hi inday 
[xenn] can't view pa ur webcam doings
[doings] ayyyyyyyyyyy haha! idle pala sorry teka
[xenn] dmi ata nag request hehe
[tsinelas`] ay ano po yahoo id ni ate doings?
* inday sets mode: +o doings
* ChanServ sets mode: -o doings
[babyanne168] ate doings.. pag bisaya naman.. gamay lang.. hehehe
[xenn] doingschat04
[xenn] bisaya nlang ta ani
[babyanne168] bitaw, maypa xenn..
* Disconnected
Session Close: Sun Mar 21 20:43:38 2004
Session Start: Sun Mar 21 20:46:46 2004
Session Ident: #doingschat
* Now talking in #doingschat
* Topic is 'Chat with Donna – March 21, 2004 9PM'
* Set by inday on Sat Mar 20 23:14:20
[Kingkong8] okie lang! eto.. kaw?
[tsinelas`] wb inday
[Kingkong8] ay hello pala tsinelas!
[xenn] wb
[tsinelas`] hi din KK!
[babyanne168] hi ate inday!
[inday] thanks!
[Kingkong8] hi ms.cheryl!
[inday] nadidisconnect ako parati, sorry ha. kwentuhan lang kayo
[jezika] inday! hi
[Kingkong8] ganito pala chat.. nakakakaba!
[xenn] ok
[babyanne168] ok lang din.. hows studies?
[tsinelas`] naks.. napaka formal ni KK ms. cheryl..
[inday] oo nga bakit may ms. pa
[jezika] cheryl walang date ngayon?
[Kingkong8] tsinelas kasi nahihiya ako. babyanne- katatapos lang ng sem.
[inday] what do u mean jezika?
[Kingkong8] hehe ayaw nyo ba ng ms.? Ma'am na lang! hehe
[tsinelas`] actually dpat nga eh.. ms. cheryl.. cute nman
[tsinelas`] lol
[babyanne168] yeah.. sembreak uli.. mag summer class ka chin?
[xenn] nice site inday
[inday] inday na lang
[tsinelas`] ayaw ata ni ate inday.. ms. cheryl
[jezika] cheryl date with syota mo?
* inday: you're not channel operator
[Kingkong8] wala po me summer class.
[xenn] i mean yung website mo ganda din
[babyanne168] ayy.. sorry! hi ms.cheryl:)
[jezika] king blue? sakit sa mata
[Kingkong8] ay sige, pwede ate inday na lang? feeling ko bastos ako pag walang ate.
[tsinelas`] oo nga
[babyanne168] chin, bat may po?! lols
[xenn] kc younger sya
[Kingkong8] ay sorry.. sige walang ng po. SORRY po. ay ano ba yan!
[tsinelas`] ehehheh
[Kingkong8] masakit pa ba sa mata(lols)
[jezika] che thanks for setting up the chat line!
[tsinelas`] kau ba.. nagchachat sa undernet or dalnet?
[inday] no prob!
[xenn] k na king
[inday] 🙂
[inday] brb
Session Close: Sun Mar 21 20:50:20 2004
Session Start: Sun Mar 21 20:50:28 2004
Session Ident: #doingschat
* Now talking in #doingschat
* Topic is 'Chat with Donna – March 21, 2004 9PM'
* Set by inday on Sat Mar 20 23:14:20
* ChanServ sets mode: +o inday
[tsinelas`] bkit kaya sya iyak
[tsinelas`] ngekk.. wb!?!
[xenn] iyak mga babies ngayon
[tsinelas`] ehehehe
[Kingkong8] ganda nakashades pa ang smiley ni ate inday.
[xenn] 🙂 akin din
[tsinelas`] cha chat kasi ang mga mommy's
[xenn] summer eh buti pa kyo jan
[tsinelas`] lolz @ KK
[babyanne168] iyak din bb mo xenn?
[inday] ah ganun ba? automatic yata ang shades sa icon ko
[Kingkong8] green na lang di ko kasi mabasa ang tinatayp ko.
[xenn] yeah ayaw talga pa iwan
[tsinelas`] bkit xenn? di ba summer sau?
[xenn] spring
[tsinelas`] lol@ KK
[tsinelas`] d2 din spring..
[tsinelas`] asan ka ba xenn?
[xenn] france
[doings] backkkkkkkkkkkkkkkk
[Kingkong8] i've always wanted to ask.. ano po ba ang lol?
[doings] grabe sorry pinatulog ko na si cian
[babyanne168] welcome back ate doings
[tsinelas`] actually summer na sa cali.. skip sa spring.. ang init..lolz
[Kingkong8] hi ate doings!
[xenn] dali nmn matulog pano ba?
[tsinelas`] lol= laugh out loud po KK
[doings] pa dede lang yun tulog na super bait pero pag nagloko matataranta ka
[Kingkong8] oic. trivia sa akin yan.
[tsinelas`] ehehhe @ ate doings
[xenn] akin ayaw m2log 🙂 super likot grabee iiyak pa wawa nmn
[babyanne168] bat namn matataranta?
[jezika] xenn do u sleep with ur baby
[doings] grabe mag tantrums super non stop pag iyak nakakatense
[babyanne168] kingkong, tayo lang ba walang mga babies dito?
[Kingkong8] oo nga parang ganun na nga
[xenn] sleep w/her first din pag tlog na sya transfer na
[jezika] sleep na ba sya?
[doings] uy wag muna isipin yan babies sa inyo ha babies pa kayo
[tsinelas`] lol
[Kingkong8] hehe 
[babyanne168] lolz.. ganun pala talaga feeling pag iyak ang baby:)
[tsinelas`] hirap may baby.. di ba ate doings?
[Kingkong8] pero nakakita na'ko ng inilalabas na baby..
[doings] asarap na mahirap 🙂
[babyanne168] heehee.. oo nga! hoi chin ha, babies pa tayo..
[tsinelas`] ehehhehe
[babyanne168] ate doings, mag bisaya ka namn.. hehe\
[Kingkong8] ate doings, mahirap siguro manganak noh?
* Disconnected
Session Close: Sun Mar 21 20:58:57 2004
Session Start: Sun Mar 21 21:00:03 2004
Session Ident: #doingschat
* Now talking in #doingschat
* Topic is 'Chat with Donna – March 21, 2004 9PM'
* Set by inday on Sat Mar 20 23:14:20
* ChanServ sets mode: +o inday
[tsinelas`] wbb inday
[tsinelas`] nawala si KK
[babyanne168] hahaha.. ganda din daw paa ni ate doings? bat naman paa lang?]
[inday] hindi siguro makaconnect ang iba
* Guest955 has joined #doingschat
[tsinelas`] lolz
[inday] nagfufull ang server connections
[inday] i'll just check
[tsinelas`] ganun..
[jezika] daghan na
* jezika has quit IRC (Quit: Bye bye)
[tsinelas`] kahapon pa ako d2 ah.. lolz
[tsinelas`] ngekk nagdc
* jezika has joined #doingschat
[tsinelas`] wbbb
[Guest955] hello 2 all
[tsinelas`] hi guest
[inday] hi guest
[Guest955] thanx ate inday
[xenn] hello guest
[xenn] who s guest
[inday] u can change your nick by typing /nick newnickname
[Guest955] ok thanx ulit
[xenn] m still using d same nick n mssg. board pra familiar
[xenn] what tym najan tsinela?
[tsinelas`] 5am
* loree has joined #doingschat
[tsinelas`] gumising lang tlaga ako ng maaga.. para maka chat lang si ate doings.. ehhehhe
[xenn] morning pa pla
[tsinelas`] hi loree
[tsinelas`] yeah
[inday] welcome loree
[babyanne168] hi loree
[tsinelas`] sunday morning..
[loree] hi to all of you
[xenn] hello loree
[xenn] nice name
[loree] thanks inday
[loree] m here in canada and it's 8 am here 😀
[tsinelas`] lol
[loree] where's our idol na
* _visitor has joined #doingschat
[xenn] gud morning
[xenn] brb sya
[loree] nasa pinas ka ba xenn?
[loree] ic
[xenn] nope n france
* Friendster has joined #doingschat
[loree] ic, what time dyan xenn
[tsinelas`] hi friendster.. heheh
* blueraindrops has joined #doingschat
[xenn] 2 pm
[tsinelas`] hi vistor.. oks sa nick ah
[tsinelas`] ay bumalik si bluerain
[Friendster] hi tsinelas
[loree] how can i view doings using ym btw
[xenn] hello freind
* rose has joined #doingschat
[loree] so gud pm xenn 🙂
[tsinelas`] hi rose..
[blueraindrops] helo everyone…
[babyanne168] ey, to all friendster users, add nyo ko.. anne_honey28@yahoo.com
[loree] hi rose
[blueraindrops] ala pa si donna!
[blueraindrops] 🙂
[xenn] gud am sayo too
[tsinelas`] anne ka din??
* Guest955 has quit IRC (Quit: Bye bye)
[tsinelas`] lolz
* vondervall has joined #doingschat
* sweetck_23 has joined #doingschat
[rose] hello loree
[xenn] add sa group cherylfuerte then add doingschat04
[babyanne168] im anne tsinelas.. ate doings said kanina 2 yung anne dito..
[tsinelas`] hi sweetck and vondervall
[vondervall] hi
[inday] haha sorry doings got lost
[sweetck_23] hi tsinelas
* Guest379 has joined #doingschat
* rose is now known as Guest86155
* inday says hi
[xenn] dmi na ntin
* inday says use a more descriptive nickname so that IRC wont change your nickname
[tsinelas`] ako anne din @ babyanne
[babyanne168] how to add sa group cherylfuerte? diretso ko add doingschat04
[vondervall] anong oras na diyan sa atin
[sweetck_23] hi ate inday
[Guest86155] hello everyone
[xenn] hello inday
* Guest379 is now known as Donna_Doings
[tsinelas`] wbbb
* inday says use a more descriptive nickname so that IRC wont change your nickname; if possible, use firstname_lastname. Thanks! 🙂
[vondervall] what time is it there?
[babyanne168] hi anne@tsinelas
* Donna_Doings is now known as DoingsChat04
[blueraindrops] ayan na ba si donna???
[loree] yeah, how can i add it in ym
[xenn] yes
[vondervall] is the chat over?
[xenn] d real
[tsinelas`] nde pa..
* inday sets mode: +o DoingsChat04
* ChanServ sets mode: -o DoingsChat04
[sweetck_23] ano oras na jan sa atin ngayon?
[blueraindrops] 9:00 na eksakto sa relo ko
[Guest86155] hello
[vondervall] same question!
[xenn] ur webcam s not online donna?
[blueraindrops] si tsinelas kanina pa yan d2 lolz
* inday says doingschat04 is Donna
[tsinelas`] ehhehehhehe @ blueraindrops
[babyanne168] kelangan pana e add yung group cherylfuerte before doingschat04?
[vondervall] hello from brazil
[blueraindrops] hi donna!!
[blueraindrops] 🙂
* jezika has quit IRC (Quit: Bye bye)
[xenn] pano hello sa brazil
[inday] babyanne168: no
[DoingsChat04] hello vondervall 🙂
[tsinelas`] wag ka ingay blue.. binubuko mo ako eh
[sweetck_23] jan nb c donna?
[inday] babyanne168: just add doingschat04
[DoingsChat04] hello again everybody 🙂
* jezika has joined #doingschat
[tsinelas`] wbb jez
[babyanne168] thanks ate inday
[xenn] wb jez
[babyanne168] hi again ate doings..
[DoingsChat04] nalilito yata iba sa nick ko.
* Guest86155 has quit IRC (Quit: Bye bye)
[Friendster] babyanne: wats cherylfuentes?
[tsinelas`] cno taga brazil??
* Guest86155 has joined #doingschat
[inday] haha oo nga doings, palitan mo na lang ng donnacruz2004
[sweetck_23] kaw nb yan doings?
[vondervall] me
[tsinelas`] sya si inday @ friendster
[vondervall] jennifer
[tsinelas`] ahhh… @ VV
[babyanne168] cherylfuerte @ friendster
[vondervall] been here for 4 years
[loree] help! how can i add cheryl fuerte
[xenn] webcam n doings ndi pa online
* DoingsChat04 is now known as Donna_Cruz
[tsinelas`] add sa group ng yahoo id cherylfluerte
[blueraindrops] oo nga
[inday] tsinelas: no
[tsinelas`] then add sa yahoo id si doingschat04
[tsinelas`] yun ang gawa ko eh.. naadd ko na sya
* inday says YOU DON'T HAVE TO ADD CHERYLFUERTE IN YOUR GROUP, JUST ADD A NEW FRIEND IN YAHOO MESSENGER "DOINGSCHAT04"
[vondervall] donna how are the children?
[tsinelas`] ahh yun.. ok
[Donna_Cruz] yan basta pink ang color sa font ako yan hehe 🙂
* Kangkong8 has joined #doingschat
[xenn] ok
[blueraindrops] naks
[babyanne168] hehehe..
[sweetck_23] hi donna
[tsinelas`] ehhe.. girly si ate doings..
* Retrieving #doingschat modes…
[blueraindrops] pink talaga parang cover ng pure donna
[Guest86155] hi donna
[tsinelas`] hi kangkong
[tsinelas`] sarap kumain ng kangkong..
[xenn] donna sleep na cla?
[Donna_Cruz] vondervall: they are fine. 🙂 cian is already sleeping. belle is taking a bath pa heehee 🙂
[babyanne168] ate doings.. pag bisaya na.. gamay lang.. hihi
[Kangkong8] ay kangkong ba na type ko!?
[tsinelas`] ate doings.. musta clinic ni yong?
[Donna_Cruz] hello guest 86155
[Guest86155] kamusta ka na?
[babyanne168] hi kAngkong..
[Donna_Cruz] ay number pa heehee
[loree] hi Doings
[xenn] dmi ko na get na infos dun sa site ni yong ty donna.
[Donna_Cruz] hi loree kamusta?
[Kangkong8] hi uli ate doings!
[sweetck_23] doins gusto makita cam mo ..pano?
[blueraindrops] donna bakit wala na ko makitang album mo sa mga record store… bibili pa naman sana ako ng vcd copies ng mga record mo?
[loree] m ok lang, m here in Canada, sayang sandali lang ako kc punta me sa church
[blueraindrops] i mean cd copies
[Donna_Cruz] xenn super grabe research ko dun alang-alang sa sawa heehee 🙂
[babyanne168] ate doings, wala ka ba shows dito sa cebu?
[tsinelas`] that's nice..@ ate doings
* inday says If possible, lets try to ask doings slower, one by one, so at least she can answer them all. Thanks!
[tsinelas`] labor of love ba..
* inday says Please change your text color to just white, thanks. Donna is PINK, the rest is white, admin (me) is red. Thanks!
[Donna_Cruz] bluerain: i think ganun talaga pag tagal na album. hanap din ako before ng david foster xmas album wala na rin eh.
[loree] but it's worth it Doings kc ganda ng site ni Yong
[xenn] u know kc yung hubby ko yung 1 eye nya crossed
[vondervall] donna maybe you can sell your cds on the site…what do you think?
[Guest86155] miss k na namin kailan ka ulit gagawa ng album?
[loree] korek, labor of love Doings 🙂
[babyanne168] ate doings, how are you na bah? super sexy pa rin? hows ur diet?
[Donna_Cruz] anne: wala eh.
[Donna_Cruz] loree: mismo!
* Kangkong8 has quit IRC (Quit: Bye bye)
* Kangkong8 has joined #doingschat
[tsinelas`] wb KK
[xenn] donna possible ba to buy ur album online?
[Kangkong8] hi tsinelas!
[blueraindrops] kamusta na daw si yong nakauwi na ba sa bahay mrs. larrazabal?
[loree] nakaonline ba ang webcam mo Doings?
[tsinelas`] kasi nde k makita ang tina type ko eh
[Donna_Cruz] xenn not sure kung meron nagsesell. i think alam ni che saan makabili
[Donna_Cruz] teka connect ako
[tsinelas`] ate doings saan ka nagwowork?
[loree] thansk Doings
[Kangkong8] ate donna si ate rox daw hahabol.
* Guest502 has joined #doingschat
[blueraindrops] two years ago nakakita pa ako sa tower records ng lahat ng album mo pati kirot sa puso
[xenn] what im doing nlang is to download
[Guest86155] donna tanong ko lang kung saan pa ko makakhanap ng album mo do re mi nasira kasi yung akin love ko lang ang mga songs nyo dun pati movie
[babyanne168] ate doings, parati ka ba sa clinic ni doc? wers doc nga pala?
[inday] its possible to buy online, there's an online store called www.pilipinosuperstore.com
[xenn] safe ba inday?
[tsinelas`] doremi meron sa www.showbipinoy.com
[jezika] or opmhits.com
[tsinelas`] showbizpinoy.com pala
[Donna_Cruz] o yan na broadcast ko na webcam ko hehehe
[Guest86155] tsinelas thank you
[loree] sa divisoria.com, meron din sila binebenta, i bought dun yung :The Best of Donna":)
[tsinelas`] ganda pa rin ni ate doings..
[xenn] m connecting
[Kangkong8] sayang di ko makita.. wa ko webcam..
[tsinelas`] u dont have to have a web para maiver sya
[Donna_Cruz] anne: hindi palagi. bahay lang ako palagi ayos website
[vondervall] schedule your next visit dito sa rio…i will be happy to show you around. sige na
* inday says, there's no guarantee buying online. 🙂 we all take the risk…
[Guest86155] la kong web cam… di ko kita si gandang donna
[Donna_Cruz] pag may maskip ako na question pa ulit ha?
[tsinelas`] ehehheh
[xenn] yan ok na…………donna what's ur diet secret?
[babyanne168] hi mo ako kay doc ha! hehe..:)
[tsinelas`] asan si yong ate doings?
[Donna_Cruz] guest di mo kailangan webcam para maview ako 🙂
[Guest86155] donna kamusta ang school mo
[tsinelas`] add mo langsi ate doings sa yahoo
[loree] at last nakita ko na rin ikaw ulit Doings 🙂
* inday says even if you don't have a webcam, you just need to download yahoo mesengger, add "doingschat04" as your friend, view her webcam
[Donna_Cruz] teka pakita sa inyo si yong
[Donna_Cruz] hehehehe
[loree] ayan mas malinaw na Doings
[Guest86155] gusto kitang makita miss n kasi talaga kita e!
[tsinelas`] mnawala
[Donna_Cruz] teka nagpapabihis si belle
[loree] nye, nawala ka na naman DOings
[tsinelas`] lolz
[blueraindrops] nagstop webcam ni doings
[xenn] ok
[tsinelas`] cge ate doings
[blueraindrops] ang ganda ganda talaga ni DOnna!!!!
[tsinelas`] ehehhehe
[xenn] yeah prang nakita ko nrin sa personal
* dianne has joined #doingschat
[Guest86155] guys ang saya pala dito! first ko kasi e!
[loree] bakit ganun, pag nasa window ako ng chat
Session, d nagstay yung window ng webcam
[Donna_Cruz] ahahahaha tenkyu beri mats. di naman mashadu bwahaha 🙂
[tsinelas`] ehehhe
* inday says REMINDER: No private chats with Donna, coz she'll have a hard time answering to everyone… just ask everything here in this chatroom. Thanks!:)
[tsinelas`] drag mo s window ng site
[babyanne168] ate doings, marunong kana mag bisaya?
* vondervall has quit IRC (Quit: Bye bye)
[jezika] hi dianne
[dianne] hi
* dianne is now known as Guest73372
[loree] how can i do that tsinelas
[tsinelas`] well actually wag na lang
* inday says use a more descriptive nickname so that IRC wont change your nickname; if possible, use firstname_lastname. Thanks! 🙂
* inday says to change your nickname, type /nick newnickname
* Guest73372 is now known as daryle
[loree] 😀
[Donna_Cruz] hi dianne
[tsinelas`] move mo syasa side then paliitin mo yang size ng site
[xenn] pag nag type ako here ndi nag stay ang webcam
[babyanne168] ate doings, marunong ka mag bisaya?
[loree] thanks tsinelas 🙂
[tsinelas`] np po loree
[babyanne168] i saw belle..
* daryle has quit IRC (Quit: Bye bye)
[tsinelas`] cute ni belle sa pics.. more pics.. ehhehe
[loree] hi belle
[xenn] ty sa pix
[Guest86155] pano ko mapapalitan ang name ko guest to rose
[jezika] ang laki na ni belle
[tsinelas`] ./nick
[newnickanme]
[Guest502] hi
[jezika] kita ko si yong, is he reading
[loree] si belle, pinaghalong yong and doings 😀
* jennifer has joined #doingschat
[tsinelas`] hi jen!
[Guest86155] hello jen
* daryle has joined #doingschat
[loree] d ko nakita si yong, where is he
[jennifer] hello
[tsinelas`] hi daryle
[xenn] cant view here
[tsinelas`] hi bell!!!!!!!!!!!!!
[Donna_Cruz] heehee
[xenn] yun na
[tsinelas`] hi belle pala
[tsinelas`] ay ang cute….
[Donna_Cruz] hindi ako makaconcentrate kanina ang likot ni belle
[daryle] hi
[jennifer] hello sa lahat
[Donna_Cruz] teka hi daw si yong sa inyo
[Donna_Cruz] 🙂
[tsinelas`] mana sa mommy 🙂
[loree] hi yong
[tsinelas`] hi yong!!!!!!!!!!!!!!!!!!!
[daryle] hi yong!
[babyanne168] hi dr. yong!:)
[daryle] 😉
* Joanne has joined #doingschat
[Guest86155] buti pa kayo kita nyo buong pamilya ni donna
* jennifer is now known as Guest41395
[jezika] hi yong chat sad oi
[xenn] hi dr. yong
[tsinelas`] naks.. ang ganda ng smile ni doc..
[loree] Hi Dr Yong
[Joanne] hello!!!
[Guest86155] hi dr. yong
[jezika] chat sad diha oi
[daryle] hi how can i veiw the web came?
[jezika] ayaw palopig
[tsinelas`] doc.. musta work?
[Donna_Cruz] hi sa inyong tanan !
* Donna_Cruz is now known as doc_yong
[tsinelas`] musta trabaho doc?
[daryle] hoi web cam ba
* inday says daryle: download yahoo messenger, add "doingschat04" as your friend
[daryle] 😉
[babyanne168] doc yong, bag.o lagi hairstyle.. i mean different kesa before
[jezika] hi doc
[xenn] hello pud regards sa imo
[jezika] mao na chat jud ha
[doc_yong] stressfull
* Joanne is now known as Guest24429
[tsinelas`] eheheh
[loree] ang dami mo nang achievements Dr. Yong, congrats ha,
[xenn] cute nla
* Guest has joined #doingschat
[blueraindrops] gwapo ni doc! sarap magkasakit sa mata at pumunta cebu!
[jezika] hapit nya mo saseattle doc
[babyanne168] sweet nyo namna ate doings and dr. yong
[loree] :)) @bluerain
[tsinelas`] hehhehe
* Guest has quit IRC (Quit: Bye bye)
[doc_yong] so glad to see my wife so happy now chatting with her friends
[Guest41395] hello doc, you have beautiful children
[tsinelas`] heeheh
[xenn] watch nlang ako sa web cam baby ko cry waaaaaaaa
[tsinelas`] si ate doings nga ang very happy with you eh
[Guest86155] hello doc musta woek?
* romanjoy has joined #doingschat
[blueraindrops] naks ang sweet!
[loree] wow, how sweet naman of you Dr. Yong
[tsinelas`] doc, thanks for making donna very very happy..
[loree] yeah, thanks Dr. Yong
[babyanne168] musta naman doc?!
[Guest24429] hello!!! doc yong…
[Guest24429] musta n?
[loree] naghabulan pa yata ang magsweetheart 😀
[tsinelas`] lol
[tsinelas`] hehhehehhe
* inday changes topic to 'WEBCAM: Add "doingschat04" as your friend to view Donna'
[doc_yong] thanks, wont take away your precious time with doings,regards and god bless.
* doc_yong is now known as Donna_Cruz
* xenn has quit IRC (Quit: Bye bye)
[Donna_Cruz] nakakainis ayaw na
[Donna_Cruz] heehee 🙂
[Guest502] hello from taiwan
[tsinelas`] lol
[loree] hehehee
[Guest24429] hello!!! ate donna…
[loree] mahiyain pala si Dr Yong 🙂
[tsinelas`] ate doings ganun pla yung happy ka na …gumaganda ka everyfday
[Donna_Cruz] heehee thanks rod 🙂
[babyanne168] ate doings, sobrang miss na kita..
[Donna_Cruz] naks hindi naman.:)
[Kangkong8] gud pm po dr.yong! hello ate donna sayang can't view you sa webcam eh
[Guest24429] paano b mg change ng nick????
* xenn has joined #doingschat
[tsinelas`] ./nick newname
* inday changes topic to 'WEBCAM: Add "doingschat04" as your friend to view Donna'
[loree] hi Kangkong, musta pinas
[tsinelas`] wb xenn
[Donna_Cruz] super hinihila ko kanina para makiusap pa sainyo ayaw na.
[Guest41395] share naman your diet secret,please……
[Donna_Cruz] ang lakas ko daw hahaha
[Kangkong8] hello loree.. ganun pa rin ang pinas..
[tsinelas`] hehehehhe
[xenn] ty hubby ko close nya
* inday changes topic to 'WEBCAM: In Yahoo Messenger, add "doingschat04" as your friend to view Donna'
[tsinelas`] lolz
* inday says to change your nickname, type /nick newnickname
[loree] :))
[babyanne168] wers belle na ate doings?
[xenn] donna whts ur diet secret
[tsinelas`] oo nga
[Donna_Cruz] teka tawagin ko si belle. hindi kasi ako makatype pag nandito ang likot
[loree] hehehehehe
[Donna_Cruz] low carb diet grabe lakas makapayat
[tsinelas`] ehehhe
[Donna_Cruz] 🙂
[xenn] pano yun
* Kangkong8 has quit IRC (Quit: Bye bye)
[loree] haba pa rin ng hair mo Doingd
[tsinelas`] ay ate doings.. possible bang makita ka ..next month.. uuwi kasi ako sa cebu eh
* Guest24429 has quit IRC (Quit: Bye bye)
* Oly has joined #doingschat
* Guest24429 has joined #doingschat
* Guest41395 has quit IRC (Read error: Connection reset by peer)
* Guest24429 has quit IRC (Quit: Bye bye)
[tsinelas`] ngek.. na dc
[daryle] hey
[daryle] hi
[Guest86155] donna tnong k lang anong ginagawa mo bat ang sexy mo pa rin hanggang ngayon?
[tsinelas`] hi dar
[xenn] ur so cute daw doings sbi hubby ko
[babyanne168] yeah.. long hair si ate doings:)
[daryle] hi tsinelas
* kiddwicked_cruz has joined #doingschat
[Guest502] paano ba mag change ng nick?
[Donna_Cruz] guest low carb diet lang. bilis talaga makapayat
[Donna_Cruz] type mo /nick then ur nick
[daryle] cute at ganda pa rin n ate doings!!!
[Guest86155] thank you…
[kiddwicked_cruz] hello!!!!
[kiddwicked_cruz] atedoings pahingi nman ng new pic mo…
* joyce has joined #doingschat
* _visitor was kicked by inday (inday)
[daryle] yeah
[Donna_Cruz] ok nag freeze uli haha
[blueraindrops] miss donna wala pa bang guesting na malapit??
[Guest86155] yun ang gagawin ko! love you sonna
[daryle] pahingi nga ng pic
[loree] nagfreeze ulit hehehehee
[joyce] hi! ate doings musta ka na?
* Kingkong8 has joined #doingschat
[Guest502] musta na kayong lahat?
[loree] yeah,pano nga pala kami makakahingi ng pic mo Doings with ur authograph op cors 🙂
[babyanne168] hi kiddwicked.. donnafanatic here.. musta?
[daryle] saw ate doings last september i think
[xenn] yes i want to request too,pwede ba mail kita jan?
[daryle] doon sa gaisano tabunok
[joyce] mabuti naman
[daryle] cute niya
[daryle] hehehe
[Donna_Cruz] bluerain: wala pa sa ngayon pero will let you all know pag meron
[xenn] ill send u post card f paris
[kiddwicked_cruz] ok lng anne..
* blessy has joined #doingschat
[joyce] ang galing mo ate doings sa MTB guesting!!
[kiddwicked_cruz] c atecion b nand2 n ? @anne
[blueraindrops] minsan ba tumatanggi ka sa mga guestings??
[loree] Doings,nagfreeze ka na ulit 🙂
[kiddwicked_cruz] ate donna pahingi nman ng latest pic…
[Donna_Cruz] thanks joyce! enjoy ako dun. galing ng mga kids ngayon kumanta
* inday says I'll post all of donna's new pictures later after the chat. (Grad, bday, etc)
[Donna_Cruz] oo nga no kainis haha!
[Guest86155] sabi ng freind ko nakita ka nya raw 1 time sa ospital.. ang ganda ganda mo daw. dun sya sa school ni dr. yong nagaaral
[joyce] yeah i agree ate!!
[loree] thanks inday
[Guest502] thanks inday
[joyce] musta na ung kids mo are doings?
[xenn] big ty inday
[Kingkong8] ate donna, si belle din ba mahilig kumanta like you?
* inday says Please change your text color to just white, thanks. Donna is PINK, the rest is white, admin (me) is red. Thanks!
* _chatviewer has joined #doingschat
[Donna_Cruz] graduated na. ngayon pagawa gawa na lang ng website 🙂
[blessy] hi ate donna! I'm bless, 16 yrs. old… Kumusta?
[romanjoy] hi donna how ru?
[kiddwicked_cruz] hello po…
[inday] webmaster na yang si doings! 🙂
[kiddwicked_cruz] musta n po???
[tsinelas`] bat nasipa?
* joyce is now known as Guest57340
[inday] and she'll tell you hindi madali
[tsinelas`] freeze ulit
[babyanne168] hi ka sa amin ate doings.. hihi
[tsinelas`] wb KK
[xenn] yung mssg.board ibabalik pba? ok dun long chika
[Guest86155] ok sorry inday
[inday] joyce: change your nickname to something like joyce_90324 bec. IRC has registered nicknames.
[loree] Doings, can i send you cards using Dr Yong's hospital address
[Kingkong8] hi tsinelas!
[romanjoy] this is my first time to talk to you doings
* Guest has joined #doingschat
* inday says BELLE is on WEBCAM
[Kingkong8] ate doings si belle po ba hilig din kumanta like u?
[Donna_Cruz] sure loree 🙂
[kiddwicked_cruz] hi! kingkong!!! do u still remember me???
[romanjoy] i try to to see you in webcam but i dont know how it works
[blueraindrops] bakit nag sto0p ang cam??
[loree] thanks Doings
[Guest502] how do i change it, i'm going crazy
[Guest] helo
[Kingkong8] oh yaaaaahhhh kiddwicked!!!
[xenn] how can i send u post card donna?
* Guest is now known as rod1228
* inday says the webcam freezes from time to time, do not worry
[kiddwicked_cruz] hello!!!!
* Guest502 has quit IRC (Quit: Bye bye)
[daryle] hi
[xenn] hello
[daryle] kiddwicked_cruz
* Guest86155 has quit IRC (Quit: Bye bye)
[daryle] hi xenn
[loree] hi belle
[romanjoy] hi doings
[daryle] hehehe
[daryle] hi t doings
[xenn] hello daryle
[daryle] pro hi na lang
[kiddwicked_cruz] hi daryle!
[tsinelas`] hi belle!!!!!!!!!!!!!
* missyrose has joined #doingschat
[daryle] hehehe
[xenn] k
[kiddwicked_cruz] hi! belle!
[tsinelas`] belle looks like you ate doings
[daryle] d ko kita c belle
[tsinelas`] ang cute!!!!
[rod1228] nasan c donna?
[daryle] black screen lang nakito ko rito sa web cam
[romanjoy] hi doings would u tell me how to it works the webcam?
[xenn] c cian look like yong i think
* inday says Donna is Donna_Cruz
[daryle] yeah
[loree] Doings,marunong na ba si belle magcomputer
[daryle] i agree
[tsinelas`] true @enn
[xenn] maputi kc sya and chinese eyes
[Donna_Cruz] thanks tsinelas. xenn oo nga dami nagsabi 🙂
* Guest57340 has quit IRC (Quit: Bye bye)
[inday] romanjoy: please see topic above to view donna
* kai has joined #doingschat
* Kingkong8 has quit IRC (Quit: Bye bye)
* Donna_Cruz has quit IRC (Quit: Bye bye)
* inday changes topic to 'WEBCAM: In Yahoo Messenger, add "doingschat04" as your friend'
* Kingkong8 has joined #doingschat
[kai] hi guyz…
[tsinelas`] hi kai
[daryle] hi kai
[daryle] hehehe
[blessy] hi kai
* Joy has joined #doingschat
* inday says donna got disconnected
[Kingkong8] helo kai
[tsinelas`] hi joy
[loree] nye bakit na dc si Doings
[blueraindrops] wala na si donna??
[daryle] wher u from kai?
[xenn] blik sya
[tsinelas`] andyan lang..
[daryle] hey, we should do this more often
[kiddwicked_cruz] bkit n dc????
[tsinelas`] hehehe
[sweetck_23] bakit di online webcam ni donna
[tsinelas`] busy si ate doings
* kai is now known as Guest69264
[daryle] k
* Donna_Cruz has joined #doingschat
[Guest69264] how r u guyz?
[kiddwicked_cruz] ate inday.. sna mdalas n itong chat…
[missyrose] y anong nangyari/??
[tsinelas`] wbbb
[loree] welcome back Doings 🙂
[Guest69264] hi donna…
[daryle] yeah
[daryle] enjoy talaga to
* Joy is now known as Guest61548
[kiddwicked_cruz] wb ate doings!!!!
[missyrose] y anong nangyari???
[blessy] hi t dons
[Donna_Cruz] thanks ewan ko ba
* inday says Donna is Donna_Cruz
[Guest69264] my God im finally here…
[Guest61548] hi tsinelas si joyce to nadisconnect lang ako eh
[kiddwicked_cruz] bkit n dc k ate??
[Donna_Cruz] hanggang ngayon disco queen pa rin
[xenn] wb
[tsinelas`] bat ako nde naddc.. kahapon pa ako d2 ah
[sweetck_23] donna offline webcam mo
[Donna_Cruz] hindi din kasi dsl eh
[tsinelas`] hehehhe
[tsinelas`] lolz
[Kingkong8] hehe
[loree] hahahaha. Disco queen
[Donna_Cruz] offline ba? ok naman ah
[xenn] meh dsl nba sa cebu
[missyrose] salamat ok na.
[tsinelas`] nde naman offline ah
[daryle] ate doings, saan nag school c belle?
[inday] refresh your yahoo connections to view donna's webcam (View –] Refresh)
[Donna_Cruz] eron xenn ang mahal lang hehe 🙂
* Donna_Cruz is kuripot
[loree] hahahaah@inday
[tsinelas`] lol @ ate doings
[Guest69264] hi donna…muzta na idol?
[inday] hahaha
[kiddwicked_cruz] musta n c cian ate doings????
[babyanne168] heehee.. kuripot bah talaga ate doings?
[tsinelas`] ate doings" saan pala si belle nagschschool?
[romanjoy] hi donna kahit nandito ako sa switzerland i always listen ur songs
[kiddwicked_cruz] do u still remember me ate????
[Donna_Cruz] sa southcrest
[jezika] doings kuripot??? may LV ka nga eh heheh
[tsinelas`] cic? st. benidict? st. thereseeas?
[tsinelas`] saan yun ate doings?
[loree] Doings, is it possible na magconcert ka dito sa canada if ever na merong producer na magcoordinate
[daryle] yeah saan yun?
[Donna_Cruz] kanina family day nila and cute ng preschool exhibit
[romanjoy] na miss kona ang pilipinas doings
[xenn] here kya sa france possible ba mag concert
[missyrose] donna kailan ka ulit magkakron ng album, miss k n nmin!
[inday] si donna ang nagsabi nung kuripot hindi ako ha! 😛
[Donna_Cruz] loree: oo naman 🙂
[tsinelas`] ate doings:bagong school?
[blueraindrops] Kilala niyo ba si Nadine Samonte… kamukha yun ni Donna yung nasa starstruck
[Guest61548] ate inday i want to just compliment u on this site!! napakaganda!!
[daryle] ahhh
[babyanne168] to all friendster users, add nyo ko ha… ANNE_HONEY28@YAHOO.COM
[tsinelas`] yeah true.. good job ate inday..
[kiddwicked_cruz] hindi.. mas maganda c ate doings dun…
[Kingkong8] mas beauty si ate donna kay nadine.
* sweetck_23 has quit IRC (Quit: Bye bye)
[daryle] yeah
[tsinelas`] ate doings: saan pla ang soutecrest?
[Donna_Cruz] issy roze: oo nga ako miss ko na rin magrecord na album pero wala pa rin eh. dati meron pero ewan ko ba
* sweetck_23 has joined #doingschat
[loree] wow, yaan mo,kakausapin ko dito yung prod na kilala ko,they're actually producing Ogie and Regine's concert this april 🙂
[daryle] mas maganda talaga
[babyanne168] ate doings, saang school si belle?
[romanjoy] Doings sana mag concert ka rin dito sa Zurich gaya ni Regine galing siya dito bago palang noong feb 29
[blueraindrops] saang record company dapat doings??
* Guest69264 has quit IRC (Quit: Bye bye)
[daryle] beautiful inside out c ate
[xenn] grade 1 nba c belle
[daryle] hehehe
[missyrose] bakit nmn… sana malapit n
* Guest284 has joined #doingschat
[blessy] ate doings, can you understand bisaya?
[Donna_Cruz] uy hindi naman naks pa humble pa heehee 🙂 up pero pretty yun si nadine napapanood ko siya 🙂
* Oly563 has joined #doingschat
[blueraindrops] talaga?
[blueraindrops] naks!
[daryle] oo
[Donna_Cruz] blessy yup kasabot nako
[daryle] ganda c nadine
[kiddwicked_cruz] ang ganda mo tlg ate…
[romanjoy] Sana talk ka naman sa akin donn
* Guest284 has quit IRC (Quit: Bye bye)
[blueraindrops] tapos yung sheena halili dun sa starstruck idol ka naman nabasa ko sa website nila
[tsinelas`] dili na gyud makabligya ate doings
[daryle] gwapa c ate donna
* Oly563 has quit IRC (Quit: Bye bye)
[daryle] buotan pa jud
[missyrose] totoo yan!
* kai57 has joined #doingschat
[xenn] yeah and slim prin
* barb263 has joined #doingschat
[blessy] thank you…
[loree] yung sister ko,taga Bacolod naman yung husband niya kaya nakakaintindi na rin siya ng konting bisaya
[kiddwicked_cruz] ate dba s PILAR VILLAGE k dati nakatira????
* Oly has quit IRC (Ping timeout)
[inday] kiddwicked_cruz: yes donna lives there before
* inday :
* inday : Lets all chat in either tagalog or english, thanks! 🙂
* Disconnected
Session Close: Sun Mar 21 21:49:16 2004
Session Start: Sun Mar 21 21:51:20 2004
Session Ident: #doingschat
* Now talking in #doingschat
* Topic is 'WEBCAM: In Yahoo Messenger, add "doingschat04" as your friend'
* Set by inday on Sun Mar 21 21:32:07
* ChanServ sets mode: +o inday
[romanjoy] sige baka galit ka dahil mo niresponse yong msg ko
[tsinelas`] wbb inday
[loree] wbb inday
[daryle] xenn, layo ba yun sa dulag leyte?
[inday] thanks loree
[blueraindrops] Ms. Donna ilan po ang nakaview sa cam mo?
[kiddwicked_cruz] wb ate inday
[jezika] doings are you into computer games
[xenn] lapit lang sa dulag
[Donna_Cruz] nalilito ako sa dami na nagp-private chat sakin sana dito lang pasensya na
[missyrose] donna sana malpit kana makagawa ng album ulit!
[rod1228] hey!
[romanjoy] Sana sa email nalang tayo mag usap donn para naman masaya ako
[babyanne168] ate doings, i stil have the recorded greeting from you.. thanks so much
* inday says no private chats with Donna; she can't answer them all
[Kingkong8] ate doings, do u like F4? hehe
[Donna_Cruz] sa ngayon 5
[daryle] ate doings, may email ka?
[xenn] c donna ndi marunong magalit,she has a good heart super bait
[romanjoy] Sana pala malapit na akong manganganak donn sa may na babae parin
[blessy] its so difficult gyud te noh? daghan muchat nimo
[loree] no private chatting pls para naman mas smooth ang chat
Session sa site 🙂
* inday :
[Kingkong8] ate doings, do u like F4? hehe
[xenn] sna lang makita kita n person khit 1 time lang
[daryle] i like vic zhou ng f4
[kiddwicked_cruz] ate PWEDE k bng MAGKAROON ng 1 Cel # dedicated Pra sming mga FANS mo??
[daryle] kaw ate?
[kiddwicked_cruz] ate PWEDE k bng MAGKAROON ng 1 Cel # dedicated Pra sming mga FANS mo??
[loree] Kingkong, kakatuwa ka naman, alam mo ba F4 fan ako hehehehe
[tsinelas`] scroll up.. blis
[daryle] ako din
[kai57] mis ur voice na…lam mo ung sikat na radio station d2 (Bahrain)pag monday nagpapatugtog sla ng songs in different country n prati ko naririnig ung mga kanta mo…dami mo tlagang fans…
[kiddwicked_cruz] ateayusin mo nman ung cam mo hindi kita makita…
[xenn] kakaduling 🙂
[blessy] ate doings, will you watch vanness in cebu this 27?
[romanjoy] can i have ur email address doings?
[Donna_Cruz] romanjoy: ok naman ang babae malambing 🙂 lapit na may
[Kingkong8] loree: hehe
[daryle] what?
[daryle] kanus-a ahi c vaness?
[romanjoy] tatlo na ang babae ko
[inday] kiddwicked_cruz: donna will see her options for that yet, may automated ang globe and smart that can do that. its hard if she's gonna do it by herself.
[jezika] kailan susundan nyo si cian
[tsinelas`] ate doings: kailan matatapos yung haus nyo?? 🙂
[xenn] may plano pa kayo mag ka baby uli?
[loree] kingkong, alam mo ba na nagpabili pa ako sa husband ko ng MG 1 CD and MG2 ,hahahahaha
[Donna_Cruz] blessy: hindi eh. sorry wag kayo magalit sakin pero hindi ko gano pinapanood yung f4 pati soap nila
[daryle] when anhi c vaness sa cebu?
* inday says: One by one, please, slower, so that all your Q's will be answered by Donna…
[kiddwicked_cruz] ok.. thanks ate inday…
[Kingkong8] wow.. ako panood-nood lang.
[romanjoy] yeah sana write mo ko sa email para naman magkausp tayo palagi in times of living
[loree] ang baduy ko ba Kingkong 😀
[Donna_Cruz] brb naipit si belle
[tsinelas`] ok
[romanjoy] taga leyte din ako at lumaki din sa cebu don
[xenn] ayy
[tsinelas`] ay kawawa naman
[blessy] ok ra ate doings oi.. dili man gani ko tigwatch nila..
[Kingkong8] di naman po loree!
[xenn] buti ndi nag cry
[tsinelas`] ok lang bas i belle?
* Joy258 has quit IRC (Quit: Bye bye)
* inday says you can private chat other chatters but not donna, to do that, double click on the chatters' name
* Joyce has joined #doingschat
[Donna_Cruz] umiyak alakas pero ok na siya
[blueraindrops] okay lang yun miss doings di ko rin pinapanood ang F4
[missyrose] ok lang ba si belle, di ba nasaktan
[tsinelas`] saan na ipit?? :((
[Kingkong8] sige..uhh,ate donna, marunong ba kayo mag-ocho-ocho?! hehehe
[kiddwicked_cruz] try new gamitin ung personalized ringing tone s smart song ni ate doings "habang may buhay" and "kadenang bulaklak"
* inday says you can private chat other chatters but not donna, to do that, double click on the chatters' name. This will be better so that your private conversations will not flood the channel. Thanks! 🙂
[xenn] wag likot kc hehe
[romanjoy] ganyan ang mga bata kahit maliit umiiyak na
[kiddwicked_cruz] try new gamitin ung personalized ringing tone s smart song ni ate doings "habang may buhay" and "kadenang bulaklak"
* Friendster has quit IRC (Quit: Bye bye)
[kiddwicked_cruz] try new gamitin ung personalized ringing tone s smart song ni ate doings "habang may buhay" and "kadenang bulaklak"
[tsinelas`] ok ok
* Disconnected
Session Close: Sun Mar 21 22:02:28 2004
Session Start: Sun Mar 21 22:05:07 2004
Session Ident: #doingschat
* Now talking in #doingschat
* Topic is 'WEBCAM: In Yahoo Messenger, add "doingschat04" as your friend'
* Set by inday on Sun Mar 21 21:32:07
* ChanServ sets mode: +o inday
[romanjoy] ang ganda rin nya in person
[kai57] asl mo joy?
[xenn] cno ba nagmana sayo donna?
[tsinelas`] wb inday
[joy1987] usa/f/16
[romanjoy] paspas man mo mag chat oi
[Donna_Cruz] tsinelas hindi pa kumakanta si cian pero mahilig sumayaw at sa music
[inday] xenn: you can private chat joy by doubleclicking her name. Thanks.:)
[blessy] ate, can we text?
[tsinelas`] nicw..
[romanjoy] hindi ako marunong sa mga ganito
[tsinelas`] i mean nice.. lolz
[romanjoy] first time kopa lang nang chat
[missyrose] ok a… manang manang sa mommy
[tsinelas`] ate doings: madalas ka ba sa mall??
[blessy] me too, my 1st time
[Kingkong8] ako rin 1st time romanjoy
[inday] blessy: doings would have a hard time keeping up with everyone to text.. so to be fair, wag na lang 🙂
[rod1228] he will be a great artist someday, like his mom
[daryle] t, bat ganda ng skin mo?
[xenn] ty inday
[blessy] your rightt inday
[daryle] my vitamins ka ba?
[inday] blessy: we'll see how doings would be able to reach out more using technology
[jezika] doings before i go pls answer my ??? pls
* Guessweetck_23 has joined #doingschat
[babyanne168] bless mas tifuwang pako nimo.. di gihapon kabaw mu draw.. i'm 19
* inday says please use white text for your messages, thanks. Donna is Pink. 🙂
* kiddwicked_cruz has quit IRC (Ping timeout)
[daryle] ano?
[missyrose] donna ganda ng website mo!
[kai57] hey baka anytime dumating ung boss ko….bka mahuli ako ng boss ko so pag biglang nawala ako sori ha…
[jezika] thanks
[Donna_Cruz] \sino may vitanins? ako?
[blessy] hi baby! I'm 16.. Mucollege nako!
[Donna_Cruz] thanks missyrose 🙂
[daryle] yeah
[tsinelas`] yeah..
[babyanne168] tiguwang
[daryle] kaw po t
* inday says please chat using Tagalog or english. Thanks 🙂
[tsinelas`] bat daw ang ganda ng skin mo ate doings??
[romanjoy] nakakatawa naman pala ditoo no
[xenn] no bisaya 🙂
[daryle] ano gawa mo para ganyan ka ganda skin mo
[blueraindrops] nawala cam ni doings
[tsinelas`] lol
[missyrose] ganda mo pa rin la ka talagang pinagbago!
[romanjoy] ok no bisaya
[Kingkong8] FLawless!
[Donna_Cruz] daryle meron pero hindi ko nateteake daily haha!
[blessy] are we all girls here?
[rod1228] hows your voice?
[daryle] k
[kai57] Thanks tlaga sa time mo …sana ulit uli….
[romanjoy] ok parin basta healthy ang foods diba?
* _chatviewer has joined #doingschat
[xenn] bkit vitamins ok nmn ah healthy nmn
[rod1228] donna, hows your voice?
[Donna_Cruz] daryle: linis lang palagi. i use cetaphil pinaka ok talaga yun
[Donna_Cruz] cousins ko yun din gamit
[tsinelas`] ate doings: ano daw vitamins mo??
[inday] rod: dont use black, they can't read it.. try white
[blueraindrops] mS.Donna alam mo ba yung film na My Sassy Girl?
[rod1228] hows your voice donna?
[page] doings
[missyrose] donna kupleto ko lahat ng album mo… kaya lang may kulang. yung pirma mo na lang sana kita kita ng personal
[Donna_Cruz] yung ocuvite
[tsinelas`] cetaphil soap??
[Kingkong8] Ate Doings- Ba't ganun!? ang hirap magdiet!!
[Donna_Cruz] blue hindi eh ano yun?
[romanjoy] Hi donn may plan kapa ba mag buntis uli?
[inday] rod: your text appears blank on website chat. FYI.
[daryle] heheh
[page] doings kaw nga ba susunod na host ng all about you???
* Guessweetck_23 has quit IRC (Quit: Bye bye)
[daryle] cetaphil vitamins
* inday says please use white text for your messages, thanks. Donna is Pink. 🙂
[joy1987] nawala sa webcam si doings
[romanjoy] or tigil kana mag karoon nang baby
[blessy] ate, whats your beauty secret?
[daryle] yeah
* inday says please use white text for your messages, final warning. Thanks.
[blueraindrops] hehe Korean Film yun…. kasi yung lead star dun nakaktuwa parang yung mga role na ginagampanan mo
[daryle] beauty secret
[Donna_Cruz] rod: ok naman. may videoke dito kaya nakakapractice pa rin 🙂
* joy1987 has quit IRC (Quit: Bye bye)
* page has quit IRC (Quit: Bye bye)
[tsinelas`] may vitamins din na pala ng cetaphil.. hehehhe
[xenn] sa channel d ndi ko ma view yung guestings mo lagi error
* Joy19 has joined #doingschat
[daryle] yeah
[daryle] yung channel d
* page has joined #doingschat
[Donna_Cruz] roman: may plano pa pero hindi pa ngayon
[romanjoy] how many kids u like to have doings?
[daryle] d ko rin ma open
[tsinelas`] ate doings: which mall ka nagpupunta?? 🙂
[romanjoy] ako tatlo na pero wala pang boy
* jouey has joined #doingschat
[blueraindrops] i sit by my window gazing out into the starry night..
[Donna_Cruz] heehee 🙂
[tsinelas`] uyy.. favorite ko yang songg
[romanjoy] ilan ang gusto mo
[blueraindrops] if only i have someone with whom to share such a lovely sight
* Guest76384 has quit IRC (Quit: Bye bye)
[xenn] yung 1st site na oopen pro now ndi
[rod1228] good, coz eventually you'll golden voice will disappear if your not using it, just keep on singing
[Donna_Cruz] bili kayo ng how to choose the sex of your baby ok yun
[Donna_Cruz] heehee 🙂
* Guest76384 has joined #doingschat
[xenn] oh yeah
[rod1228] i really adore your cold voice
[inday] rod1228: can you use white? Thanks.
[inday] rod1228: can you use white? Thanks. We have to be fair to everyone
[romanjoy] talaga
[Kingkong8] swabe
* babyanne168 has quit IRC (Ping timeout)
[daryle] bakit cold voice?
[blessy] ate, how are you related with dasha relampagos?
[jezika] yong chinese calenda rin is 98 percentent accurate
* sweetck_23 has joined #doingschat
[missyrose] the best diba… one and only!
[blueraindrops] where could he be??? will i spend a lifetime searching andlessly
[romanjoy] sana email kasa akin para ma send kita nang pic of my kids also
[inday] missyrose: can you use white? Thanks. We have to be fair to everyone
[xenn] donna meh similarity kyo ni kylie minogue,don't know ngaba mag nakikita ko c kylie prang ikaw.
* Joy19 has quit IRC (Quit: Bye bye)
[blueraindrops] ay ms. donna naalala ko sa unang hirit parang nasa blind item ka
* joy19 has joined #doingschat
[Donna_Cruz] jez hindi siya accurate. yan sabi kay belle boy daw
[Kingkong8] ano daw po sabi blue?
* sweetck_23 has quit IRC (Quit: Bye bye)
* inday says.. slowly… one by one… 🙂 maduduling si Donna nyan. Thanks.
[Donna_Cruz] xenn: fav ko songs nun
[blessy] anong blind item sa unang hirit?
[xenn] and yung voice nyo din
[romanjoy] ano ang blind items ni donna
[daryle] ?
[rod1228] i have to go now, thanks for the accommodation!
[missyrose] donna anongfav. song mo?
[rod1228] =)
[daryle] bye rod
[inday] bye rod. thanks.
[blessy] bye rod!
[Donna_Cruz] anong blind item?
* oly has joined #doingschat
[blueraindrops] hay naku nade naman me naniniwala dun e
[xenn] kkaduling nga call dr yong 🙂
[Kingkong8] oo nga po.. ate inday,ako duling na ngayon.
[tsinelas`] lol
[daryle] hehehe
[rod1228] your welkcome
[Donna_Cruz] bye rod thanks din 🙂
[blueraindrops] heheh
* Retrieving #doingschat modes…
[blueraindrops] d ko sure kung ikaw yun ah
* rod1228 has quit IRC (Quit: Bye bye)
[page] doings ano unit ng cell mo cge na curios lang tlaga me
[romanjoy] sure rin mo para klaro ba
[blueraindrops] kasi ang clue nila may kinalamn daw yung initial ng name sa capital ng america
[blueraindrops] usa pala
[inday] page: i dont think that's proper to ask
[tsinelas`] when i think of jessica simpsons.. she reminds me of ate doings.. dba 🙂
[blueraindrops] which is washington dc
[romanjoy] pati ba naman cell curious ang mag tao no
* sweetck_23 has joined #doingschat
[page] ok sorry
[jezika] jessica simpson and faith
[inday] no prob 🙂
[blueraindrops] teka gus2 nyo ba malaman yung blind item??
[Kingkong8] washington dc?
[romanjoy] how kaya yong mga personal im sure gusto din malaman hehe
[blueraindrops] opo
[Kingkong8] Opo!
[tsinelas`] kasi like ate doings.. happy sila sa m,arried life nila.. very
[blueraindrops] diba initial ni donna as DC
[Kingkong8] Opo!
* Disconnected
Session Close: Sun Mar 21 22:15:49 2004
Session Start: Sun Mar 21 22:17:35 2004
Session Ident: #doingschat
* Now talking in #doingschat
* Topic is 'WEBCAM: In Yahoo Messenger, add "doingschat04" as your friend'
* Set by inday on Sun Mar 21 21:32:07
* ChanServ sets mode: +o inday
[romanjoy] teka nga pwede ba makatingin sa cam kahit wala kang cam?
[tsinelas`] wbb inday
[inday] we're trying our best to make donna reach out to everyone as efficient as possible, para di rin makagulo sa everyday duties nya as mommy, wife, and webmaster! 🙂 So just be patient, we're doing our best.
[tsinelas`] yeah
[tsinelas`] oede
* blessy has joined #doingschat
[inday] romanjoy: YES
[page] oo naman pwede
[kai57] k…
[missyrose] ok
[romanjoy] saan ba
[inday] please follow instructions – download yahoo messenger, add "doingschat04" as your friend
[blessy] hello!
[romanjoy] i download already
[kai57] tnks inday ha…
[tsinelas`] ate doings: nde kapa inaantok?
[inday] MISSYROSE: can you change your font to white?
* barb has joined #doingschat
[page] san na c doings
* daryle has joined #doingschat
[inday] page: can you un-bold your font?
[Kingkong8] ate inday ganda smiley nyo- nakashades.
[inday] kingkong: that's default for admin i think
[Kingkong8] oic. cool.
[jouey] Hello Doings! I�m a mestiza from Spain. i love your songs!!!
[page] sorry labo kc mata ko
[inday] i think nadisconnect si donna
[tsinelas`] ate doings: yung "where could he be " ma song para kay yong ba yun??
[inday] hi jouey, donna just got disconnected, wait til she gets online again
* Guest has joined #doingschat
* Guest517 has joined #doingschat
* Guest521 has joined #doingschat
[inday] "donna_cruz" is her nickname
[kai57] have to go back sa work na…..thanks ulit…
* barb is now known as Guest18927
[inday] bye kai57
[tsinelas`] ngekk.. na dc
* Guest521 is now known as DonnaCruz
* Guest517 is now known as tim
[Kingkong8] ate inday thanks kanina sa email.
[tsinelas`] webeeee
[DonnaCruz] kakainis disco palagi
[tsinelas`] lol
[Kingkong8] disco queen!
[Kingkong8] hehehe
* tim is now known as timothy0709
[romanjoy] paanoo koo makita si donna sa cam
[kai57] inday tell donna thank u sa time nya….sya lang tlaga idol ko…
* Guest is now known as Guest12050
[timothy0709] hi donna!
[timothy0709] good pm!
[romanjoy] i already open then i dont know how it works
[DonnaCruz] hi timothy
[page] grabe ang ganda mo pa rin
[tsinelas`] ate doings: yung song na "where could he be" para ba yun kay yong?? yung dati pa 🙂
[DonnaCruz] kai thanks din:)
[daryle] hi donna
* joyce87 has quit IRC (Ping timeout)
[timothy0709] yeah, your still pretty
[Kingkong8] sana makahabol si ate rox ngayon! she wants 2 say Hi ate Donna!
[DonnaCruz] tsinelas di ko pa na meet nun si yong
[timothy0709] 2 na pala babies mo..
[tsinelas`] ehihihi
[DonnaCruz] pero dream ko na makameet nun ng prince charming ko heehee 🙂
[kai57] sna wag kang magbago idol…
* Guest12050 has quit IRC (Read error: Connection reset by peer)
[tsinelas`] ate doings: when pala kau nagmeet ni yong?
[page] oo naalala ko nung kinanata mo un sa ms.d
[tsinelas`] wow!!!
[missyrose] thats a nice song…
[blessy] hehee, your so funny ate!
[tsinelas`] kaka in love naman.. waaaaaaaahhhhh
[xenn] old chika toh ha naging kayo ba ni ian?
[DonnaCruz] bwahahaha 🙂
[Kingkong8] Blind date di po ba?
* missyrose was kicked by inday (She is not changing her font color to white.)
[tsinelas`] lol
[daryle] may iba ka bang crush noon? te? hehehe
[blessy] How did you meet ate?
[daryle] just asking lang
[daryle] cno?
[daryle] hehehe
[DonnaCruz] xenn hindi talaga
[tsinelas`] ate doings: paano sya nag propose?? 🙂
[DonnaCruz] si yong talaga first bf ko
[DonnaCruz] 🙂
[daryle] first and last pala
[DonnaCruz] oo si richard gomez before
[romanjoy] ganda nyan
[tsinelas`] kinikilig ako.. ehhehehe
[blueraindrops] Donna Kapuso ka ba o Kapamilya lolz.
[daryle] ha?
[timothy0709] 🙂
[Kingkong8] sana po ako din 1ar bd na ang last din!
[daryle] heheh
[blessy] wow, your 1st and last
[DonnaCruz] blind date kami
[xenn] ty….kc chika yun b4 🙂
[romanjoy] bf mosi richard donn
[tsinelas`] tapos??
[kai57] God im crying na coz im soooo hapi tlaga coz i got to talk to u donna….
[page] sbi ni onemig naging kayo daw ng one week
* inday :
[blueraindrops] Donna Kapuso ka ba o Kapamilya lolz.
* missyrose has joined #doingschat
[tsinelas`] teka pakwento natin yung proposal!!
[daryle] sabi nila c gary estrada
[daryle] daw
[daryle] heheh
[DonnaCruz] hahaha parang the buzz questions ha
[romanjoy] pero si yong ang para sayo sa puso
[daryle] k
[daryle] proprsal
* sweetck_23 has quit IRC (Quit: Bye bye)
[inday] missyrose: you have to chat with us using the same color.
[daryle] proposal muna
[romanjoy] ilang buwan kayo nag ka bf
[blueraindrops] Ms. Donna kapuso ka ba o kapamilya??
[blessy] hehe.. who do you think is playing kris aquino?
[timothy0709] yeah..the buzz kaau
[DonnaCruz] pm page hindi ko kinoconsider na naging kami. parang m.u. lang yun. si yong kasi first kiss and hug talaga.
[missyrose] pano ba papalitan di ko alam sorry
[tsinelas`] 🙂 sweet
[romanjoy] ganda nyan no
[page] swerte nama ni dr. yong
[daryle] ii
* joy19 has joined #doingschat
[DonnaCruz] ay may pm pako na nalagay lahat pala meron nun haha
[daryle] oo
[tsinelas`] ate doings: paano nagpropose ni yong sau?? 🙂
[daryle] ngay
[romanjoy] first and last talaga donn
[Kingkong8] ATE doings, kung nasa harap mo ang mahiwagang salamin- ano ang sasabihin mo sa sarili mo?
[blessy] grabe ate, you made me believe there is really true luvvvvv
[missyrose] inday ok na ba
[oly] funny lady
[DonnaCruz] swerte kami pareho 🙂
[blueraindrops] oo nga
[blueraindrops] swerte sila pareho
[inday] missyrose: yes, but please un-bold it. thanks. we just have to be fair with everyone.
[DonnaCruz] kingkong katawa ka talaga 🙂
[romanjoy] how about yong marami ba siyang gf
[joy19] ate doings do u have an e-mail address where fans can e-mail you?
[blueraindrops] nalungkot nga ako nung nagpakasal si donna
[page] oo nga my pm
[Kingkong8] hahaha
[romanjoy] before u meet each other marami ba siyang na gf din
[joy19] hehe
[Kingkong8] uy showbizzz
[tsinelas`] hehehe.. si yong poa… lolz
[inday] JOY19: just leave a msg at the guestbook, she'll read it. or else, dami nyang emails 🙁 wawa naman si doings.
[tsinelas`] showbiz ka KK
[page] sbi ng friend ko kw daw susunod sa all about you
[blueraindrops] Donna natatandaan mo ba yung kinanta mo sa SOP yung butterfly kisses bago ka ikasal? then umiyak ka?? naiyak din ako nun lolz
[page] tag gma 7 kc sya
[joy19] i understand ate inday
[Kingkong8] showbiz na tanong yan friend.
[blessy] what do you think is better stick to one or collect then select?
[DonnaCruz] romanjoy naka 5 gf na serious siya talaga
[daryle] kayo talaga, ull get dr. yong in trouble niyan
[xenn] c yong related ba sya kay inday larrazabal yung ex gov.
[page] natandadan ko rin yon
[romanjoy] talaga
* sweetck_23 has joined #doingschat
[romanjoy] taga maynila sila lahat or mayron din sa cebu
[tsinelas`] cebu dba ate doings?
[DonnaCruz] blue: kakaiyak naman talaga tapos tungkol pa sa daddy and daughter:) super close ako sa dad ko
[daryle] hi kay dr. yong
[DonnaCruz] teka iyak si belle
[tsinelas`] ok
[romanjoy] y
[page] relative ba niya c maureen larrazabal?
[missyrose] bakit?
[romanjoy] oo nga pala
[blessy] why cry siya?
* sweetck_23 has quit IRC (Read error: Connection reset by peer)
[joy19] ate doings ang galing mo!! ang ganda nung website mong ginawa!!
[tsinelas`] stop na cry belle
[joy19] ur very talented!!
[blueraindrops] wow sweet naman nilang tignan
[daryle] hi belle
[daryle] cute na cute na belle
[page] ang laki na ni belle
[missyrose] wag ka na iyak belle
[timothy0709] hi belle
[blueraindrops] at malusog
[blessy] nice hair ate! talagang luk girl
* xenn has quit IRC (Quit: Bye bye)
[DonnaCruz] ya laki na niya no? parang kelan lang
[blessy] lux girl pala..
[oly] how come many of ate doing's fans are mostly from cavite??? m just really wondering…
[blessy] ganyan talaga
[page] co mas kamukha ni belle
* joy19 has quit IRC (Quit: Bye bye)
[DonnaCruz] sabi ni maureen magkamaganak daw sila ni yong 🙂
[Kingkong8] oo nga ate Oly!
[missyrose] lumalaking cute
* joyce19 has joined #doingschat
[blueraindrops] ms. Donna parang sarcastic yun ahh
[page] ana sabi yong?
[tsinelas`] bakit lahat ng model sa lux nagaasawa.. 🙂
[tsinelas`] si lucy, donna then donita.. ehheheh
[Kingkong8] hehehehe
[daryle] hehehe
[joyce19] hmmm…nvr notice that tsinelas
[missyrose] oo nga… pansin ko rin
[kai57] doings post ka nga bagong picture nyo please…
[blessy] yeah
[page] oo nga no
[blessy] and i like all of them
[romanjoy] siguro may secret sa lux
[daryle] i agree
* xenn has joined #doingschat
[joyce19] magi post si aqte inday pagtapos
[tsinelas`] lol
[DonnaCruz] uy hindi ah mabait naman si maureen 🙂 sorry mali lang pagkasabi 🙂
[blueraindrops] HEHEH
[romanjoy] oo makita mo naman
[kai57] k thnx…
[daryle] yeaate donna ganda
[DonnaCruz] siya kasi lapit samin nun sabi niya kamaganak niya raw si yong hindi namin alam akala namim ka family name lang
[blueraindrops] ANG TAGAL NA NUNG LAST MOVIE MO GRABE
[tsinelas`] ate doings: paano si yong nag propose?? 🙂
[page] pag maganda pala hair mo madaling mkapagasawa
[jouey] Is the webcam online? Donna, I can�t see you
* inday says donna already gave me a lot of new pics, i'll post it after this chat
* inday says donna already gave me a lot of new pics (grad, bday, kids, family), i'll post it after this chat
[daryle] hindi yata online yung cam
[romanjoy] yeah i like to see u in cam
[missyrose] ano ang bago nming aabangan sa career mo?
[tsinelas`] yheyeyy
[daryle] k thandt ndayay
[DonnaCruz] ay teka
[page] uy may bago pix
[page] ay bakit
[tsinelas`] yipeee. baong pics
[oly] ms. moded =
[blessy] oh my! maganda ang hair ko! dont tell me makapagasawa na ako..hehe,, joke!
[oly] =)
[daryle] thanks t inday
[missyrose] wait namin yun inday
[Kingkong8] ate trish sana maka-join ka!!
[tsinelas`] lol
[blueraindrops] Ms. Donna kilala mo ba si Won Bin?
[joyce19] no di naka webcam babalik yon
[page] kelangan natin magparelax ng hair
* sweetck_23 has joined #doingschat
[DonnaCruz] napansin ko rin yung sa lux heehee 🙂 nagkataon lang siguro
[kai57] ur a gem tlaga inday…
[blueraindrops] Ms. Donna kilala mo ba si Won Bin?
[blessy] tingnan natin kung sino ang sunod na model
[DonnaCruz] sino si won bin?
[daryle] ate, sana makita kita
[tsinelas`] lol
[page] sino c won bin
[daryle] sa personala
[romanjoy] noong nag model kasa lux kayo na ni yong
[blessy] do you know dasha relampagos te?
[blueraindrops] hehehe Korean actor si Andrew dun sa koreanovelang Endless Love 1
[Kingkong8] yun ba yun?
[blueraindrops] Bagay kasi si Donna Cruz at Won Bin hehehe
[tsinelas`] ehhehe
[page] hindi pa cla m i right
[tsinelas`] ngekkkk
[romanjoy] nasa tabi moba si yong donn
[DonnaCruz] blessy hindi sino yun
[Kingkong8] AKo Dr.Yong-ate Donna forever!
[blueraindrops] search mo sa internet ms. Donna Won Bin 🙂
[blueraindrops] aahahaha
[tsinelas`] mas bagay ata si yong at donna
[Kingkong8] Endless love 3!
[romanjoy] how about ur kids are they sleep now
[tsinelas`] hehheehhhee
[blueraindrops] ako din Yong-Donna
[DonnaCruz] hahaha! sipsep ka chin ha hahaha
[oly] =)
[blueraindrops] pero bagay talaga sila ni Won Bin sana…
[tsinelas`] lolz
[Kingkong8] Totoo naman po eh!:):)
[page] pro cute nga c dr. yong
[tsinelas`] bakit? bagay??
[romanjoy] sino basi won bin
[kai57] Ms. Donna,thanks tlaga…have to go na coz lapit na rin ako uwi…sna online ka pa pagdating ko ng bahay…
[blessy] classmate ng sister ko, sabi niya related daw kayo
[inday] doings: would yong allow you to be on the asian entertainment scene?
[Kingkong8] AKo po gagawa ng story!
[kai57] thanks guyz…
[page] hanap nga me kamukha at kagaya nya
[blessy] grabe, nagtatagalog na ako
[DonnaCruz] ok kai thanks din. ingat ka 🙂
[kai57] thanks inday…
[inday] asian artists (chinese and korean) are currently very famous nowadays
[blueraindrops] feeling ko nde na kasi sa phils. nga wala na tym si donna
[kai57] hintay ko ung pix…
[joyce19] nakawebcam na sya ulit
[romanjoy] donna write moko sa email nato joyschuster@bluewin.ch
[DonnaCruz] che: oo naman
[tsinelas`] 22log na ba si doc? ate doings??
[missyrose] buti pa kayo kita nyo si ganda sa webcam.. ako wala nun! huhuhu
[romanjoy] para naman makausap talaga kita more
[blessy] kaw ate, baka sleepy ka na?
[oly] that explains everytime i watch the TFC, all the filipino actors seem to look lke other asians…hehe
[Kingkong8] cute din po kasi chinese and korean
* Guest18927 has quit IRC (Quit: Bye bye)
[kai57] bye guyz…
[inday] that's great! see if some music company from outside the phils would discover donna, then it wont be long til we see donna with won bin or the F4 for MTVs 🙂
[romanjoy] natulog naba ang mga kids mo donn
[page] ganada mo tlag a
[DonnaCruz] ah oo nga no nakalimutan ko yung oras pala kailangan ayusin at hindi naman pwede tagal ako away from my family so hindi rin pala ako sure
[blessy] parehas tayo missy hindi ko siya makia
[kai57] ingatz lahat…
[page] lam mo since andrew ford medina nood na kita
[DonnaCruz] si belle is still awake pero medyo sleepy na kaya iyak iyak
[daryle] bye kai
[romanjoy] write mo yong email ko donn ha$
[blueraindrops] Ms. Inday kilala mo si Won Bin]
[missyrose] kawawa nmn tayo blessy
[Kingkong8] si Jerry yan siguro kilala nyo!
[blessy] kailangan na talaga niya matulog
[inday] blueraindrops: not really, just familiar with the asian scene
[blessy] gwaFo iyan!! so cute!!
* sweetck_23 has quit IRC (Quit: Bye bye)
[kai57] bahala na kayo sa idol natin…hinay hinay lang ha kwawa naman c donna…=)
[tsinelas`] ate doings: wala ba kayong plans magbakasyon sa hawaii??? 🙂
[romanjoy] sana donn email moko this week para naman happyako dito sa europ
* joyce19 has quit IRC (Quit: Bye bye)
[page] gwapo ba tlaga c won bin
[DonnaCruz] andrew ford hehe kapag tumobok ang puso days pa yun. fav ni cheryl yung song na yun
* joyce87 has joined #doingschat
[inday] YEZ
[blueraindrops] oo page
[DonnaCruz] ya kilala ko si jerry yan
[inday] super love ko ang "kapag tumibok…"
[blueraindrops] siya nga fave. ko na male then si Donna ang female
[DonnaCruz] napapanood ko
[romanjoy] dont forget joyschuster@bluewin.ch
[page] oo remember ko pa yung suot mo dun
[daryle] mas gwpo c vic zhou
[romanjoy] write mo ko ha?
[DonnaCruz] siya ba yung may pepsi commercial
[kai57] BYE MS.DONNA…TAKE CARE ALWAYS N GOD BLESS U N UR FAMILY…
[Kingkong8] Opo!
[inday] bye kai57
[blessy] yup, siya yun
[blueraindrops] daramdadam dadam
[page] fave ko dn yun
[joyce87] bye kai!
[Kingkong8] siya yung humahabol sa pepsi kahit madisgrasya siya!
[tsinelas`] waaaahhh.. nde ko kilala ang mga yun.. ehheheh
[blueraindrops] si Jery Yan un sa pepsi
[blessy] hindi ko talaga naintindihan yung commercial
* barb has joined #doingschat
[daryle] heheehe
[DonnaCruz] haha!
[blueraindrops] eto na naman naririnig
[page] hihi
[Kingkong8] Hinahabol niya yung pepsi kahit madisgrasya siya!
[romanjoy] donn pwede baka maka email sa akoa?
[Kingkong8] pero cute pa rin..hehehehe
[blueraindrops] kumakabakaba itong dibdib
[daryle] wal guro pera
* kai57 has quit IRC (Quit: Bye bye)
[Kingkong8] akala ko nga ma-aamnesia na naman siya doon sa commercial!
[romanjoy] sana write mo yong email ko para hindi ka forget
[page] c andrew ng endless love 1 kilala nyo
[daryle] heeheh kingkong
[inday] anything is possible, Jerry would record a CD sometime soon I think… and lets hope donna gets rediscovered by their managers 🙂
[daryle] 😉
[daryle] nice
[DonnaCruz] page hindi eh
[tsinelas`] hmm..anong channel ba yan??
[blueraindrops] page si andrew ng endless love 1 at si won bin ay iisa
[daryle] 7
[tsinelas`] seven?? kapuso ba?
[daryle] gma
[DonnaCruz] ano ba katapat na soap ng endless love?
[blessy] ako din ate, kung ok lang.. joannabless@hotmail.com
[daryle] oo
[tsinelas`] ay.. tfc lang meron d2
[page] cute din sya
* barb is now known as Guest10886
[tsinelas`] hehehhe
[joyce87] all of u chatting here tiga pinas? just wondering?
[missyrose] nakita ko na sya actually may movie sya here sa japan
[blueraindrops] tapos na yung endless love1 miss donna
[Kingkong8] yung kay kristine hermosa ba katapat ng endless love?
[inday] joyce87: no, some are from europe, other from US
[missyrose] nope
[blessy] im from bohol!
[tsinelas`] ako. i'm from cali
[DonnaCruz] kapuso o kapamilya? kacartoon network ako at kanickelodeon
[DonnaCruz] hahaha
[romanjoy] not all from phils
[blueraindrops] naks
[daryle] heheh
[tsinelas`] lol
[inday] hahaha good answer donna
[Kingkong8] hahaha
[blessy] hehe ate fanny
[timothy0709] hahahah
[daryle] i wathc gundam
[romanjoy] from europe of course
[blueraindrops] gr8 answer ms.doings
[timothy0709] lol
[missyrose] ok a
[tsinelas`] uyy.. favorite ko uyung cartoon network.. inuyasha
[timothy0709] very good answer!
[oly] san leandro, cali here…it's actually 6:35 am approximately…
[page] ako disney channel
[Kingkong8] Fave ko si PoPeye!
[daryle] from cartoon network
[missyrose] sino fav mong chartoon character
[Kingkong8] saka si COw sa cow and chicken kasi..
[blessy] kim possible fave ko!
[DonnaCruz] pano si belle palagi cartoons ayaw payag na ilipat so bihira na lang ako makanood ng local channels
[oly] i saw the sun rise for the first time
[blueraindrops] ako x-men evolution sa cartoon network
[page] gma ka ba ofpj
[tsinelas`] ehheehhehhe
[page] ay fpy pla
[daryle] yeah x-men
* joyce87 has quit IRC (Quit: Bye bye)
* xenn has quit IRC (Quit: Bye bye)
[page] ay fpj
[timothy0709] naks! nice naman nyan oly
[Kingkong8] ba't ganun si cow, pabaya sa katawan?
[blessy] oh yes, who will you vote ate for pres?
* joyce873 has joined #doingschat
[tsinelas`] gma??
[blueraindrops] ms.doings who would u vote sa coming election ?
[Kingkong8] ate donna, idol nyo ba si GMA?
[blessy] i think gma should win.. ryt?
[tsinelas`] ate doings?: ssan ka naka register??
[inday] hmm tough question for donna
[timothy0709] yeah..thats a good question
[page] gloria macapagal
[DonnaCruz] no comment ako diyan hehe
[Kingkong8] kasi nabasa ko sa internet..
[tsinelas`] lolz
[jezika] bye all have fun… nite doingz
[romanjoy] pareho tayo mga bata gusto cartoons no
[daryle] gud answer
[blueraindrops] naks
[tsinelas`] playing safe si ate doings
[joyce873] bye jezika
[DonnaCruz] nitey jez
[tsinelas`] bye jerzz
[DonnaCruz] si yong roco or gma
[Kingkong8] ako kasi Idol ko si FPJ! hehe joke lang ah!
[timothy0709] night ate dona
[daryle] roco
[romanjoy] mga kababayan ibuto nyo ang mabuti sa ating bansa
[Kingkong8] Ako kay Ping or Roco
[blueraindrops] cge na ms.donna
[daryle] 😉
[romanjoy] para wala nang hirap diba
[blessy] why did fpj run in the 1st place?
[blueraindrops] sino vote niyo?
[timothy0709] gma
[tsinelas`] ma atpa!
[daryle] me, roco
* jezika has quit IRC (Quit: Bye bye)
[page] gwapo c fpj nkita ko na sya
* timothy0709 has quit IRC (Quit: Bye bye)
[daryle] hehehe
[tsinelas`] ehehheh
[blessy] di pa ako makavote.. pero gma ako
[romanjoy] Si GMA ok kasi matalino
[Kingkong8] Me ping/roco.. kaso– can't vote pa eh!!!!! sayang!!
[joyce873] kailan ba ang election?
[blessy] experienced oa
[romanjoy] pero si poe ano kaya nag phils.no
[blessy] pa
[tsinelas`] paalala lang ha.. ibuto nyo yung makakabuti sa bansa..
[blueraindrops] si kingkong taga cavite sguro kaya ping
[page] may 10
[DonnaCruz] ako kasi parang gma or roco din pero naniniwala ako na sincere si fpj. mabait yun kaya lang yung mga sa paliggid niya ewan ko
[missyrose] yah thats ryt
[romanjoy] talaga para wala nang hirap
[Kingkong8] ANg galing mo blue!
[blessy] hehe, ur ryt ate
[blueraindrops] wow
[blueraindrops] pero nung 98 elections i remembered u campaigned for de venecia
[daryle] ate. smile ka pa diyan
[Kingkong8] Nakita ko si Ping! Ok sana kaso- dahil sa kanya- natraffic ako sa cavite!
[romanjoy] Yeah mabait si poe pero sana naman mga kababayan think our country
* inday agrees with romanjoy 🙂
[daryle] ang cute kasi pag nag smile ka
[tsinelas`] lol@ king
[daryle] 😉
[romanjoy] and also specially kong ma compare nyo dito sa ibang bansa
* lovely426 has joined #doingschat
[blueraindrops] nakita ko pa clippings mo noon habang kumakanta ng kapag tumibok sa kampanya
[page] oo di ba may nangyari one nyt habang papunta kayo sa san juan
[romanjoy] talagang kawawa tayo dahil puro lang walang improve dyan
[oly] fpj, my friend's lolo…his own family don't even want him to run as president..
[blessy] ate, do you have plans to enter politics?
[Kingkong8] Mabait si FPJ.
[romanjoy] its right inday
[daryle] haay
[tsinelas`] ikaw iate inday gma ka??
[DonnaCruz] oo jdv ako nagcampaign before
* Guest135 has joined #doingschat
* inday bets on GMA, she's our last best hope 🙂
[romanjoy] You know when ur stay only one country u will not see the difference
[Kingkong8] hehe
[page] related ka kay gina de venecia diba
[daryle] , pareha ra scenario sa una kay erap
[tsinelas`] ate doings: kailan kau lilipat sa ma. luisa??
[daryle] vote sa mga pips
[daryle] dn mag rally2x
[daryle] dayon
[page] san ang ma.luisa
[Kingkong8] Noli De Castro? Loren Legarda?!
[romanjoy] while when u are other country its really hard for me to accept that our own land is really striving hard
[DonnaCruz] july next yr pa matapos ang house 🙂
[daryle] kay gusto i ous
[Guest135] hello doings
[tsinelas`] ahh..
[DonnaCruz] wala
[DonnaCruz] hahaha
[blueraindrops] ako i did not register sa elections kasi sawa na me sa phil.politics
[page] aquino
[Kingkong8] ako rin.. wala!
[page] for president eddie gil
[tsinelas`] ate doings: ilang yrs ba build yung haus??
[romanjoy] sana naman people pls vote the right person and can manage the country
[inday] but you should excercise your right to vote
[inday] yes
[Kingkong8] Eddie Gil?!
[blessy] who do u thnk the ryt person s joy?
[inday] there is still hope, kahit matagal, pwede pang bumangon ang pilipinas
* lovely426 has quit IRC (Quit: Bye bye)
[romanjoy] kahit ako wala dyan hindi maka vote pero palagi akong nag aabang samga news dyan
[DonnaCruz] 18 months ang samin
[page] controversial yun
* joyce873 has quit IRC (Ping timeout)
[tsinelas`] ahh.. tgal din pala
[blessy] its rily sad noh? we have ol d resources pero getting poorer pa rin..
[blueraindrops] mukhang malungkot na si ms. donna
[Kingkong8] yes. May pag-asa pa ang pilipinas!
[page] anong 18 months
* Guest135 is now known as kitkat
[page] sprry labo kc mata ko
[tsinelas`] yung pagawa ng haus nila ate doings @ page
[page] di ko mbasa lahat
* inday says vote Donna Cruz 🙂 hehe biro lang 🙂 but she'll help in her own way, not through politics
[kitkat] hello
[daryle] hi kitkat
[page] ah tnx
[tsinelas`] hi kik
[tsinelas`] kitkat pala
[missyrose] hi kitkat
[romanjoy] you know when u compare the other country actually our land are better but the problem is the dont know how to manage right
[kitkat] hello everybody
[Kingkong8] Donna Cruz for President! (vote na!)
[romanjoy] yeah i will vote for donna
[tsinelas`] hehehhehhehe
[blessy] ryt
[DonnaCruz] teka ito si belle hinihintay ako tabi sa kanya para makatulog. pwede hintay kayo sandali?
[daryle] 😉
[page] syempre solid
[missyrose] vote ko si donna heehee
* kitkat is now known as Guest66987
[blessy] vote donna for crush ng bayan!!
[tsinelas`] sure
[daryle] no prob
* inday says Donna will help in her own way, you'll see it unfold on her website soon 🙂
[blueraindrops] oo naman ms.doings
[tsinelas`] take your timeate doings
[DonnaCruz] hahaha! kawawa ako pag naging presidente.
[blueraindrops] naks…
[page] crush ng bayan solid pa rin
[missyrose] oo nmn!
[blueraindrops] ano yan charity?
[tsinelas`] hehehheheh
[romanjoy] madali ba siyang patulugin
[DonnaCruz] sandali lang ha? balik ako wag muna kayo alis kasi hindi ako maaga matulog
[tsinelas`] ganun @ ate doings.. kwawa daw tau
* inday says we hope you can support her cause. its gonna be good 🙂
[Kingkong8] Ay hindi po. Nandyan naman si Dr.Yong for vice President!
[page] pag ikaw nging presidente mgiging mganda mga filipina
[Guest66987] hello doings maayong gabii
[blessy] oki, take ur time
[DonnaCruz] oo kinakantahan ko lang ito tulog na
[romanjoy] okay i agree
[tsinelas`] wow
[tsinelas`] ako din.. pede kantahan.. heheheheh
[blueraindrops] ikaw ang hulog ng langit
[romanjoy] maganda yan
[Guest66987] kumusta ang kinabuhi sa cebu
[DonnaCruz] teka brb
[missyrose] sa ganda ba nmn ng boses mo
[blueraindrops] ikaw ang aking pag-ibig
[tsinelas`] oksih ate doings
* inday : donna will be right back.
[tsinelas`] ngakk.. poet ka pala blue
* joyce has joined #doingschat
[page] sana kantahan mo rin kami
[blueraindrops] ikaw ang katuparan d2 sa aking daigdig
[blueraindrops] tange kanta yun ni donna
[tsinelas`] ate inday ano ka.. kapuso or kapamilya??
[romanjoy] hello inday pwede ba tayo mag discuss about politics
* Guest10886 has quit IRC (Quit: Bye bye)
* DonnaCruz is now known as Donnabrb
* Guest42033 has quit IRC (Quit: Bye bye)
[romanjoy] gusto ko sana about that topics
[joyce] maybe kantahan tau ni ate doings nxt tym
[page] ate inday gma o fpj
[blueraindrops] gma nga si inday
* Donnabrb is now known as DonnaBRB
[inday] romanjoy: sure, but not here
[blessy] dapat gma, dba?
[Kingkong8] ate donna, ano po yung BRB?
[blueraindrops] i think roco is the safest choice
[tsinelas`] be right backk
[page] ay soru sbi ko sa inyo di ko lahat mabasa
[inday] tsinelas: neither, until both of them shows more responsibility to the viewers
* joyce is now known as Guest35092
[oly] BRB- be right back king kong
[blueraindrops] but between fpj and gma id rather have gma as president
[romanjoy] yeah kahit naging lie na siya minsan pero at least marunong siyang makipag usap sa taga ibang bansa diba
[tsinelas`] lol @ ate inday
[Kingkong8] ohh.. thanks ate oly!
[inday] i think GMA is trying her best to run the country stably
[oly] no prob bob
[Kingkong8] dami kong natutunan dito! lol and brb! saya!
[oly] i need a shot of i dunoe..m falling asleep
[tsinelas`] ehehehehe
[page] aba talagan seryosu kayo sa politics ha
[blessy] everyone should see that
[inday] i have no doubts that Roco is capable too, however, he's a weak link
[romanjoy] u know people it will not help the country when we always change the president
* Guest has joined #doingschat
[daryle] yeah
[Kingkong8] yes ate inday.
[blessy] yeah, the pres is still our last best hope
[romanjoy] coz every president they have different plan
[inday] yes… just be patient, the country will soon be better
[page] sbi ng tita nung c roco daw sa decs wlang sweldo mga teacher
[Kingkong8] sabi nila sayang daw vote kay roco……
[inday] yes kingkong, that too
[page] teacher kc tita me
[romanjoy] so the way always change and never be stable enough
[missyrose] sana nga
[blessy] yeah, by the way, how old are everyone of you?
[inday] the opposition to FPJ, divided ang votes
[tsinelas`] pero dba.. even with the differetn plan.. the question will always be.. is it fotrthe bter or for the worse.
[daryle] m 20
[oly] too bad, i cant vote, but ive been vieing phil news, i really think that GMA should tho my family are pro-lacson becasue he's a cavitenio =)
* Guest has quit IRC (Quit: Bye bye)
[inday] f 25
[Kingkong8] kay roco sana ako. masarap magsuot ng bulaklaking damit!
[blessy] m 16
[page] m 17
[inday] you guys are so young
[inday] 🙂
[blessy] f 16 pala
[missyrose] me 22
[inday] enjoy life! live responsibly 🙂
[tsinelas`] lol @ king
[daryle] f 20
[tsinelas`] f 23
[oly] f/19
[daryle] heheh
[blessy] im the youngest here.. hehe.. n we are toking bout politics
* Guest has joined #doingschat
[tsinelas`] page is a guy? and lbessy too?
[page] young ka pa rin naman ate inday
[Guest66987] hoy mga ate kumusta na ang pinas?
[inday] what i'm saying is that unti-unti nang bumubuti ang bansa.
[blessy] im a girl
[romanjoy] me im young at my age but my mind are old enough to see the situation
[page] ei! im a girl
[tsinelas`] m kasi sabi mo eh
[Kingkong8] hi gurl!
[Guest66987] ate inday anong chika dyan
[inday] i've visited a few local gov offices, and they all have procedures na and organized lines, etc
[tsinelas`] m 16 kasi sabi nyo eh
[inday] guest: wala naman, donna will be right back
* inday : donna will be right back.
* Guest35092 has quit IRC (Ping timeout)
[blessy] we r ol girls here?
[tsinelas`] si kingkong.. girl??
[daryle] girl poko
[romanjoy] anong oras naba dyan sa pinas
[Kingkong8] OO NAMAN!
[daryle] 10 49
[Guest66987] anong chika kay doings
[blessy] 11 pm na
[romanjoy] ty
[daryle] ayya
[page] m shorth for im
[tsinelas`] aba.. kaya kayang bimte
* Guest is now known as Guest86882
[romanjoy] dito 4oclock pa
[tsinelas`] ahh.. okish
[romanjoy] pm
[daryle] sa a.m.
* inday sets mode: +o DonnaBRB
* ChanServ sets mode: -o DonnaBRB
[tsinelas`] d2 nman is 6:51am
[daryle] k
[blessy] wer r u romanjoy]
[romanjoy] switzerland
[missyrose] here 11 50
[romanjoy] ikaw
[Kingkong8] aga pala dyan tsinelas.. Gud morning sayo ha!
[blessy] phil
[tsinelas`] ehehhe..
[oly] hey inday, do u still have contact with mike???
* Guest66987 is now known as kitkat732003
[page] nga pala di ko naabutan yung tungkol sa house ano nga pal tungkol don ok lang ba magtanong?
[tsinelas`] yep.. got to get upp @4am just to xchat with ate doings
[romanjoy] miss kona phil.s
[inday] guest: change your nick: /nick newnickname
[kitkat732003] hello
[kitkat732003] saan na c donna
[Kingkong8] hi!
[jouey] romanjoy i�m in soain, very near
[tsinelas`] matataposna daw sa july nexxt yr yung haus nikla
[inday] oly: yes through friendster
[romanjoy] Blessy saan kasa phils.
[Kingkong8] she'll BRB
[jouey] spain
[romanjoy] yeah
* inday : donna will be right back.
[tsinelas`] tapos sa maraia luisa yung haus..
[oly] oic
[blessy] sa bohol lang, y tomanjoy?
[oly] cool…
[romanjoy] taga leyte pud ko sa bato
[oly] i always see him on aim
* kirsten has joined #doingschat
[page] ganon ba ang laki siguro no
* inday to all: donna will be right back.
[tsinelas`] cguro
[Kingkong8] kurap kurap kayo para di sumakit ang mata sa computer!
[romanjoy] pero nagdako lang pud ko sa cebu
[tsinelas`] ano ba masarap sa bohol?
[page] tsinelas tnx ha lagi mo sagot tanong ko
[daryle] sino taga leyte dito at saan?
* kitkat732003 has quit IRC (Quit: Bye bye)
[romanjoy] ako
* missyrose has quit IRC (Quit: Bye bye)
[Kingkong8] Mama ko!
[blessy] si romanjoy
[romanjoy] Sa Bato lapit lang sa hilongos
[daryle] saan sa leyte?
[tsinelas`] np popage.. blis nga ng screen eh..s croll up. hjehehe
[Kingkong8] Tacloban
[page] skit na nga mata ko sumusumpong na naman
[romanjoy] pareho tayo
* kirsten is now known as Guest79947
* Guest960 has joined #doingschat
[tsinelas`] punta ka na sa cebu page.. dun ka sa clinic ni yong.. ehhee
[Kingkong8] Kurap kurap lang para di ma-dry ang eyes.. ching!
[romanjoy] mag one year palang ako dito sa switzerland
[blessy] hehe
[daryle] heheh
[oly] wow switzerland =)
[page] oo nga kailangan ka na talaga
[romanjoy] oo nga pag bumalik ako sa pinas
[romanjoy] agad ako kay yong hehe
[blessy] anong trabaho mo sa switzerland?
[page] magiipon na nga me e
[tsinelas`] cno taga cebu d2??
[Kingkong8] sama ako!
[daryle] ako
[daryle] cebu ako
[romanjoy] may asawa ako dito at may tatlo nang anak
[tsinelas`] saan
[tsinelas`] saan?
[daryle] sa talisay
[oly] inday, do u still remember me?
[Guest79947] Hi to all
[romanjoy] actually im pregnant now with my third
[tsinelas`] eb tau.. nxt month uuwi ako sa cebu eh
[daryle] ryt now
[tsinelas`] ehehe
[daryle] m girl
[page] sa cebu edi malapit ka lang kay doings @romanjoy
[tsinelas`] wow.. romanjkoy..
[romanjoy] this coming may manganak ako
* sari has joined #doingschat
[daryle] congrats
[page] congrats
[blessy] congrats 2
[tsinelas`] daryle.. eb tau…
* missyrose has joined #doingschat
[romanjoy] oo nakatira kami nang asawa kosa Silver hills sa talamban
[daryle] girl nga ako
[Kingkong8] Congrats!!
[daryle] tsinelas
[Kingkong8] hi missy!
[tsinelas`] cno ba sbi sau nde ka girl @ daryle
[tsinelas`] yeah
[Guest960] san si donna
[tsinelas`] sup!?!
[missyrose] hello kingkong
[romanjoy] puro babae ang mga anak ko blessy
[blessy] wala pa
* inday to all: donna will be right back.
[page] uy bka next month pasyal ulit kmi sa plantation bay sna mkita ko ulit ci donna
[Kingkong8] tsinelas.. ba't tsinelas?
[tsinelas`] papatulog kay belbelle
[tsinelas`] nawawal kasi tsinelas ko eh
[tsinelas`] hehheheh
* sari is now known as Guest77360
[blessy] hehe, we are all girls too.. were three
[page] cute nga e tsinelas
[Kingkong8] hehe ako sige sapatos na lang kaya kasi sira na sapatos ko! j/k!
[Guest960] nakita mo na si donna page
[inday] sari: change your nick to nickplusnumber, type /nick newnickname
[romanjoy] sana mabuti ang panganak kosa may
[daryle] hehehe @ tsinelas
[Kingkong8] ate inday kamusta?
[Guest960] san ka sa cebu page
[Kingkong8] ngayon ko lang kayo na-encounter kasi..
[inday] kkingkong: mabuti, thanks
[tsinelas`] daryle..eb tau.. kasi uuwi ako sa cebu next mth..
[daryle] hehehe
[page] oo kaso nahiya me lumapit kasama kc nya c yong kaya vinideo ka na lang sya
[romanjoy] Yeah siguro taman na ang three kasi hirap dito pag walang katulong no
[Kingkong8] balita ko kamukha nyo raw si donita rose!
[tsinelas`] xcited na ako..uuwi sa pinas
* joyce82 has joined #doingschat
* Guest86882 has quit IRC (Ping timeout)
[jouey] are you on holidays (sa pinas)?
[romanjoy] ako hindi pa makauwi dahil maliit pa ang mga chikiting
[blessy] nope
[inday] nyek: no!
[tsinelas`] cno kamukha ni donita rose??
[page] dito me sa manila pasyal lang kmi sa cebu la kami kamag-anak sa cebu
[blessy] magaaral ako sa cebu
[tsinelas`] cno pupunta sa plantaion bay?
[tsinelas`] saan sa cebu blessy? cdc?
[romanjoy] siguro 5years from now pa blessy ako uwi
[page] san ka ba stay ngayon @ tsinelas
[Kingkong8] curious ako.. paolo santos.. do you like him?
[blessy] yup cdc
[tsinelas`] sa california po @ page
[inday] kingkong: for me, i dont like paolo santos
[tsinelas`] ganda ng songs ni paolo santos
[Kingkong8] nabasa ko po kasi sa friendster.. paolo santos was mentioned there.
[romanjoy] wala paba si donna
[blueraindrops] sino fave niyo sa starstruck if nanonood kayo nun
[page] kmi ng family ko@ tsinelas
[blueraindrops] ?
[Kingkong8] ah ok. pwede po ba malaman? me kasi… umm..
[tsinelas`] when @ page
[tsinelas`] ano yungking?
[romanjoy] ilang taon kana blessy
[daryle] yung nanalo sa girl fave ko
[missyrose] sino sa inyo ang join sa friendster?
* Guest77360 has quit IRC (Ping timeout)
[page] ganad ng songs nya and galing sya mggitara pro s sya cute
[inday] kingkong: i just dont think he is talented enough
[blessy] hopfully gus2 ko makakita muli ni donna
[Kingkong8] hehe.. ok.
[tsinelas`] ako join ako sa friendster
[romanjoy] saan kasa bohol blessy
[oly] any of u guyz here about nathalie de leon???
[inday] he's reusing old songs to make them famous, he doesn't sing well (you should know what voice is good), he doesnt have any appeal at all
[tsinelas`] inday..wala ka plano visti sa cebu?
[page] bka next month pag naayos yung leave ng daddy ko @ tsinelas
[blessy] tagbilaran romanjoy,..
[missyrose] ano ang mail add mo add kita
[Kingkong8] cool lang ate inday! i get ur point.
[romanjoy] nakapunta din kami dyan nag vacation lang nang asawa ko
[DonnaBRB] yehey finally natulog din! teka pa view ko
[tsinelas`] ako din next month uuwi sa pinas @ opage..s acebu ako 22loy
[DonnaBRB] 🙂
[tsinelas`] webbee ate doings
[page] pro tama ka dun ate inday
[missyrose] sa wakas!
[blessy] hi ate donna! miz ya!
* DonnaBRB is now known as DonnaCruz
[inday] tsinelas: hehe wala…
[inday] wb doings
[page] hay ate doungs
[Kingkong8] wb ate doings!
[tsinelas`] punta tau sa cebu.. tapos..gimik with ate doings.. heheh 🙂
[inday] dami nilang pinagusapan, friends na sila lahat 🙂
[romanjoy] Hello donn sino pala ang doctor nang mga bata mo?
[page] ay doiungs pal
[Guest960] balik na si doinbs
[page] ay dnna na nga lang
* inday says DonnaCruz is Donna Cruz 🙂
[page] ay mali pa rin
[Guest960] yah punta tayo sa cebu treat ni doings hehehe
[tsinelas`] ngekkk
[blessy] hehe
[Kingkong8] Do you like boybands!?
[inday] guest: haha wawa naman si donna
* joyce82 has quit IRC (Ping timeout)
[blessy] i like blue!!
[DonnaCruz] si dra noreen chua
[DonnaCruz] y?
[romanjoy] sa chong hua kaba
[Guest960] kaya yan ni don hehehhe
[DonnaCruz] hindi siyempre
[DonnaCruz] sa cebu doc kami forever
[romanjoy] Si doctor Chang sa akin sa chonghua
[missyrose] donna anong oras ka natutulog?
[tsinelas`] lol
[Kingkong8] oo nga po..
[blessy] mag aaral ako sa cebu doc ate! dentiistry! 🙂
[DonnaCruz] ya si doc chang isa sa tumingin kay belle nung nasa i.c.u. siya
[oly] do u have silent keyboards ate donna? aren't u in the bedroom? will it bother your kid's sleep?
[DonnaCruz] ako mga 4-5am minsan
* inday is now known as inday_BRB
[tsinelas`] ate doings: ok lang ba kay kyong..late ka slep?
[daryle] tagal
[romanjoy] yeah magaling kasi siya sa cough
[tsinelas`] ngekkk
[tsinelas`] bat ganun ka late.?
[Kingkong8] what time do u wake up in the morning po?
[DonnaCruz] hindi. pag tulog ito si belle kahit gano kaingay hindi magising
[Guest79947] Hi ate donna
* sweetck_23 has joined #doingschat
[DonnaCruz] dito siya tulog samin sa room namin
[blessy] hehe
[tsinelas`] ehehhe
[romanjoy] kayo ba lahat sa room nang mga bata
[missyrose] sobra nmn yatang late cge nakakasira sa beauty mo yan
[page] si cian saan sleep?
[blessy] meron bang susunod ate kay belle?
[Guest960] doings; PAMELA 1, ocho or bulaklak?
[tsinelas`] 'lol
[blueraindrops] or spageti
[blueraindrops] lolz
[missyrose] ano yung lol
[Kingkong8] ako rin lol
[DonnaCruz] si cian fav pamela1 haha!
[blueraindrops] laugh out loud
[blessy] heehee
[missyrose] thank you
[blueraindrops] lol
[Kingkong8] ang cute naman!!!
[DonnaCruz] si belle dito tulog. si cain sa room niya kasi madali magising sa ingay. si belle super dikit sakin kaya hindi yun tulog hindi ako kasama
[tsinelas`] ehhehhehe
* bernice has joined #doingschat
[oly] those songs are purely pilipino, i love it =)
[missyrose] ang sweet nmn…
[blessy] heehee
[romanjoy] pareho tayo
* joyce has joined #doingschat
[page] lmommys girl
[bernice] hi! thanks inday! you're a lifesaver!
[tsinelas`] ate doings: 2log na ba si yong? 🙂
[blessy] katulad ako ni belle noon
[page] ako daddys girl
[Guest960] belle sleeps with u doings
[romanjoy] sya nga pala donna my husband regards to you
[romanjoy] he love ur music
[Kingkong8] sweeet!
* joyce has quit IRC (Quit: Bye bye)
[blessy] pero ngayon palagi na ako away ni fader
[tsinelas`] lol
[DonnaCruz] roman hello sa husband mo rin
[bernice] hi donna!
* joy1019 has joined #doingschat
[Kingkong8] sa umaga, ako patugtug loud Donna Cruz music!
[romanjoy] thanks daw
* inday_BRB is now known as inday
[DonnaCruz] tsinelas hindi pa siya tulog. nood ng t.v.
[blueraindrops] fave mo b c audrey hepburn donna?
[page] doings nkita kita b4 sa plantation bay ng rent ka ng bike ksama mo c yong
[bernice] what time do you usually sleep?
[tsinelas`] ahhh
[romanjoy] mga anak ko bc sa laro sa room
[DonnaCruz] blue galing yun! 🙂
[Kingkong8] 4am-5 daw po.
[oly] i love "rain" i got my younger sing it for me woohoo!
[romanjoy] 4oclock pa dito
[oly] sister*
* Guest960 has quit IRC (Quit: Bye bye)
[joy1019] rain is such a nice song
[DonnaCruz] page talaga? heehee 🙂 palagi kami dun
[blueraindrops] ang cute oly
[blessy] talaga ate! gwapo silang lahat sa blue
[joy1019] i luv that song!
[Kingkong8] fave po ni papa RAIN version nyo!
[blueraindrops] bakit wala ka na sa viva doinks?
[page] nahiya nga me lapit sayo kc ksama mo c yong
[romanjoy] me too i lvoe rain palagi kong i play sa comp.yong songs na yan
[Kingkong8] blue boyband?!
[DonnaCruz] si belle dito samin and kailangan ko kantahan or basahan ng storybook b4 siya tulog
[Kingkong8] ako kanta RAIN pag umuulan!
[DonnaCruz] wag kayo hiya. bait naman yun si yong.
[romanjoy] ang yaya minsan magpatulog ba
[Kingkong8] kaya lalong umuulan.
[blessy] yup, boyband
[daryle] hdhddh@kingkong8
[Kingkong8] oic. i love nsync eh. but i like all d boybands.
[blueraindrops] donna christina aguilera or britney spears?
[romanjoy] ilan ba ang helper mo donn
[DonnaCruz] kay belle ako lang palagi dapat except kung wala kami sa bahay
[blessy] malas naman ako. pag nandoon ako sa plantation hindi ko nakita si donna kahit isang artista lang
[page] first time kc kita makita kaya nahiya me vinideo na lang kita
[romanjoy] si yong hindi pa tulog?
[missyrose] lbuti pa kayo nakita nyo n c donna
[Kingkong8] nawala na kaba ko……
[Kingkong8] ay bumalik.
[DonnaCruz] sa voice si christina sa face si britney and galing sayaw
[oly] out of all the sisters, i don't sing at all not until we got the magic microphone haha then everyne forced me to sing…my mom almost teared becasue i actually sang for the first time, i chose to sing "Rain" i love that song ate doings =)
[romanjoy] ako din hindi kita kay donna
[joy1019] ako kumakanta ng kahit ano pag umulan
[blessy] wow..
[romanjoy] saan kaba sa guadalupe donn
[page] nood pa daw ng tv c yong
[joy1019] diba nerevive ni ate doings ung rain? who is d original singer?
[blueraindrops] ako nakita ko si donna sa alabang town center nung nagconcert siya sa promenade kaya lang nasa backstage lang ako..
[DonnaCruz] pag holy week dami sa plantation bay kung gusto niyo makakita artista heehee 🙂 last time dun kami dun din sila assunta, michelle bayle, randy santiago, etc..
[blessy] nakita ko siya paggraduation niya
[inday] joy1019:maybe timmy cruz or cherie gil
[romanjoy] naghanap kasi kami nang bahay noon at nagbakasakali saan yong bahay mo para neighbor kita noon
[blessy] hehe, thank you ate doings
[Kingkong8] May Narinig akong ibang kumanta ng FOR BABy, ay naku- mas Maganda version nyo.:)
[oly] randy santiago…am i related to him???
[bernice] alin ang mas maganda para sa yo shangrila o plantation bay?
[blueraindrops] dan fogelberg yata original nang for babay
* joy1019 has quit IRC (Quit: Bye bye)
[DonnaCruz] yung rain si boy navarete orig singer
[blueraindrops] baby pala
* joy1019 has joined #doingschat
[page] grabe naalalame nung mag guest c donna sa all about you sa pagmamadali me nahulog me sa hagdan
[blessy] plantation para sa kin.. hehe
[blessy] hehe page
[inday] kawawa ka naman page
[romanjoy] buti pa kayo kita sa tv ako dito miss na pinas
[Kingkong8] mabigat na eyebags ko. pero ok lang! hehe
[DonnaCruz] si yong mas gusto plantation ako shangri-la
[page] kc super madali dhil irerecord ko
[blessy] parehas tayo kingkong
[daryle] hehehe. kawawa naman. pro mas kawawa m. d ko panood yon
[Kingkong8] ganda ni ate donna sa ALL ABOUT YOU!
[joy1019] ako nmn nung mag guest sya recently sa MTB ay naexcited ako dhil may TFC na kmi at sobrang saya dhil makita ko si donna
[page] maganda shangrila ang laki
* xenn has joined #doingschat
[romanjoy] sige donn sana email mo ako na write down moba yong email nabinigay ko
[DonnaCruz] hahaha 🙂
[DonnaCruz] hi ate trish 🙂
[Kingkong8] HI ATE TRISH!
[joy1019] fav. ko siya palagi pag karaoke ay kailanga kumanta ako ng donna songs
[blessy] hello
[romanjoy] dont forget joyschuster2bluewin.ch donna
[page] oo nga lalo na nung kinanta at sinayaw nya yung kapag tumibok
* xenn has quit IRC (Quit: Bye bye)
[blessy] sorry ate dons.. hindi ko alam iyong mga songs mo..
[page] hi ate irish
[bernice] sana mag lagay din si inday ng bagong vidioes, wala kaming TFC dito, (pls inday?)
* xenn has joined #doingschat
[tsinelas`] wbb
[romanjoy] i mean joyschuster@bluewin.ch donna email kasa akin ha? hintay ako
[Kingkong8] ate dona andito ba ate trish?
* xenn has quit IRC (Quit: Bye bye)
[inday] bernice: di pwede may copyright issues kaya unti lang ang pwede
[oly] i think i'm pulling an all dayer later…no sleep yet, glad it's sunday and it's my spring break =)
[blueraindrops] MS.DONNA BAKIT WALA KA NA SA VIVA???
* missyrose has quit IRC (Quit: Bye bye)
[inday] blue: contract has expired and she wont do movies anymore
[bernice] oic
[joy1019] kami tapos na ang sprimg break
* missyrose has joined #doingschat
[page] kc tapos na contract nya
[romanjoy] aalis na ako donna kasi medyo haba na ang chat ko
* xenn has joined #doingschat
[blueraindrops] DI SIYA RINENEW?
[romanjoy] email kaha?
[inday] bye romanjoy, thanks
[blessy] bye romanjoy
* missyrose has quit IRC (Quit: Bye bye)
[romanjoy] bye everybody and goodluck to all
[tsinelas`] ayawni ate doings..gaw ng movie
[inday] blueraindrops: she wont do movies anyway
[page] ayaw na muna nya ng movies
* missyrose has joined #doingschat
[romanjoy] email ka donn joyschuster@bluewin.ch
[blueraindrops] honga pero ung sa album…
[daryle] bat naman ayaw gawa nang movies
[page] bye romanjoy
[inday] and i dont think it expired, i think donna has to get out of the contract coz she has to marry…
[joy1019] sana magawa sya ng album in the future
[tsinelas`] byerz romanjoy..be asgfe
[romanjoy] cu next time
[missyrose] nyt nyt donna… thank you for spending time with us! take care always, good luck ang God bless you and your family! luv you!!!
[DonnaCruz] blue: wala lang. hindi nako nagrenew ng contract kasi may konti di pagkaunawaan sa past
[blueraindrops] wala sya panahon daryle
[xenn] wow kala ko finish na andtio pa pla kayo swerte ko 🙂
[blessy] me too, i need to go now.. I will still go to school tomorrow
[blessy] bye everyone!
[DonnaCruz] thanks missy! ingat ka:)
[inday] bye blessy
[blessy] 🙂
* missyrose has quit IRC (Quit: Bye bye)
[page] kc ayaw nya malayo ng matgal sa family nya
[xenn] aalis na c donna?
[daryle] k
[romanjoy] bye donna
[tsinelas`] nde si romanjoy
[Kingkong8] ate trish….
[DonnaCruz] sige blessy night 🙂
* romanjoy has quit IRC (Quit: Bye bye)
[Kingkong8] love yah ate trish!
[blueraindrops] GANUN BA MS. DONNA sad naman… Viva princess ka pa naman 🙂
* romanjoy has joined #doingschat
[Kingkong8] ate donna i love yah!
[blueraindrops] okay lang yun kahit asan ka dito kame para sau
[blueraindrops] 🙂
* romanjoy has quit IRC (Quit: Bye bye)
[bernice] donna, are still planning to have more kids?
[sweetck_23] after this chat kelan ulit masusundan ang chat natin?
[blueraindrops] ms.donna pwede mo va ichika samin yung di pagkakaunawaan b4?
[tsinelas`] happy nman sa life nya si ate doings eh.. im sure no regrets sya dba ate doings ?? 🙂
[DonnaCruz] so ano pala yung mga namiss ko na pinagchikahan kania
[bernice] what's next in store for you?
[DonnaCruz] oo naman happy talaga 🙂
* joy1019 has quit IRC (Quit: Bye bye)
* joy1019 has joined #doingschat
[inday] doings: politics
[page] actually ngakentuhan lang kmi
[sweetck_23] cno vote mo 4 president'
[inday] doings: tapos friends na sila lahat
[DonnaCruz] wala blue. may kinalaman sa pagka bf ko nun kay yong.
[tsinelas`] ganun @ ate doings
[xenn] kelan uli yung nxt chat? nxt kaagad eh noh
[tsinelas`] bwall ba?
[page] ayaw ba nila kay yong
[blueraindrops] ah… pero diba nakagawa ka pa nga ng album while preggy ka??
[page] kaya ba wala cila sa kasal mo
[DonnaCruz] ahaha ok 🙂
[xenn] mag cousin ba c yong and lucie torres?
[tsinelas`] nde
[tsinelas`] ay..hhehehehhe..sagutin ba
[xenn] i don't think so
[inday] page: no, she just has to stay single
[tsinelas`] for how long??
* blessy has quit IRC (Read error: Operation timed out)
[blueraindrops] ah ok!!!
[DonnaCruz] oo pero ok pa nun sila sa manager ko ako sunod na lang sa manager then hindi na rin ok sila ng manager ko so hindi na nag renew
[page] related yata cila pro distant na
[tsinelas`] ok lang yung misundersstanding na yun.. happy naman si ate doi9ngs eh..
[inday] blueraindrops: BLUE, viva is both movies and records, and isa lang dun walang intindihan, di na pwede ok??
[blueraindrops] ic
[blueraindrops] ok!
[inday] that's how it works in the real world.. business is business. lets close that thread. Thanks.
[bernice] look for that silver lining na lang
[page] sbi lipat ka daw sa satr records
[blueraindrops] Ms. DOnna hindi ka ba kinuha ng ABS CBN para maging regular star nila kahit kelan pansin ko kasi kapag naggiguest ka sa kanila parang impt ka talaga
[Kingkong8] that's life.
[page] muti media star ka pa rin naman
[DonnaCruz] oo. dami against kasi din nung nag bf ako and i announce sa buong mundo na may bf nako
[Kingkong8] forever naman!
[DonnaCruz] ayoko kasi nagtatago or nagdedeny
[tsinelas`] ok lang..yun..sus.past is pastt..
[Kingkong8] yah!! you go gurl!
[blueraindrops] yeah. Multi Media Star forever!
[tsinelas`] worhti t naman dba
[oly] that proes ur a genuine person =) good job
[page] i remember nagtampo din sayo ci mommy yolly diba
[oly] proves*
[tsinelas`] worth it naman dba…
[xenn] nawawala ako sa topic heheh
[inday] blueraindrops: im sure if donna's management and abscbn has come to an agreement, then she'd be a star there. but again, there must have been some unreconcilable conditions.
[Kingkong8] TAMA.. Kung may Megastar, Diamondstar, May MULTI MEDIA STAR- DONNA CRUZ
[tsinelas`] ay teka.. chicka.. 22oo bang may anak ni aubrey miles??
[joy1019] i gotta go na dhil magsimba pa kmi. nioce chatting with u ate doing and everyone here
[inday] page: i dont think its nice to put back old sad issues like that
[sweetck_23] doings cno vote mo 4 president?
[joy1019] first ko lang to hope there is more to come
[DonnaCruz] blue hindi eh kasi magastos din dahil dito pako cebu may mga accomodations pa and everything tapos dami naman nila talents na na magaling naman so hindi na kailangan.:) hirap din kasi pag madaming hindi pwede na gawin ko kasi may family na
[blueraindrops] inday do you mean nagkaroon ng step ang ABS to get Donna?
[tsinelas`] bye joy..pagdalsal mo ako ha
[page] oo kc kpitbahay nung frend ko yung tita nya
[DonnaCruz] sige joy ingat thanks din
[joy1019] ate inday salamat sa pagarrange nito and ate doings salamat for taking time off to chat with us
* joy1019 has quit IRC (Quit: Bye bye)
* joy1019 has joined #doingschat
[inday] maybe yes, maybe no
[blueraindrops] hehehe kahit pa madami sila talents iisa pa din si Donna Cruz lolz!
[DonnaCruz] joy oo naman. pag wala din akong ginagawa gusto ko din chat 🙂
[tsinelas`] ehehhe
[blueraindrops] Ay miss donna familiar ka ba sa Movie Idol Magazine noon?
[DonnaCruz] asus naks heehee 🙂
[tsinelas`] ate doings: lagi ka bang and2 sa chatroom?? 🙂
[page] grabe ang tagl ko hinintay itonhg chat na to
[Kingkong8] di pa'ko antok pero yung eyebags ko- mukha akong may black eye sa mata!!
[joy1019] thanks are doings bye na talaga magagalit ung isa sa kambal sa akin pag idi ako umalis
[joy1019] bye ulit!!
[joy1019] take care
[blueraindrops] Kasi may column ka dun its me, donna tapos nagkukuwento ka ng mga nangyayari sayo kaw ba talaga nagsusulat nun?
[DonnaCruz] kung may chatroom siguro palagi basta hindi busy 🙂 kahit pakamusta musta lang
[tsinelas`] ehehhehe..nice
[page] gusto nyo ba yung coke commercial?
[tsinelas`] anong meron?
[Kingkong8] ATE Donna, HELLO daw From ATE ROX= di siya maka-connect ata.
[xenn] yung channel d bkit ndi work?
[joy1019] b4 i leave ate inday may mga donna pics akong tinake nung nag webcam sya
[DonnaCruz] oo kami ng friend ko na sa press 🙂
[joy1019] if u want just tell me
[joy1019] i made some
[inday] joy:
[inday] please send them
[inday] i would appreciate them
[inday] hindi kasi ako nagview n copy ng pics
[inday] please send them to inday@unforgettable.com SUPER THANK YOU!
* Disconnected
Session Close: Sun Mar 21 23:27:22 2004
Session Start: Sun Mar 21 23:29:37 2004
Session Ident: #doingschat
* Now talking in #doingschat
* Topic is 'WEBCAM: In Yahoo Messenger, add "doingschat04" as your friend'
* Set by inday on Sun Mar 21 21:32:07
[DonnaCruz] chin: mas naging ok kami ni vina ngayon. ewan ko ba pano grabe naman kami intrigahin before na wala naman pinagmulan. ngayon super ok kasi siya nagpakilala samin nung bestfriend ko dito sa cebu, cousin niya
* ChanServ sets mode: +o inday
[page] ang ganda rin ng armpit mo sorry masyado yata personal
[xenn] yeah no pimples
[blueraindrops] ms.donna nawala ka na po sa cam?
[DonnaCruz] bernice alam mo wala talaga. panglinis ko lang cetaphil.
[DonnaCruz] 🙂
[oly] vina's tight! nice body =) and my dad's friend's niece
[Kingkong8] ate donna, da best mga mata nyo. (pwera usog!)
[DonnaCruz] basta hindi ako hilig maglagay ng kung anu-ano sa face ko. siguro nakatulong magpa ok sa skin ko ngayon kasi hindi na palagi make up.
[DonnaCruz] before kasi everyday make up dahil sa work ko
[page] ang ganda nga ng eyes mo
[xenn] nag me make up krin at home donna?
* Guest79947 has quit IRC (Quit: Bye bye)
[DonnaCruz] hahahahahahaha
[Kingkong8] Ganda ni ate Donna lalo sa personal!
[tsinelas`] natawa siya
[tsinelas`] hehehhe
[DonnaCruz] sa bahay liner lang ako 🙂
[tsinelas`] eye liner?
[tsinelas`] hehhee
* kirsten20 has joined #doingschat
[xenn] i like her kilay 🙂
[DonnaCruz] tsinelas oo
[oly] that's how u do it, natural beauty
[tsinelas`] cetaphil dba mild lang sya..
[bernice] i hope i can meet you in person, when i go back home to cebu
[tsinelas`] lotion din ate doings.. gamit mo??
[tsinelas`] cetaphil??
[DonnaCruz] ay sorry connecting na ngayon webcam
[Kingkong8] So far, totoo talaga to.. siya talaga pinakamagandang tao na nakita ko!
[DonnaCruz] palagi nagf-freeze
[inday] si donna nagturo sa akin maglagay ng eyeliner.. super effective
[inday] timeless
[blueraindrops] hahaha
[daryle] paano ba?
[tsinelas`] ate doings..ano fav. mo na perfume ngayon?? 🙂
[DonnaCruz] che naalala mo pa hahaha 🙂
[blueraindrops] paano daw dapat maglagay??
[page] talaga makapaglagay nga
[daryle] maglagay nga eyeliner?
[oly] eye liner the best =)
[inday] of course! super fabulous galing mo
[tsinelas`] paano ba maglagay ng eyeliner??
[kirsten20] ate doings nakita mo ako sa webcam.bakit nawala yun webcam mo.
[inday] blue: sa itaas lang tapos mas madami unti sa edge… hehehe
[tsinelas`] ate inday: paano ba???
[blueraindrops] ehhhe
[bernice] cetaphil is good, hypoallergenic din sya
[Kingkong8] TURUAn nyo po ako.. AKo pag maglagay parang eyebags!!!
[xenn] pano ka ma contact sa cebu? cguro normal na sa tga cebu ang mkita ka
[DonnaCruz] chanel gamit ko yung cristalle
[blueraindrops] nde naman ako pde magalagay kasi boy ako
[page] uy 14 na lang tayo sa chat room
[DonnaCruz] pero hindi ako gano sa perfume eh mas gusto ko cologne
[inday] natulog na ang iba
[tsinelas`] bango ba?? ate doings??
[DonnaCruz] amoy babies ko
[tsinelas`] anong cologne gamit mo @ ate doings?
[Kingkong8] MAtira matibay!
[tsinelas`] hehehehhe..sweet ng scent
[DonnaCruz] haha!:)
[page] switzal joke
[tsinelas`] matira matibay @ king
[tsinelas`] ate doings: anong cologne gamit mo??
[page] matira matibay@all
[Kingkong8] ATe Donna, si ate trish, di makapasok!
[xenn] cno kya matibay
[tsinelas`] kahapon pa kao adn2
[tsinelas`] ako..
[oly] i remember, johnson's baby clogne…the best or angel's breathe…
[tsinelas`] kahapon pa ako d2.. ehhehehheheh
[page] tlagang love mo channel
[blueraindrops] honga si tsinelas naabutan ko kaninang umaga d2
[DonnaCruz] yung zwitsal
[xenn] n2log kna
[oly] u guyz should try happy by clinique
[sweetck_23] tibay mo tsinelas ha..
[tsinelas`] dats one of my fav.. @ oly
[tsinelas`] miled lang sya
[tsinelas`] hehehhehehhe
[blueraindrops] wala pa din cam ni Ms.Donna
[page] sbi ko na e tama ako zwitsal
[tsinelas`] but of course..anything for ate doings..
[oly] not too strong
[DonnaCruz] weird tagal makaconnect
[page] uy mabango un meron ako nun
[xenn] johnsons ok din
[blueraindrops] oks lang
[inday] umaga na kasi sa US so babagal na ang yahoo…
[tsinelas`] gusto ko din yung sweet pea ng bath and body works
[blueraindrops] sino may mms jan? meron ako pic ni donna sa phone ko!@
[tsinelas`] bangooo
[DonnaCruz] ano pang bago?
[sweetck_23] adoings ano bago mo commercial?
[inday] pati itong IRC.. dami na magchachat globally.
[DonnaCruz] heehee ako ba magtanong?
[DonnaCruz] 🙂
[tsinelas`] lol @ ate doings
[blueraindrops] pinakabago pa rin ung progress
[xenn] oo nga
[page] bgo?????
[DonnaCruz] sweet wala. heehee
[blueraindrops] at sara lee print ads
[xenn] nung bday mo ok ba?
[tsinelas`] khapon pa ako and2..not once na nadc ako.,.. ag naman sana.. ehhehhe
[oly] you guyz here about nathalie de leon?
[oly] u ate doings?
[page] ci joey and kris ngkabalikan na
[sweetck_23] doings cno vote mo 4 president?
[tsinelas`] cno yun?
[bernice] oo nga pala, how was ur b-day?
[DonnaCruz] ya may mga offers pero puro hindi natutuloy pano hindi kaya budget. hehe 🙂 hindi naman sa mataas kaya lang super tipid naman
[inday] sweetck: donna says yong would vote for roco or gma
[blueraindrops] talaga???
[inday] sweetck: she refused to give out her comment, kung sino
[blueraindrops] ano ung mga nagoffer pede malaman??
[page] ang kuripot naman nila
[xenn] fpj? ok ba
[Kingkong8] tara mag-ambag tayo!
[DonnaCruz] ok bday simple lang.:) nag lunch party kami sa country club (cebu) yhen dinner kami 2 ni yogn sa shangri-la 🙂
[inday] ipopost ko ang picture nya sa bday nya malapit na
[tsinelas`] ate doings: dba bad yung deny mo ang anak mo..?? imean yung may anak ba..tapos deny mo sila
[DonnaCruz] hirap kasi ang bansa natin ngayon kaya hindi ma blame.
[blueraindrops] xenn she refused to comment re elections vot
[DonnaCruz] oo naman tsinelas
[blueraindrops] ms.donna cno nagoffer??
[tsinelas`] bat ganun si aubrey miles???
[oly] bad start for business ate doings?
[page] im glad super happy ka nagyon khit medyo nainis me nung bigla ka nagpakasal
[tsinelas`] ako happy..kasi.. she's happy dba ate doings..
[blueraindrops] ako din nalungkot noon feeling ko inagawan ako ng love lolz
[DonnaCruz] confidential yung ganun blue pasensya na. pag commercial kasi tuloy man or hindi pwede kalang magsabi kung napalabas na ang commercial mo
[tsinelas`] kaso. nga lang.. parang.. gulat dba
[blueraindrops] oo nga
[inday] bluerain: i dont think it is proper to discuss that hindi na nga natuloy eh
[page] kasi ayw nya masira carrer@tsinelas
[bernice] inday, i love the new site, keep up the gud work, more power and god bless!
[blueraindrops] oks lang…
[blueraindrops] 🙂
[inday] bluerain: can you not ask too many details? thank you. i dont think those are proper to ask.
[inday] thanks bernice
[Kingkong8] Nagmamasters na po ba kayo ate Donna?
[blueraindrops] sorry po
[page] lux yata diba?
[tsinelas`] waaaaahhh.. ano ba yung nde na tuloy
[DonnaCruz] page hehe 🙂 medyo biglaan kasi eh no? pero ganyan talaga hindi mo masabi kelan. ako kasi gusto ko talaga maaga magka family. hilig talaga ako sa bata
[tsinelas`] sorry.. nawala ata ako eh
[sweetck_23] doings any plan going 2 work after ur graduation?
[xenn] sana manalo uli tayo nxt tym sa webawards
[inday] gusto yata tayo ma-libel nito eh
[inday] xenn: sana, pero dami competition
[page] pro cute naman babies mo
[bernice] i think that was a good decision
[tsinelas`] ate doings: when ba ang nagpropose si yong sau??? 🙂
[xenn] ok lang yun basta dmi voters
[DonnaCruz] chin: oo mas masters pala ako sa nov 🙂
[page] lam mo nirekord ko lahat ng guestings mo, yung weding mo lang ang wala kc cira recorder nmin non kainis nga e san pwede makakuha ng copy
[bernice] aang bata mabilis lumaki, hindi mo na mababawi ang tym na na miss mo sa childhood nila
[inday] that's super cool
[Kingkong8] Goodluck po! at thanks po talaga sa lahat…… u know..
[DonnaCruz] xenn oo pero ang impt buo pa rin ang site hanggang ngayon 🙂
[tsinelas`] alis ka na king??
[oly] king, your're joanne right???
[xenn] yeah impt. yun basta ndi nawawala
[page] anong masters sa nov
[DonnaCruz] si yong nag propose jan. before mag sinulog dito sa cebu. dec kami nagkakilala wala pa 1 month kasal agad hehe
[inday] sorry pala kung nawala ito dahil super talaga naging busy ako
[sweetck_23] doings musta naman kuya jomar mo?
[inday] ngayon oks na
[tsinelas`] lol
[tsinelas`] ate doings: paano no nman na laman na si yong na nga yun???
[page] feb15 diba
[bernice] wow!
[Kingkong8] ate oly, my name is chin. bow.tsinelas, dito ako hanggang matulog ang lahat. wag lang maubusan ng load.
[oly] one month, isnt that too fast???
[sweetck_23] doings active pb s singing kuya mo?
[DonnaCruz] che: ok lang no sus hindi mo naman ibligasyon 🙂
[DonnaCruz] sweet ok naman ang kuya ko. 🙂
[xenn] o nga but kasal agad 🙂
* DEBBIE has joined #doingschat
[kirsten20] ate donna hirap ba ang computer science sa cebu doctors?
[oly] slick move kuya yong…
[DonnaCruz] oly hindi kung alam mong love niyo isat isa 🙂
[oly] oh sorry kingkong, i thought u were joanne
[oly] hmmm…
[page] alam mo napanood kuya mo sa legend kumkanta grabe ang cute niya
[oly] interesting..
[xenn] kuya mo pla ndi na mag ka comeback sa movies?
* DEBBIE is now known as ANGELIC_BROWNeYES
[DonnaCruz] kirsten medyo hirap talaga esp yung math nila. kung ayaw mo hirap associate na lang pero better kung yung 4 yr course
[xenn] chika kc b4 sa showbizpinoy ata mag se-sexy daw sya
[oly] my parents went out for 10 years before they got married hehehe
[tsinelas`] ate doings: gano k tagal kayo magkakilala ni yong bago nagpropose?
[inday] yes madaming math ang compsci
[oly] math sucks!!!
[tsinelas`] lol
[Kingkong8] it's ok ate oly. pareho kami ata taga-CAVITE
[page] oonga napnood ko rin yun sa s-files interview nga di db doings
[sweetck_23] doings musta mommy and daddy mo'
[Kingkong8] oo nga po..
[kirsten20] Sa UC ako nagaaral hirap talaga ng course ko Information technology. Nahirapan ako sa program.
[DonnaCruz] ya may ganun talaga. sis ni yong 9 yrs sila bf niya bago kasal
[DonnaCruz] ganyan talaga love hindi mo alam kelan
[tsinelas`] wow
[DonnaCruz] kaya nga tama yung song ko na kapag tumibok ang puso eh hahahaha
[inday] i agree
[Kingkong8] sa case ko kaya ate donna!? i'm only 17 pero hanap ko na siya!? ashuush!
[sweetck_23] doings musta from milan italy
[tsinelas`] ano giinawa ni yong at napa oo ka ate donings?
[tsinelas`] doings
[oly] born in cavite city me =)…santiago family
[xenn] madilim na kena donna 🙂
[inday] tsinelas: minsan unang kita mo pa lang alam mo na na yun yung guy for you
[tsinelas`] parang nde tumatanda si ate doings!! 🙂
[page] sbi ng ate ko kay daw maaga ka ngpakasal kc dhil sa somg mo kpag tumibok
[inday] parang magic pero medyo totoo siya
[DonnaCruz] hoy chin tumigil ka diyan ha kurutin kita diyan sa pwet heehee 🙂
[tsinelas`] lol
[Kingkong8] ahahahahaha.. kasi bait niya eh
[bernice] parang magaan ang loob mo para sa kanya
[tsinelas`] ganun ba yun @ inday
[tsinelas`] ate inday pala..
[DonnaCruz] sweet wow milan. kita mo sila claudine?:)
[xenn] hayy love prang life:)
[Kingkong8] tsaka.. naku baka makurot na'ko sa pwet. quiet na lang me.
[tsinelas`] hayy.. mga lessons in love
[sweetck_23] oo punta d2 cla claudine
[page] totoo bang my magic kang mararamdaman
[kirsten20] Hindi ka ba nahirapan sa mga program na ginawa mo?
[DonnaCruz] puppy love lang yan
[ANGELIC_BROWNeYES] hi donna…debbie here
[oly] kirsten, what UC???
[Kingkong8] aw aw!
[DonnaCruz] black magic? haha jk!
[oly] be like me, heart breaker buahahaha
[tsinelas`] anong puppuy love?
[DonnaCruz] oo naman may magic
[tsinelas`] uc as in university oif cebu?
[Kingkong8] yah may magic!
[oly] o hehehe
[tsinelas`] or uc as in university of cakiufornia?
[oly] i though university of cali
[inday] yung ex bf ko black magic yun! no doubt.
[page] bkit me naiinis pg my nanliligaw
[DonnaCruz] hi angelic 🙂
[xenn] yeah whr ka nga pla nag grad. donna?
[DonnaCruz] hahahahahaha che! hahaha
[kirsten20] oly Univercity of Cebu (UC)
[DonnaCruz] sa cebu doctors' college 🙂
[daryle] e paano naman yng hindi ka masaya pag kasama siya pro malungkot ka naman pag wala cya?
[sweetck_23] doings di kb naiinip sa cebu?
[oly] oic
[xenn] deba kina yong yun?
[page] isa pa di me mtanggap feeling ko my gusto me sa first cousin ko
[ANGELIC_BROWNeYES] binilisan ko umuwi from work buti na lang di pa tapos chat…it's 11 am here
[oly] im glad m not in my dorm right now
[Kingkong8] Sana sa 2006 graduate na'ko!!!!
[tsinelas`] lol
[oly] i would wake my roomate up hehe
[tsinelas`] ehehhehehhe
[DonnaCruz] page: iwas natin ganyan 🙂 heehee
[tsinelas`] ako din gusto ko na graduate sa nursing
[DonnaCruz] sweet hindi naman. hindi rin naman kasi ako palalabas. homebody talaga tapos enjoy ako sa mga anak ko and happy sa asawa 🙂
[xenn] page ako din b4 pro pinigilan ko
[Kingkong8] uy nursing din siya! same tayo gurl!!
[page] oo nga e pro siya kc yung ideal guy ko
[inday] si donna malakas uminom yan….. ng TUBIG
[tsinelas`] i envy ate doings.. happy ng married life nya.. hehehheako din gusto ng ganyan
[xenn] dahil bawal. kilig nlang ako pag nakikitako sya
[DonnaCruz] kaya mo yan chin 🙂
[Kingkong8] naku page.. forget it muna.
[Kingkong8] thanks ate donna!!!!!!!!!!!!!!!!!!!!!
[DonnaCruz] che hahahahahaha nalalasing na nga ako sa tubig eh
[kirsten20] ate donna hindi ba kayo gagawa ng movie ulit nina Regine at Mikee?
[daryle] t doings, my plans ako mag med diyan sa cdc, magkano ba per sem?
[sweetck_23] doings cno ninong and ninang ni cian from showbiz?
[oly] haha
[Kingkong8] alam nyo ate donna, may nagawa ako story about DOREMI part 2.
[inday] doremi is one of her best movies
[tsinelas`] ano yung king?
[daryle] ate doings, ako may plans na mag med sa cdc magkano ba ang sem diyan?
[tsinelas`] true
[page] i love doremi
[DonnaCruz] uy pero siyempre wala naman perfect na ralationshp so minsan away din kami pero hindi palampasin isang araw. bago tulog ok na and ang ok kay yong, siya una lagi bumababa
[xenn] ganda ng song na I can
[Kingkong8] yeehee! kinikilig ako!
[tsinelas`] ehehehhhehehhe..sweet ni doc.
[page] spoiled ka ky yong
[tsinelas`] lol
[DonnaCruz] hindi ko alam daryl pero pwede ka inquire sa cdc na page www.cdc-cdh.edu
[inday] page: dapat lang HEHEHEHE
[tsinelas`] spoiled ka nga ba ate doings??
[daryle] k tnks te
[inday] hindi spoiled si donna ha, biro lang
[blueraindrops] ano naman usually pinagaawayan niyo ms.donna?
[inday] sobrang patient yan
[Kingkong8] nadagdagan..15 peeps na.
[xenn] sleep nba cla lahat jan doings?
[DonnaCruz] hindi ako spoiled. nagkakataon lang na hindi ako yung may fault haha! pag ako may fault ako magsorryr
[page] oo nga biruin mo give-up mo carrer mo just for him and only him
[tsinelas`] hahahahhah
[DonnaCruz] si yong nood pa news
[sweetck_23] seloso b c yong?
[daryle] yeah
[xenn] napa nood nyo news sa madrid?
[daryle] selos nga ba?
[page] oo nga matira matibay talaga
[Kingkong8] idol ko rin po si Dr.Yong. Ganda talaga profile nya sa sightfirstclinics.com
[DonnaCruz] page tama ka diyan and alam niya yun. kulang na lang pagsigawan ko sa buong universe mahal ko siya. buong mundo lang kaya ko gawin hehehe
[ANGELIC_BROWNeYES] bakit wala cam? tagal, waiting for permission
* _chatviewer has joined #doingschat
[inday] inday to ANGELIC_BROWNeYES] please make your font white. thanks.
* inday says to ANGELIC_BROWNeYES] please make your font white. thanks.
[page] sige tulungan ka namin para mas mlakas yung voice
[DonnaCruz] sweet seloso si yong? oo haha! pareho kami
[xenn] pwede ka wave donna pra helo kunwari
[ANGELIC_BROWNeYES] sorry
[tsinelas`] eehheheh
[tsinelas`] ate doings: madalas ka ban amgselos?? 🙂
[jouey] Hello from Madrid!!!!!!
[bernice] healthy namn yan basta di lang over
[tsinelas`] hola jouey. como estas..ehehheheh
[DonnaCruz] hindi kasi hindi naman kami gumagawa ng dahilan para pagselosan 🙂
[jouey] Hola tsinelas!!! mabuti he,he!
[Kingkong8] como estas? what does that mean?
[tsinelas`] how are you po in sspniash @ king
[DonnaCruz] hello jouey 🙂
[tsinelas`] spanish opal ehhehe
[xenn] kamusta madrid?
[bernice] how are u?
[DonnaCruz] como estas : how are you?
[Kingkong8] ohh.. i want to learn spanish.
[sweetck_23] ciao jouey
[page] hay freeze na naman
[tsinelas`] tu habla espanol ate doiongs??
[oly] muy bien
[xenn] learn nmn kayo french hehe
[bernice] ni hao ma? d2 sa taiwan
[sweetck_23] hao
[page] ano ethnic mo doings
[jouey] Hi Donna!!! IFine. we are praying for all the p eople who died . Horrible!!!
[Kingkong8] i also like to learn french!
[blueraindrops] anyong haSEYO IN KOREA
[inday] bernice: ni hao!
[xenn] universal na tlga fans ni donna
[ANGELIC_BROWNeYES] nag freeze yung cam
[Kingkong8] naku ha. di ko na kayo maintindihan.
[sweetck_23] about italaian language
[DonnaCruz] tsinelas: hindi eh pero makaintindi konti. lolo ko kasi spanish makipag-usap before sa bahay
[jouey] Here in Spain you have a lot of fans
[DonnaCruz] xenn ako b4 gusto ko aral french pero hindi na natuloy
[tsinelas`] ahhh
[bernice] hen hao! xie xie
[tsinelas`] lolz..
[jouey] Hola Donna!!
[Kingkong8] tama ba yung.. COMMENT CAVA? xenn?
[sweetck_23] doings di b may lahi ka spanish?
[xenn] mhrap din french
[sweetck_23] come va?
[tsinelas`] qui parle fran�ais ici ? ? ehhee
[page] ano doings ano ethnic mo
[xenn] yah king. �ava tres bien
* inday says sweetck: please make your font color white. to be fair to everyone, thanks.
[DonnaCruz] jouey wow thanks!:)
[Kingkong8] gosh! Como tala vou? (di ko alam spelling!)
[xenn] bka magalit c inday tagalog english lang daw
[page] nung hindi ka pa ng asawa ano gusto mo course?
[jouey] Doings, have you got spanish relatives?
[tsinelas`] ay ehhehehehhe
[tsinelas`] sarap kasi ma22 ng ibang language noh..
[Kingkong8] sige.. polite nako and considerate. ayoko ma-kick out.
Session Time: Mon Mar 22 00:00:00 2004
[DonnaCruz] puro spanish dad ng dad ko so half lang kami
[sweetck_23] doings di ba spanish fathere mo?
[jouey] My mum is pilipina and mi dad is spanish. I love Philippines!
[tsinelas`] lolo ko din spospniash
[tsinelas`] spanish pala
[Kingkong8] WOW PHILIPPINES!
[page] GORDON????????
[tsinelas`] hype ka ata king..ehhehe
[Kingkong8] sana mabasa po namin itong chat sa website..
[xenn] san kayo this summer donna?
[page] oo nga sana my transcript
[DonnaCruz] i have a lot of spanish relatives. 🙂 christina and ana margaraita gonzalz are my second cousins.:)
[Kingkong8] tumatawa akong mag-isa.
[tsinelas`] wow
[sweetck_23] doings pasyal kayo d2 s milan
[tsinelas`] eheheheeh..lapit ka nag king…
[ANGELIC_BROWNeYES] king kong asan si ate cion?
[xenn] cousin mo pla sla.
[page] side ng mommy nila
[kirsten20] pwede mo ako bigyan ng tips kung paano maggawa ng program? Nahirapan talaga ako lalo na pagmaganalyze ka na.
[Kingkong8] i dunno brown eyes..
[tsinelas`] ate doings: oo nga pola sasan kau this summer?
[DonnaCruz] yung mom nila ate kringkring and dad ko are first cousins
[inday] xenn: donna would visit the US this april
[inday] pero vacation
[tsinelas`] hmm
[tsinelas`] ic
[page] i c
[Kingkong8] wow… ang gaganda ng lahi nyo ate doings!
[DonnaCruz] hindi pa namin alam. punta kami u.s. april
[tsinelas`] woww
[xenn] so present kayo nung wedding ni kringkring?
[tsinelas`] where in us?? are doings?
[page] kaya you are so pretty
[oly] us???
[oly] san francisco?
[tsinelas`] calif?
[jouey] You know you have a house in Spain OK?
[Kingkong8] naku.. 12am na noh? sige……..
[oly] where???
[tsinelas`] when?
[DonnaCruz] ay siang cousin ni yong na cousin ko rin kasi yrastorza din siya
[tsinelas`] really?? small world lang talga
[inday] california yata
[DonnaCruz] ag kape ka muna chin haha!
[DonnaCruz] ya sa s.f.
[xenn] heto gatas
[Kingkong8] sasayaw muna po ako!
[oly] yes!
[sweetck_23] may lahi ka pala foreigner kaya maganda ka
[oly] when?
[Kingkong8] tayo'y mag-ocho2x!
[tsinelas`] visti mo si sheryl ate doings?
[DonnaCruz] xenn haha!:)
[page] buti na lang hindi c young nging cousin mo
[xenn] may lamay ba 🙂
[DonnaCruz] tsinelas hindi ko alam san siya katira eh.
[xenn] joke lang
* jaydj has joined #doingschat
[tsinelas`] ngekkkk
[oly] sheryl has a baby girl =)
[tsinelas`] hehehehehehe
[page] uy uwi daw si sheryl this april is that true?
[sweetck_23] maganda b anak ni sheryl?
[xenn] cute ba c kempee sa personal?
[oly] she lives in Prague St.
[tsinelas`] ate doings: visit naman ako gn pinas nxt mth
[sweetck_23] musta c sheryl?
[tsinelas`] ate doings: sama ba ang mga bata???
[inday] hi jay
[DonnaCruz] i'm sure maganda yun. maganda si ate she eh
[xenn] punta tayo kena doings pwede bayun?
[Kingkong8] bisita ka sa wow Philippines tsinelas! lapit yun sa skul namin!
[DonnaCruz] teka goodnoght lang ako kay yong tulog na siya
* inday says jaydj is from www.titikpilipino.com, the #1 online filipino lyrics resource 🙂
[jaydj] hi inday 🙂
[tsinelas`] cge ate doings.. i gud nyt mo na rin kami sa kanya
[Kingkong8] good night din po kay Dr. Yong.
[tsinelas`] hi jaydj
[blueraindrops] oi…
[page] kiss mo rin kmi sa kanya joke
[daryle] hey guyz, bye na 🙂
[blueraindrops] doodnight kiss!
[xenn] nice dream
[tsinelas`] lol
[oly] my family sees sheryl at parties…not me, im m.i.a.
[jaydj] inday] oist… online filipino song resource …di na lyrics ha… baka maghanap mga chatters 😀
[xenn] kiss kmi lahat
[Kingkong8] Ate inday sana po mabasa namin din itong chat sa website doon sa interactive comm.
[inday] yup
[DonnaCruz] ok goodnight din daw 🙂
[tsinelas`] ehehehhe
[inday] iaarchive ito doon
[Kingkong8] yehey!
[sweetck_23] donna wag ka muna alis
[daryle] hey guys, gudnyt na…tnks for d chat ate doings….
[page] may kiss din ba kmi
[inday] haba rin nito
[DonnaCruz] pag kiss ko kayo lahat baka matagalan hahahaha 🙂
[tsinelas`] ehehehhehehe
[daryle] gGod bless na lang
[tsinelas`] ahhaahha
[inday] doings: im sure HEHEHEHEE
[daryle] 😉
[Kingkong8] baka magselos ate donna! haha jok jok jok!
[DonnaCruz] o heto kiss ni yong
[xenn] ndi ba sya galit pag tagal ka chat?
[DonnaCruz] nyee nag freeze na naman ang webcam
[tsinelas`] hong!
* daryle has quit IRC (Quit: Bye bye)
[tsinelas`] lol
[DonnaCruz] nguso sana ako sa cam eh
[tsinelas`] ehheehhhehe
[Kingkong8] bakit nagfe-freeze ang webcam?
[page] ano oras ka gumgising sa morning?
[oly] my sister calls me obsess muahaha
[DonnaCruz] xenn hindi naman. alam niya hindi ako makatulog eh
[oly] i woke her up now she's watching me
[tsinelas`] bakit?
[Kingkong8] we're all obsess!
[oly] my sister haven't slept
[Kingkong8] obsessed!
[tsinelas`] i agree
[DonnaCruz] gising ako mga 11:30 ako nagpapatulog kay cian sa afternoon 🙂
[sweetck_23] cno obsess?
[tsinelas`] tau
[oly] itslike 8:00 in the morning here
[oly] and she started at 5:00
[Kingkong8] gud morning ate oly! gud morning din sa'min!
[tsinelas`] yep…
[oly] donna, she's one of your biggest fans
[kirsten20] ate inday pwede manghingi ng picture ky ate donna kung pwede lang. Kung hindi ok lang.
[DonnaCruz] haha! ako obsessed sa computer
[oly] that was my sister
[tsinelas`] cno? start ng 5am? @oly?
[sweetck_23] lahat tau obsess sa internet
[inday] kirsten: i'll post pictures later
[inday] kirsten: i'll post pictures later, new ones
[oly] me
[oly] onine
[page] ako din kaya loko me ng ate ko
[oly] i didnt even sleep yet
[Kingkong8] ako sa studies! shoooshh!!!!
[xenn] knino pla mana yung anak ni sunshine?
[DonnaCruz] oly: hello to your sis 🙂
[oly] i was watching tfc
[tsinelas`] ehehehhehehhe
[oly] she says hello
[Kingkong8] hirap mag-aral!
[oly] nothing and she thinks im weird
[oly] haha
[tsinelas`] ako din wake up4am para chat awid ate doings
* xenn has quit IRC (Quit: Bye bye)
[page] tnx ate inday
[Kingkong8] xenn!!!!
[DonnaCruz] halo din kay shine and cesar eh. maputi na kamukha din ni cesar
[page] ako kagabi pa di me maktulog
[Kingkong8] goodluck sa'yo page.
[sweetck_23] doings close b kyo ni sheryl'
[blueraindrops] lalaki ba anak nila?
[DonnaCruz] i think pag dumadami nagv-view sa cam nagf-freeze siya.
[page] yah
[oly] girl
* Disconnected
Session Close: Mon Mar 22 00:14:01 2004
Session Start: Mon Mar 22 00:17:03 2004
Session Ident: #doingschat
* Now talking in #doingschat
* Topic is 'WEBCAM: In Yahoo Messenger, add "doingschat04" as your friend'
* Set by inday on Sun Mar 21 21:32:07
[tsinelas`] lol
* ChanServ sets mode: +o inday
[Kingkong8] uy! ate donna nambola.
[tsinelas`] wbb atre inday
[DonnaCruz] hahahaha
[DonnaCruz] pretty yun 🙂
* tsinelas` has quit IRC (Quit: Bye bye)
[inday] thanks. may namiss ba ako
[DonnaCruz] bait din mom nun 🙂
[page] ma pretty ka pa rin
[bernice] sayang i can't view ur webcam
[sweetck_23] doings cno bestfriend mo jan s cebu?
* tsinelas` has joined #doingschat
[tsinelas`] waaaaaaaaaaaaaaahhhhh na close ko
[tsinelas`] hehehehhehe
[page] mas bait kang mom
[Kingkong8] hi slippers!
[tsinelas`] ehehehehhe
[DonnaCruz] che wala naman mga patawa lang kami dito haha
[blueraindrops] AKO MAY CAM.. bluerain_perspective view nyo ko heheh
[bernice] how often do you get to see your parents?
[DonnaCruz] si arlyne pinsan ni vina and carla pinsan ni yong ang mestfriends ko dito
[tsinelas`] small world lang talga anoh
[DonnaCruz] bernice minsan nga lang aeh 🙁 pero palagi ako tawag sa kanila
[Kingkong8] Lucky sila to have u as their friend, ate donna.:)
[inday] "sinong best friend mo doon" hehehe
[page] oo nag ano po akalain mo related ka vina
[bernice] who's carla? if i may ask?
[tsinelas`] yongs cousin…
[inday] I think that the intriga before with Vina is kinda silly.. both Vina and Doings are nice girls
[DonnaCruz] chin: lucky kami 3 kasi kami lang talaga mga totoong kaibigan ng isat isa
[tsinelas`] na best friend ni ate doing??
[page] sana pinsan din me ni yong
[tsinelas`] lol
[tsinelas`] ehehehehehe
[DonnaCruz] ya che super pinag-aaway lang talaga kami.
[Kingkong8] ok lucky kayong 3! sama kami ate donna!
* inday sets mode: +o DonnaCruz
[oly] vina has a hot body…such abs
* ChanServ sets mode: -o DonnaCruz
[Kingkong8] may nabasa nga po akong comparison bet u and ms.vina morales..
[page] actually ayaw ko ky vina
[DonnaCruz] lucky tayong lahat ako lucky din kahit hindi na active diyan pa rin kayo 🙂
[tsinelas`] agree ako dun
[Kingkong8] pero yung nabasa ko, kayo ang nagwagi!!!
[tsinelas`] 🙂 syempre diba yung mabait na tao eh.. dami friends
[sweetck_23] vina is o.a.
[tsinelas`] bwahhahaa
[Kingkong8] uy, vina is nice.
[tsinelas`] uyy.. intriga yun ha..lolz
[ANGELIC_BROWNeYES] buti bigay ka time sa amin kahit papano
[bernice] it's good to have a tight circle of friends lalo na pag malayo sa pamilya
[oly] mean…
[sweetck_23] i don't like vine
[Kingkong8] quiet ka naku cousin yun ng friend ni ate donna.
[tsinelas`] ehehehhee
[tsinelas`] lolz
[DonnaCruz] ok naman si vina.:) palagi kami magkita pag dito siya 🙂
[page] oo nga ano yun , yung cnbi mo sa i terview sayo ni kris na kayo ngwagi againsyt whom
[inday] but o.a. is relative
[sweetck_23] ok lang kc di naman cla pareho personality
[DonnaCruz] hahaha
[tsinelas`] bat wala akong nagbasang intriga about u and vina ate doings?? saang bundok ba ako galing.. ehehhehhe 🙂
* DonnaCruz has quit IRC (Quit: Bye bye)
[page] basta ayaw ko pa rin sa kanya
[sweetck_23] mt everest
[bernice] you shld not judge kung hindi mo kilala yung tao
[tsinelas`] ngekkk na dc
[inday] na disconnect si donna
[Kingkong8] mt apo?
[sweetck_23] pareho tayo page ayaw kay vina
[ANGELIC_BROWNeYES] pero yung cam ok parin
[Kingkong8] ok. we respect ur opinions.
* Guest has joined #doingschat
[sweetck_23] donna is still d best
[tsinelas`] webee
[blueraindrops] oi nakita ako sa cam ni ms.donna! ang saya ko lolz
[page] kampi tyao@sweetck
[sweetck_23] oo page
[tsinelas`] ehehe
[sweetck_23] ano e-add mo
[tsinelas`] kau talga oh..
[sweetck_23] totoo naman e
[ANGELIC_BROWNeYES] is she back?
* Guest is now known as Guest84719
[page] ako ba @sweetck
[sweetck_23] oo
[sweetck_23] want 2 b friends
[Kingkong8] not yet..
[Guest84719] i am the disco queen, young and sweet only seventeen hehehe 🙂
[page] jacq1419@yahoo.com
[page] kaw?
* Guest84719 is now known as DonnaCruz
[oly] moded queen
[tsinelas`] lol
[Kingkong8] sino kaya ang disco princess?
[sweetck_23] sweetck-23@yahoo.com
[sweetck_23] ako
[ANGELIC_BROWNeYES] miss ko na voice mo ate doings
* kirsten20 has quit IRC (Quit: Bye bye)
[tsinelas`] ano yan sa friendster??
[Kingkong8] may i ask.. do you like Mr.Palengke?
[ANGELIC_BROWNeYES] sana may voice chat din
[tsinelas`] cno yun
[inday] you should log on to friendster to see other donna cruz fanatics
[blueraindrops] nanligaw ba talaga sau dati si Mr.Palengke?
[DonnaCruz] haha si mar roxas
[Kingkong8] Mar Roxas running for senator.
[page] cge email mo me ha
[inday] i like mr. palengke
[inday] i think he's good
[tsinelas`] nde ko ata kilala yun ah.. ehhehehe
[DonnaCruz] haha para kang reporter talaga blue heehee
[Kingkong8] (nods)
[blueraindrops] lolz
[blueraindrops] diba?? nabalitaan ko kasi yun
[blueraindrops] 🙂
[page] oo nanaligaw kay donna yun ako na sasagot
[ANGELIC_BROWNeYES] nabalitaan ko din yun
[tsinelas`] ehehhehehe
[sweetck_23] e-mail kita page
[Kingkong8] nanligaw siya?!
[ANGELIC_BROWNeYES] bakit nawala cma?
[DonnaCruz] hahahahaha
[ANGELIC_BROWNeYES] cam*?
[blueraindrops] oi di niya sinasagot
[tsinelas`] na dc si ate doings..
[blueraindrops] 🙂
[Kingkong8] i read sa friendster niya that he's in love with ms.korina sanchez
[tsinelas`] sa yahoo
[page] NANLIGAW SIYA KASO BASTED
[tsinelas`] sya ba yung mar na sinasabi ni kris sa morning girls??
[Kingkong8] yes yes show
[tsinelas`] lol
[DonnaCruz] nabasa ko yun sa female network
[blueraindrops] ms. Donna… nanligaw ba talaga sau si Mar Roxas??
[page] OO NGA NANLIGAW NGA
[page] kulit ko no sorry
[Kingkong8] try nyo sa friendster ni korina pala.. he posted a testimonial there for ms.Korina.
[tsinelas`] hahhahhaa
[blueraindrops] ibig sabihin kung nagkataon ikaw pala si Ms.Palengke heheeheh joke
[DonnaCruz] hindi ko alam kung ligaw yun. tawag tawag siya before.
[blueraindrops] really???
[tsinelas`] lolz
[blueraindrops] wow!
[jaydj] matanong ko lang ilan taon ba si mar roxas ? di ba matanda na sya ?
[page] and my flowers
[tsinelas`] gwapo ba? si mar roxas?
[blueraindrops] OO
[sweetck_23] oo
[blueraindrops] CGURO MGA 40
[Kingkong8] uy phonepals!
[tsinelas`] hehehehe
[DonnaCruz] ayoko magsabi ligaw kasi hindi naman ako sure mahirap i deny
[tsinelas`] gwapo??
[sweetck_23] tanda na nya
[DonnaCruz] hahaha kayo talaga
[sweetck_23] di
[page] halos kasing age lang sya ni yong
[Kingkong8] di matanda yun.. medyo old lang.
[sweetck_23] di naman
[tsinelas`] ilang taon na ba si yong?
[DonnaCruz] uy hindi di ba mag forty na siya?
[tsinelas`] lol @ king
[blueraindrops] si yong mga 35
[Kingkong8] 35.
[DonnaCruz] galing niyo!
[blueraindrops] tama ba ms.donna???
[page] 38
[bernice] wow, i can see you in ur web cam na, still very pretty!!!
[blueraindrops] heheeh
[Kingkong8] yehey! perfect ako pag may exam about Donna Cruz!
[blueraindrops] syempre 29 siya nung naging kau dba???
[DonnaCruz] yupz 🙂
[tsinelas`] lol
[DonnaCruz] ako 20 nun
[sweetck_23] talagang updated bout doings
[blueraindrops] actually nagpaexam dati teacher ko tungkol kay donna perfect din ako
[blueraindrops] eheheh
[sweetck_23] galing mo naman
[Kingkong8] hehehehe sana kami din!
[blueraindrops] oral exam walang grade
[Kingkong8] ay! sayang.
[tsinelas`] ehhehehhe
[DonnaCruz] hahahaha bilib ako hanggang ngayon alam niyo pa rin
[page] k col
[blueraindrops] naglolokohan lang kami nung titser ko sa humanities
[sweetck_23] fan din cya ni doings
[DonnaCruz] nagbabasa ba kayo sa female network?
[tsinelas`] ay cute
[Kingkong8] di po..
[tsinelas`] nde po
[tsinelas`] ano site?
[sweetck_23] bakit ano mayron sa female network
[bernice] yup
[page] ano yun
[blueraindrops] im not sure if fan siya ni donna pero nung nalaman niyang fan ako ni donna ang dami niyang tinanong na questions
[DonnaCruz] wala kasi ang dami mabalitaan din dun na chika yun nga lang may mga mali talaga na info minsan
[page] edi tungkol sa female joke
[blueraindrops] ah ok
[Kingkong8] naku yung prof mo blue- fan yun!
[blueraindrops] may tsika ba dun 2ngkol sau??
[DonnaCruz] pero hindi ako member dun. nakakaaliw lang tignan mga messages and tanong dun minsan
[blueraindrops] actually fan siya ng local movies at scriptwriter kasi yun palanca awarde
[page] ano website nun
[DonnaCruz] laike pinapag compare si britney and christina
[blueraindrops] awardee
[DonnaCruz] si kristine or si cindy
[DonnaCruz] ga ganun
[DonnaCruz] tapos may isa dun tinatanong
[sweetck_23] ano'
[DonnaCruz] kung nagpaayos daw ba si ethel booba ng pisngi
[blueraindrops] ahahaha
[blueraindrops] nagpaayos talaga siya
[DonnaCruz] tapos may nagpost dun oo nagpadagdag daw
[Kingkong8] nagpa-add ata yun sa umm..
[sweetck_23] ano nga site yan doings?
* Disconnected
Session Close: Mon Mar 22 00:35:06 2004
Session Start: Mon Mar 22 00:37:18 2004
Session Ident: #doingschat
* Now talking in #doingschat
* Topic is 'WEBCAM: In Yahoo Messenger, add "doingschat04" as your friend'
* Set by inday on Sun Mar 21 21:32:07
[trishia] hi everybody!!!
* ChanServ sets mode: +o inday
[sweetck_23] hi
* _chatviewer has joined #doingschat
[Kingkong8] ate inday hello!
[inday] hello
[trishia] hi che!
[inday] hi trishia
[sweetck_23] hi
[DonnaCruz] oly: funny pero cute pero wag naman magkakasakitan 🙂
[jaydj] logout na ako… nice chattin with u donna. cheryl, chat w you online next time 🙂
[oly] luckier, i dont have to do those other extra stuff to get closer to you =) hehehe
[DonnaCruz] bye jaydj 🙂
[inday] thanks jay
[trishia] doings, mamaya na you tulog ha??? hehehe
[tsinelas`] ate doings: watch mo na ba ang "hidalgo"?? 🙂
* inday says jaydj owns www.titikpilipino.com, the #1 online filipino song resource
[ANGELIC_BROWNeYES] gusto nyo pa ba isa pa baby doings?
[jaydj] hope you could visit my site sometime Donna .. here's the direct link for msgs for you there —] http://www.titikpilipino.com/artist/?artistid=120
[page] ayaw ko nga matulad katawan ni donna kay vina A Y O K O
[DonnaCruz] sige i will. galing! 🙂
[inday] jay: I'll let donna visit it
[jaydj] inday] syempre nakipromote din ako..hehehe !
[Kingkong8] wow.. jaydj!- proud 2b pinoy! (pinoy ba siya?)
[oly] you guys are MEAN to vina
* inday says jaydj owns www.titikpilipino.com, the #1 online filipino song resource; 2003 webby awards winner! grandslam sa music category
[inday] YES pinoy
[jaydj] www.titikpilipino.com supports donnacruz.com 😀
[oly] that's my dad's friend's niece
[inday] hehe thanks jay
[oly] =(
[inday] super thank you talaga
[jaydj]
[blush] inday hiya tuloy ako bigla…
[Kingkong8] thanks did jaydj!
[page] UY GALING NAMAN
[inday] jaydj is also one of the youngest CEO in phil IT
[inday] ;p o dami na nyan jay, thanks talaga!
[DonnaCruz] ok nga kasi firm talaga. ako kahit payat medyo dami bilbil hehe kasi super laki ko magbuntis then diet na walang exercise so nagkabilbil
[sweetck_23] galing naman jayd
[Kingkong8] WOW.. very impressive.
[jaydj] inday] oist tama na…masyado mo na ako binubuking…about donna yung chat… di ako..heheheh j/k
[DonnaCruz] rhanks jay super thanks talaga
[blueraindrops] jaydj cannot fine serever sa link na binigay mo
[DonnaCruz] 🙂
[oly] is jayd mike ?
[bernice] wow
[inday] oly: no
[DonnaCruz] clap clap clap!!!!
[trishia] naku masasabi ko lang, hirap magpapayat talaga!
[Kingkong8] ate trish?
[DonnaCruz] 🙂
[Kingkong8] ayun!
[jaydj] ok blue …. http://www.titikpilipino.com then click on artist talk then look for Donna Cruz 🙂
[oly] oh ok
[Kingkong8] Clap clap clap!!! din
[trishia] yes chin?
[oly] mike is jayadewa right?
[page] grabe ang lakas nman ng clap mo dinig up to here
[oly] thankx che
[inday] yes oly
[Kingkong8] i'm really happy you're here finally.
[trishia] hehehe, akala mo nawawala ako? nagbabasa me.
[DonnaCruz] heehee 🙂
[DonnaCruz] ang galing kasi sariling atin
[sweetck_23] oo naman
[DonnaCruz] proud to be pinoy
[DonnaCruz] 🙂
[inday] SYEMPRE
[Kingkong8] Proud 2b pinoy!
[inday] kanta ni donna yan
[inday] pakinggan nyo
[bernice] talaga
[oly] ic ic
[inday] galing magrap ni donna
[sweetck_23] dapat lang
[page] wow philippines nga e
[Kingkong8] galing nyo mag-rap doon ah.. pinoy! ang tawag sa pilipino..
[sweetck_23] promote wow philippines
[tsinelas`] ate doings: nasa cebu ako sa april-may kita kita naman tau?? 🙂
[oly] did u ever get annoyed by me teasing u guz before @ che…do u remember?
[jaydj] cge… tutulog na ako… nighty night donna, cheryl 🙂 cya !
[inday] oly: di naman… i cant remember na nainis ako…
[sweetck_23] bye jay d
[ANGELIC_BROWNeYES] goodnight
[inday] sige bye jaydj
[DonnaCruz] hahahahaha
* Guest574 has joined #doingschat
[jaydj] night everybody 🙂 bey!
* jaydj has quit IRC (Quit: Bye bye)
[sweetck_23] bye
[trishia] thanks, mas lalo na ako, alam mo ba ang asawa ko nakatulog sa may lababo kakaantay sa akin, chin.
[page] bye
[Kingkong8] pero nung panahon nung song na proud 2b pinoy- wala pa'ko malay sa mundo.
[oly] oh ok…just checking
[DonnaCruz] night! 🙂 tc!
[page] c donna smile ng smile ang cute
[sweetck_23] grabe naman trish
[Kingkong8] wow ate trish.. bait talaga husband nyo.
[oly] mike is cool i havent chat with that guy
[DonnaCruz] natutuwa ako sa mga nababasa ko 🙂
[Kingkong8] wala bang Godzilla?
[page] ako din
[tsinelas`] ehehhe..
[tsinelas`] lolz
[DonnaCruz] ate trish di ba davao ka?
[ANGELIC_BROWNeYES] gusto nyo pa ba isa pang baby @doings
[page] may dimples din ba sna belle
[trishia] doings, south cotabato ako lumaki
[DonnaCruz] plano namin ni yong 2 more pa pero hindi ngayon muna 🙂
[sweetck_23] doings mga ilan pang babies gusto nyo?
[ANGELIC_BROWNeYES] paramihin nyo magagagandang lahi
[ANGELIC_BROWNeYES] ano names gusto mo pag girl?
[DonnaCruz] page oo pati si cian. si yong din kasi lalim dimples
[tsinelas`] 4 kids ba @ ate doings?? 🙂
[sweetck_23] may balak ba mag-artista c belle'
[trishia] malapit sa davao, dun ako every summer sa mga tita ko, kaya, kahibalo pud ko musulti ug bisaya
[Kingkong8] wow 4 kids! basta ate risky na pag maging 35 yrs old and above manganak..
[page] may dimples din ba sina belle
[bernice] donna, i love ur version of daghang salamat maria, palagi kong nirerepeat
[DonnaCruz] hmmmmmmm hindi ko pa alam ngayon pero ako palagi pinag-iisip ni yong sa name kasi magaling ako magpangalan hehehe
* inday is now known as inday_BRB
[tsinelas`] lolz
[ANGELIC_BROWNeYES] ako gusto ko yung KAYLAH FRANCHESKA
[DonnaCruz] sweet wala siguro pero magaling umarte yun. gusto daw niya maging doctor
[DonnaCruz] 🙂
[blueraindrops] what is your most unforgettable movie role donna?
[DonnaCruz] thanks bernice 🙂 ganda song na yun 🙂
[Kingkong8] yah nice question..
* dominic has joined #doingschat
[DonnaCruz] nice din angel
[oly] belle such a cute kid, she's makuilt huh?!?
[sweetck_23] payat b c belle?
* dominic is now known as domdom
[DonnaCruz] hindi taba hindi payat. tama lang 🙂
* domdom is now known as moomoo
[Kingkong8] moomoo
[sweetck_23] c cian naglalakad nb?
[DonnaCruz] she is super kulit oly. super talkative din
[Kingkong8] hi moomoo
[blueraindrops] doinks what is your most unforgettable movie role and why?
[ANGELIC_BROWNeYES] payag ka bang maging beauty queen si belle? hehe
[DonnaCruz] sweet yup. 🙂 bilis nga nun lakad and takbo eh
[page] diba doings silent type ka lang
[moomoo] hi king
[oly] i figured…she was making so much gestures earlier on the web cam =) hehe just like my lil sister
[page] pro sweet
[bernice] i have to go na, i have to wake up early for the kids, nice chatting with you all, thank u donna and inday, sana mauulit! God bless!
[ANGELIC_BROWNeYES] bye bernice
[inday_BRB] bye bernice
[tsinelas`] bye bernice.. ingatz
[DonnaCruz] blue yung sa pangako. pinakahirap yun grabe iyakan kapagod and galing ng director
[sweetck_23] ako din ineed 2 log off na
[DonnaCruz] bye bernice thanks
[sweetck_23] laki na babayaran ko
[inday_BRB] bye sweetck
* bernice has quit IRC (Quit: Bye bye)
[page] uy may copy ako nun pangako
[sweetck_23] nice chatting with u doings sana maulit ulit
[ANGELIC_BROWNeYES] bye sweetck
[Kingkong8] sweet.. kaya mo yan.
[page] actually lahat naman my copy me
[tsinelas`] ate doings: ano yung one thing.. na gusto mo pa maachieve na wala pa sau?? meron pa ba??? 🙂
[sweetck_23] thanx che
[page] khit nga darna e
[DonnaCruz] ok sweet night. tc! 🙂 thanks sa inyo
[sweetck_23] bye page
[page] bye sweetk
[Kingkong8] fave ko ate donna yung wishing for a soulmate!
[sweetck_23] warm greeting from milan doings
[blueraindrops] may dream role ka ba sa movie???
[sweetck_23] DONNA FOREVER
[Kingkong8] Liberty! – Libay!
[DonnaCruz] hay naku buti puyat din ngayon kasi nag pig out ako kanina makaburn din ito ng valories haha 🙂
[tsinelas`] ehehhehhe
[DonnaCruz] 🙂
* sweetck_23 has quit IRC (Quit: Bye bye)
[tsinelas`] ano kain mo ate doings?
[DonnaCruz] calories pala
* Guest574 has quit IRC (Quit: Bye bye)
[DonnaCruz] naku nag burger champ pako nyikes
[ANGELIC_BROWNeYES] sexy mo na…ok na yan
[ANGELIC_BROWNeYES] wag sobra papapayat
[tsinelas`] ano weight mo ba ate doings??? 🙂
[Kingkong8] fave nyo po diba vanilla ice cream? read it sa zee eh. me din fave yun
[blueraindrops] may dream role ka ba ms. donna sa movie yung tipo na kapag inoffer sau mahirap na hindian?
[Kingkong8] 🙂
[page] when you are still young ano gusto mo magin
[trishia] doings, lahat ng album mo meron ako, pero kelan ko lang nalaman, nawawala ang first mo "kapag tumibok" nawawala, san kaya ako makakabili?
[DonnaCruz] chin super pareho kami ni belle
[Kingkong8] hehe.. ako pag order ng ice cream sa jol/mcdo, tanggal ang chocolate!
[Kingkong8] vanilla left lang!
[page] uy 13 na lang
[DonnaCruz] blue: parang wala akong maisip. hehe 🙂 pero gusto ko kasi before sa theater yung belle sa beauty and the beast
[ANGELIC_BROWNeYES] diba si heart and jodi gagawa nun
[ANGELIC_BROWNeYES] sana ikaw na lang
[blueraindrops] hihi
[blueraindrops] teen flick talaga 🙂
[page] doings do you still remember vangie one of your million fans b4?
[Kingkong8] wer's Johnny.. johnny ba yun? yung american..
[ANGELIC_BROWNeYES] ate doings kilala mo ba si oscar lambino?
[page] la na naman yuna cam
[trishia] nakakainis kasi yung nanghihiram di marunong magbalik, naghahanap talaga me, sana cd na
[ANGELIC_BROWNeYES] tito ni tony lambino
* majar has joined #doingschat
[page] kilala ko c tony lambino joke
[ANGELIC_BROWNeYES] heheh
[tsinelas`] lol
[DonnaCruz] nandito sila di ba? nagawa ko yun before sa meralco theater. pero ang dream ko talaga before yung sa broadway na beauty and the beast.:) super yun talaga dream ko super super super!!!!!!!!:) kaya nga si belle dun ko pinangalan eh
[trishia] 🙂
[Kingkong8] sino yun?
* majar has left #doingschat
[Kingkong8] tony lambino-
[ANGELIC_BROWNeYES] yung ka duet ni doings sa isa nyang song
[Kingkong8] malapit na magbarbel ang mga eyes ko! hehehehehe
[page] sa smokey mountain dati
[blueraindrops] ganun ba?? di ba ginawa mo din yung sa sound of music?? Liezl?
[page] nakaduet ni donna
[tsinelas`] jason everly ba yun
* moomoo has quit IRC (Quit: Bye bye)
[Kingkong8] bye moomoo..
[trishia] hehehe! nakakatawa topic natin, parang halo- :))
[ANGELIC_BROWNeYES] yah, kahawig mo nga si belle
[Kingkong8] takot ako bigla naalala ko, past 12 na! moomoo…
[ANGELIC_BROWNeYES] sa beauty and the beast
[ANGELIC_BROWNeYES] lol
[page] ako my katabi moo yung milk drink
[DonnaCruz] bat ang tahimik?
[tsinelas`] ehehheh
[Kingkong8] yah! tahimik!
[tsinelas`] inaantok na ata ang mga tao
[page] oo nga
[oly] i need caramel frapuccino
[DonnaCruz] oomoo heehee 🙂
[tsinelas`] ate doings: may ipod ka ba?? 🙂
[Kingkong8] d2 ako nag-iingay pero sa klase- tahimik ako.
[ANGELIC_BROWNeYES] minsan lang to mangyari
[tsinelas`] ako din caramel frapp..
[DonnaCruz] kanina nag vanilla frap din ako grabeeeeeeeeeeeee
[oly] i had some earlier
[oly] that was 12 hours agp
[page] ako ng vanilla candy
[Kingkong8] vanilla… yummy!
[trishia] huwag niyo me inggigitin sa mga pag kain ha?
[Kingkong8] haha ate trish talaga oh!
[oly] for free ehehe
[DonnaCruz] tawag ni belle dun white coffee 🙂
[trishia] bawal kasi me sa matamis ngayon, don't make me cry
[tsinelas`] starbucks tau..dali
[tsinelas`] lolz
[tsinelas`] cute… ni belle
[DonnaCruz] buti nga may starbucks na rin dito 🙂
* Disconnected
Session Close: Mon Mar 22 00:59:35 2004
Session Start: Mon Mar 22 00:59:54 2004
Session Ident: #doingschat
* Now talking in #doingschat
* Topic is 'WEBCAM: In Yahoo Messenger, add "doingschat04" as your friend'
* Set by inday on Sun Mar 21 21:32:07
[DonnaCruz] oly oo naman grabe!!!! super hit nga agad dito sa cebu
* ChanServ sets mode: +o inday
[blueraindrops] dun kasi me study hindi po nagpafranchise ang starbucks
[oly] im a business major..i want to be an enterpreneur
[tsinelas`] ako .. i want to see ate doings!!!!! 🙂
[oly] hmmm…
[page] me rin
[blueraindrops] oly hindi nagpapafranchise ang starbucks
[oly] why dont u start a branch/
[oly] ?
[page] sisi nga me dpat lumapit na me nung nsa plantation bay
[oly] i think they do..
[blueraindrops] nde
[inday] mahal ang starbucks kaya gumagawa na lang ako ng sarili kong starbucks sa bahay
[blueraindrops] d2 sa phils. nde
[blueraindrops] ewan ko jan sa US
[oly] haha
[inday] beans lang binibili ko. dito ko ginagrind n brew
[oly] come over ate che
[DonnaCruz] oo sa rustans yata ang starbucks eh
[oly] i'll get u the hook ups
[Kingkong8] ate rox kaya naka-connect?
[blueraindrops] tinry kasi namen naginquire kaming magpinsan tapos di pala sila nagpapafranchise
[inday] pero sobrang 2nd favorite place on earth ko ang starbucks
[DonnaCruz] che oo nga hahahaha pati mug nila bili ako
[inday] sobrang luv ko ang mugs and jugs nila
[blueraindrops] madami pa din ba nagpapaautograph sau donna??
[Angelic_BrownEyes] ang dilim na ng background mo @doings
[oly] what;s first che?
[inday] my room 🙂
[trishia] ang mahal lang ng mugs
[inday] hey doings
[DonnaCruz] ya no ako rin 🙂
[oly] i dont like coffee but i like starbucks caramel frap ehehe
[inday] dapat magorganize ka ng meet
[page] pro maganda
[inday] sa starbucks cebu
[Kingkong8] di ako maka-relate. hehe
[DonnaCruz] teka weewee lang ako hehe 🙂
[tsinelas`] ehheehhhhe
[oly] haha
[Angelic_BrownEyes] hehehe
[page] sabay tyao
[blueraindrops] ako din weewee
[trishia] naku doings! huwag, sayang… hehehehe
[Kingkong8] ako din.
[tsinelas`] lol
[tsinelas`] pee time na guys.. pee na kau
[oly] i just did
[oly] i want to own a club
* _chatviewer has joined #doingschat
[tsinelas`] cge own ka para hang out kami
[trishia] naku, wala naman ako i-wee-wee-wee, dpa ako umiinom ng tubig, ni hindi pa ako kumakain guys! kanina pa ako nagta try makapsok
[tsinelas`] ehheheh
[tsinelas`] wbb ate inday
[oly] haha
[tsinelas`] eat ka muna.. mahirap habulin ang gutom..lolz..jk
[oly] with starbucks inside
[oly] dang…im gonna have to save up sooo much
[Kingkong8] ate trish, pagluto kita!
[DonnaCruz] back
[trishia] naku, hayaan mo na, isabay ko na ang breakfast
[Angelic_BrownEyes] sarap weewee?
[trishia] WB!
[trishia] cge chin.
[trishia] 🙂
[Kingkong8] ate trish salamat sa tip mo dati na magluto ng sardines!
[oly] yes!
[oly] hehe
[trishia] na apply mo na?
[Kingkong8] mag-gisa! di kasi ako runong luto
[DonnaCruz] haha
[Kingkong8] yes……. thanks! kahit ano ginigisa ko!
[page] grbe skit ng pantog ko kanina pa kc me naweeeweeeeewee
[Angelic_BrownEyes] marunong ka na ba luto ate doings
[DonnaCruz] anong gigisahin niyo
[DonnaCruz] hehehe
[trishia] hehehe, sardinas
[Kingkong8] mga bawang.. ganun kamatis?
[DonnaCruz] uy wag niyo pigilin baka mag kidney stones kayo parang ako
[DonnaCruz] ah ok 🙂
[Kingkong8] naku.. dadaan pa yan sa supersaturation tapos yun kidney stones..
[trishia] kasi sabi ko, dapat lahat ng canned goods niluluto talaga
[tsinelas`] ehehhehe
[Kingkong8] naku napunta na sa pathophysiology!
[Kingkong8] opo true kayo diyan.
[trishia] clap,clap,clap, galing ng nurse natin
[oly] oh noh, everyone's awake even my lil sister…they know obsessed i am now hehe
[page] they cultured nga my weewee e
[DonnaCruz] ang hirap grabe mas masakit pa siya sa panganak
[Kingkong8] o tandaan! wag kayong kain lang ng kain ng de-lata!
[Kingkong8] always gisa first! then eat na!
[Angelic_BrownEyes] hahaha
[tsinelas`] lolz
[oly] ellona says HI =)
[trishia] that's true, take it from the expert
[trishia] lo
[trishia] lol
[tsinelas`] ehehehehhe…yepz
[Kingkong8] ate trish expert!
[Kingkong8] masarap makakita ng baby na lumalabas on the spot..
[tsinelas`] lozl
[trishia] thanks,
[page] pro diba my vit A ang sardines
[oly] i hate vegetables!!!
[Kingkong8] grabe.. ngarag kami nun.
[Kingkong8] oopps.. vegies are good.
[tsinelas`] cno nurse d2? si ate trish.. ahihih nakiki ate na din
[Angelic_BrownEyes] ano alam mo luto ate doings?
[oly] yuck!
[page] ang saya ni donna tawa ng tawa
[oly] kangkong only greens i eat…
[Kingkong8] yes. kangkong like kingkong! lolz
[oly] sinigang the best!
[blueraindrops] Ms.Donna at sa inyong lahat sencya na kailangan ko na maglogout soon anemic kasi ako heheheh
[tsinelas`] sarap nga veggie…spinach…
[Angelic_BrownEyes] hehehe
[oly] veggies sucks
[tsinelas`] ehheheh @ blue
[trishia] tsinelas, ok lang, matanda na naman ako e, hehehe, si kingkong8
[blueraindrops] Salamat Ms. DOnn sa pagkakataong ito pati na rin kay Ms.Cheryl
[Kingkong8] what food do you like oly?
[DonnaCruz] agaling makapayat ang veggies esp kung low carb diet ka pero wag lang yung starchy
[oly] sinigang
[trishia] doings bakit ka tumahimik
[Kingkong8] yes yes yes
[inday] naku blueraindrips sige babay
[trishia] ayan…
[Kingkong8] oo nga po. nanibago kami! hehe
[blueraindrops] Wag ka sana magbago ms.Donna
[oly] im picky
[DonnaCruz] sige blue tulog naka 🙂 thanks uli tc! 🙂
[Kingkong8] blue good am!
[tsinelas`] ano tong chat na to… damagan?? 🙂 ehehehhe
[page] sleepy ka na doings
[DonnaCruz] hindi no! kung magbago ako dapat dati pa 🙂 inis ako sa mga lumalaki ulo
[blueraindrops] Goodnyt Ms.Donna Muah!! I love you!
[oly] sucks we dont have kangkong at grocery store all the time
[Kingkong8] feeling ko nga damagan eh.
[inday] hanggang 5am yata ito
[inday] lol
[inday] biro lang
[DonnaCruz] HINDI PAKO SLEEPY!!!!!!!!!!!!!!!!!!!!!!!!!
[trishia] WALANG TULUGAN, sabi nga ni kuya germs
[tsinelas`] lolz
[inday] see
[oly] well
[trishia] thanks doings
[Kingkong8] WALANG TULUGAN!
[page] ung mga hydrosephalus
[tsinelas`] chat adik ka din pala ate doings?!?!??! 🙂
[DonnaCruz] baka pag gising niyo ditp pako hahaha jk 🙂
[oly] i puled an all nighter…i think im crazy myself
[Kingkong8] haha
[page] tama ba spelling
[Kingkong8] pag tulog nyo uli mamayang gabi, nandito pa'ko! hehe
[Angelic_BrownEyes] addict talaga
[tsinelas`] lolz.. matira ang matibay
[Angelic_BrownEyes] heheh
[Kingkong8] 12 pa rin ang nandito..
[tsinelas`] 12 na lang tau.. lolz
[trishia] ako din, kasi may tinatapos pa akong report, walang tulugan na to, grabe
[Angelic_BrownEyes] umaga na dito
[Angelic_BrownEyes] so ok lang ako
[Angelic_BrownEyes] hehe
[page] wlang tulugan
[page] idol ko c kuya germs
[Angelic_BrownEyes] ang bilis ko nga mag drive pauwi from work
[Kingkong8] naranasan mo na ba ate trish na sabay-sabay report tapos long exam?!
[Angelic_BrownEyes] akala ko di ako aabot
[trishia] page: talaga? hehehe
[Kingkong8] idol ko rin yun dati sa that's entertainment1
[page] ms donna bkit di ka visit kay kuya germs?
[trishia] yes, with matching luto luto pa sa practicals/hands-on
[Kingkong8] sarap ba? toxic talaga..
[Kingkong8] ate donna.. hello?
[trishia] sobrang toxic
[tsinelas`] teka may sasabunotan lang ako…. grrrrrrr :((
[Angelic_BrownEyes] cno?
[Kingkong8] ahahahaha sino yan? baka ako yan ah!
[page] r u still der
[tsinelas`] si skit.. pangit daw si ate doings.. sabi nya..
[trishia] DOINGS!!!! hello! kulit ba us?
[tsinelas`] waaaaaahhhhh….
[DonnaCruz] bagal grabe
[Kingkong8] yes. bagal po… kaya mabagal din ako magtype!
[oly] my back hurts…
[tsinelas`] puputolan ko lang ng ulo si skit..
[blueraindrops] paalam uli!!! patawad sa pulang titik… tnx for the inspiration Ms.Donna Cruz ull always be my ultimate fave star! Kay Ms.Fuerte naman sana p2loy kang maging matagumpay sa mundo ng paglikha ng mga website.
[trishia] sino nagsabi at idedemanda kho!
[tsinelas`] nyt nyt blue..
[Angelic_BrownEyes] bye blue
[inday] thank you blueraindrops, please join us again!
[Angelic_BrownEyes] nighty
[tsinelas`] si skit nga @ ate trisha
[Kingkong8] Nyt blue.. God bless you!
[page] bye bleu
[DonnaCruz] di naman 🙂 enjoy ako magbasa 🙂
[page] uy 12 na lang
[page] sabay sabay tayo walang tulugan
[DonnaCruz] thanks blue 🙂
[DonnaCruz] tc!:)
[oly] good thing i bought myself a lab top hehe and good thing i brought it back from school…
[Kingkong8] 12 tapos mamaya 14 tapos magiging 12 uli.. tapos 15 na naman!
[tsinelas`] lol
[oly] my sister is struggling to read th etext ehehehe
* blueraindrops has quit IRC (Quit: Bye bye)
[oly] bulol ahaha
[tsinelas`] matira ang matibay.. si king.. nde na ma22log yan..hehhehe
[trishia] oo nga ambilis naman
[Kingkong8] sanay ako sa walang tulugan!
[oly] ellona says hi -] [DonnaCruz] PING
* Disconnected
Session Close: Mon Mar 22 01:18:07 2004
Session Start: Mon Mar 22 01:32:15 2004
Session Ident: #doingschat
* Now talking in #doingschat
* Topic is 'WEBCAM: In Yahoo Messenger, add "doingschat04" as your friend'
* Set by inday on Sun Mar 21 21:32:07
[oly] where's ate donna?
[page] hi ate inday
[tsinelas`] webeee
[inday_BRB] hi thanks
[Kingkong8] hi ate inday!
[trishia] hehehe, tanggal ulo mo chin apag sinampal kita, hehehe, talon talon ka nalang para mawala ang antok mo
[inday_BRB] parati ako napuputol
[Angelic_BrownEyes] bakit nawala cam?
[Kingkong8] hindi naman po ako antok… mainit lang pag hinawakan ang mukha at ulo ko.
[trishia] na-offline si doings
[oly] april in us right?!? when? where? what for? u should visit me =)
[tsinelas`] yeah na offline
* Guest583 has joined #doingschat
* DonnaCruz has quit IRC (Ping timeout)
* Guest583 is now known as Donna
* Donna is now known as DonnaCruz
[oly] hehe
[tsinelas`] wevbeee
[trishia] hi doings,
[oly] like all the time
[Kingkong8] hi ate donna..
[tsinelas`] disco queen!!!!
[tsinelas`] :)\
[tsinelas`] 🙂
[trishia] tahimik kami nung na offline ka
[DonnaCruz] heehehehe
[inday_BRB] ikaw ba yan, iba ang IP mo
[page] doings di ka na ka fenk
* inday_BRB is a secret agent hahaha
[Kingkong8] hehe fenk.
[inday_BRB] so i dont know if its her
[inday_BRB] iba kasi ang IP nya
[DonnaCruz] hehe oo nga no
[DonnaCruz] che ako ito
[Angelic_BrownEyes] lolz
[inday_BRB] hmmm
[tsinelas`] ehehehehhe
[oly] moded
[inday_BRB] hindi na CDC dial up gamit mo?
[oly] hahaha funny….
[DonnaCruz] kanina nag prepaid ako ngayon cdc
* Guest715 has joined #doingschat
[tsinelas`] magkano ba ang dsl sa pinas???
[oly] ayah…how much did u spend???
[inday_BRB] 2.5 million
[inday_BRB] lol
[tsinelas`] eheheheh…naman eh
[oly] what's up with that in PI..everything is prepaid??!?
[page] laki pal
[DonnaCruz] hahaha grabeeeeeeeeeeee
[Kingkong8] uy! nagtxt yung crush ko! la lang…
[tsinelas`] ano yun bhay sa ma..luisa 2.5million..lolz
[oly] 2.5 million?
[DonnaCruz] kilig ba! hehe
[trishia] uuuuy. naku, huwag agad maniwala…
[Kingkong8] ba't gising pa yun!!?
[tsinelas`] di nga.. magkano ang dsl??
[trishia] pakilala mo sa akin
[DonnaCruz] bagal server ko grabeeeeeeeeeee
[page] pg crush ang ngtitxt kilig pg parents kainis kc for sure papauwiin ka or tanong kung san kana
[trishia] lol
* _chatviewer has joined #doingschat
[tsinelas`] hehehehe @ page
[Kingkong8] ako din ate doings! technique diyan, bagal din magtype! hahah
[oly] haha
[DonnaCruz] page totoo pero pag naging parent ka na maiintindihan mo why ganun sila 🙂
[inday_BRB] baka yung pagconnect ng pagdial mo…
[inday_BRB] minsan pangit ang line na nakukuha natin pagdial
[inday_BRB] so mabagal ang speed….
[Kingkong8] ako nga di na ako tinetext!
[page] cge na try ko na joke
[trishia] yea, ang anak ko di ko lang makita sa lunch nami-miss ko na
[Kingkong8] uy sweet..
[Kingkong8] pero mama ko lagi hatid ako skul….
[Kingkong8] pinagtatawanan ako clasm8s ko- deadma. sorry!
[DonnaCruz] hindi ako makaconnect sa yahoo messenger grabe bagal
[page] ako kakaalis ko lang ng bahay txt na kaagad SAN KA NA reply me nasa gate pa natin
[tsinelas`] lolz
[DonnaCruz] hahaha
[trishia] she tried to convince me, magbaon nalang daw siya pag lunch, sabi ko no! mamimiss kita
[Kingkong8] hehehe sweet!! ako favorite ng magulang!!!
[trishia] page: lol, grabe ha?
[oly] hi im ellona my sister went to the bathroom
[Kingkong8] ate trish diba ikaw din favorite ng magulang nyo!? hehe
[tsinelas`] hi ellona
[DonnaCruz] hello ellona 🙂
[page] oo subra grabe!
* inday_BRB is now known as inday
[Kingkong8] sabi sa inyo magiging 12 na naman peeps!
[trishia] chin, only child tayo kaya favorite!!! hehehe
[page] uy 12 na ulit tauo
[Kingkong8] hi ellona!
Session Close: Mon Mar 22 01:40:12 2004
Session Start: Mon Mar 22 01:40:15 2004
Session Ident: #doingschat
* Now talking in #doingschat
* Topic is 'WEBCAM: In Yahoo Messenger, add "doingschat04" as your friend'
* Set by inday on Sun Mar 21 21:32:07
[Kingkong8] YA! ONLY child kaya favorite!!!
* ChanServ sets mode: +o inday
[Guest715] hello sa lahat
[DonnaCruz] ako rin fav na anak na babae
[Kingkong8] haha kasi nag-iisang gurlash!
[tsinelas`] isa ka lang naman na babae @ ate doings!!! 🙂
[DonnaCruz] tapos fav kuya ko anak na lalake
[page] e ikaw lang naman ang girl
[DonnaCruz] kasi 2 lang din kami hehe
[Angelic_BrownEyes] eh ikaw lang babae
[inday] ako rin pero ako lang kasi ang babae
[trishia] hehehe kasi 2 lang kayo
[Kingkong8] hehe ate donna joker!
[Angelic_BrownEyes] lolz
[DonnaCruz] joke joke joke
[trishia] ooops!
* oly has quit IRC (Quit: Bye bye)
[Kingkong8] hehehe
[page] ako ng-iisang babaeng bakla sa pamilya
[tsinelas`] ate doings.. otso otso kana ba??
[tsinelas`] lol @page
* DonnaCruz is doing the ocho ocho dance
[Kingkong8] OTSO-otso… bali na buto ko.
[tsinelas`] hehehehehehhehe
[Kingkong8] ahahahahaha!
[trishia] ooooooooollllllllllllllllllllllllllyyyyyyyy!!! sorry guys, napasigaw ako, sign off si oly, wala na tayong cute dito
[Angelic_BrownEyes] heheh
[page] galing mo naman mag 8-8
[tsinelas`] si ate doings.. cute naman yan ah tapos pretty pa
[Kingkong8] clap clap clap!
[tsinelas`] bravura!!!
[page] kitang kita ko dito e
[DonnaCruz] buti hindi niyo kita beeeeeeeeeeee
[tsinelas`] hahahahahah
[tsinelas`] daya ni ate doings..
[Angelic_BrownEyes] hehehe
[Kingkong8] sayang!!!!! Gisingin ko sana mga parents ko!
[Guest715] masarap pag marmi ka kapatid….maraming gagalitin
[tsinelas`] tau mag otso otso.. slow otso otso
[tsinelas`] lolz
[page] gusto me bulaklak
[DonnaCruz] haha ang sama!! haha
[tsinelas`] ngekkk
[page] marami ding hihingan na allowance
[trishia] sayang, hindi ko kabit webcam namin, ipakita ko sana position ng asawa ko sa inyo, nasa taas ng lababo
[Kingkong8] ma! si ate donna nag-otso-otso! Parents: clap clap clap!
[tsinelas`] ate doings: ano beauty secrets mo??? 🙂
[Angelic_BrownEyes] hahaha
[page] hindi secret yun beautiful talaga sya
[trishia] promise, nasa taas talaga siya ng lababo
[Kingkong8] ate trish binubuking mo si kuya!
* Guest715 has quit IRC (Quit: Bye bye)
[trishia] hehehe, ang cute nga niya tignan chin
[page] liit na asawa mo kasya sya sa lababo o laki naman na lababo ninyo joke
[Kingkong8] O picture picture!
* DonnaCruz703 has joined #doingschat
[tsinelas`] webeee
[tsinelas`] dami na ate doings na nick
[Kingkong8] ba't 2 donnacruz?
[tsinelas`] lolz
[page] cno c 703
[DonnaCruz703] ako rin yan hehe
[tsinelas`] lol
[Kingkong8] ah kambal!
[Angelic_BrownEyes] hehe
[trishia] page: 5'9 ang height ng asawa ko
[DonnaCruz703] na disco ako uli
[Angelic_BrownEyes] bakit 2?
[tsinelas`] disco queen talaga si ate doings
[page] wow katangkad kaayo
[DonnaCruz703] walang tatalo
[Kingkong8] hahaha
[tsinelas`] ate doings: ano beauty tips mo pede ishare!!?! 🙂
[trishia] yea, kasya sa lababo
[Kingkong8] si disco princess, nandito ba?
[page] may cam na ba nwala kc messenger ko
[tsinelas`] lagg si ate doings?
[Kingkong8] :):)
[Kingkong8] ba't ako walang smiley na mukha?! 🙂
[Kingkong8] ay meron!
[DonnaCruz703] haha
[trishia] naku donnabelle, daladalawa na ang gamit mo ha? nawawala ka pa rin…:)
[Angelic_BrownEyes] 🙂
* DonnaCruz has quit IRC (Ping timeout)
* tsinelas` tali ate doings sa upuan para nde na lag lag
[trishia] ayan sign off na naman
[page] lam mo yung frend ko name donnabelle kaya love ko sya lagi ko sya blow out
* oly has joined #doingschat
[tsinelas`] lolz
[tsinelas`] webee oly
[trishia] ooollllllyyyy
* DonnaCruz703 is now known as DonnaCruz
[DonnaCruz] teka timpla muna ako swissmiss yummy
[oly] oh thankx…wow im loved =)
[tsinelas`] hehehehhehhe
[tsinelas`] kanino ka in love @oly?
[oly] my comp just detected a virus…
[tsinelas`] ahh ate doings.. pede ako din timpla mo. lolz
[oly] i meant..u guyz love me
[Kingkong8] ate trish, di ko talaga malimutan.. nakapag-cord cutting na kayo?
* inday says dont accept any files from anyone at the chat
[tsinelas`] ngekkk.. what kinds of virus
[oly] never been inlove i think…im inlove with love i think…
[tsinelas`] ate inday .. ikaw ba .. nde magtitimpla???
[trishia] gusto niyo snickers???? dami medito, pero ako mismo di puwedeng kumain ng chocolate
[tsinelas`] lol @ oly
[Kingkong8] i mean cord(umbillical cord) care?
[page] gustu ko cudberry
* inday changes topic to 'Anything Goes!'
[tsinelas`] nah..i'll pass.. i dont eat chocolates
[trishia] tapos na kami ng pedia
[Kingkong8] i'll pass…
[Angelic_BrownEyes] grabe matatag mga tao dirto
[Angelic_BrownEyes] dito*
[Kingkong8] diba sarap?!
[oly] cmon, even chocolate covered strawberries from godiva???
[DonnaCruz] gusto niyo? sarap 🙂
[Angelic_BrownEyes] wala pa ba naka2log sa upuan dyan
[page] penege naman pls
[Kingkong8] grabe 1st time ko magpaligo ng newborn baby and all… naku yung prof ko..
[oly] what's swiss miss?
[DonnaCruz] sige iiinom ko na lang kayo hehehe beeeeeeeeeeeeeeeehhhhh
[Angelic_BrownEyes] lolz
[DonnaCruz] choco drink oly na super yummy 🙂
[Kingkong8] ano lasa niyan ate donna? ganda ng name.. swiss miss!
[page] babaeng swedish joke
[trishia] 17 years old lang ago noong first time ko nakapagpaligo ng baby chin, hehehe
[oly] that's the best ehehe…this guy i went with to his prom express his gratittude by giving me godiva…all my friends ate it, i was left with one…that's mah favorite =)
[Kingkong8] hehe
[DonnaCruz] parang ano ba absta hot choco drink hehe
[oly] oh cool…
[page] hindi ba pwede cold??
[DonnaCruz] page hahaha
[Kingkong8] ah.. iinom nyo na lang din me!
[trishia] naku, ako iniinom ko now nesvita
[Kingkong8] Congrats po uli sa website!
[DonnaCruz] pwede din yata cold pero depende sa type niyo kasi kung cold mas sarap moo or chuckie. pang hot lang ito
[trishia] yun na ang dinner ko
[page] prang la ka na masabi chin
[DonnaCruz] thanks chin 🙂
[oly] i remember milo and ovaltine ehehe
[DonnaCruz] gusto niyo ba makatulong sa bata?
[Kingkong8] oo nga parang wala na common sense ko.
[DonnaCruz] na may sakit?
[DonnaCruz] 🙂
[tsinelas`] opo
[trishia] how doings?
[Kingkong8] yes yes show!
[oly] how?
[tsinelas`] ano yan charity ?? mo ate doings?
[page] hindi naman napagod lang siguro @chin
[oly] hmmmm interesting…
[page] yah
[DonnaCruz] ay webpage kasi ako na inaayos pero hindi pa tapos na may kid na ifeafeature na may sakit na walang pambayad pero sisiguraduhin ko muna kung totoo like puntahan ko then picturan then pag ok na post ko pix on line
[DonnaCruz] then pwede donate on line 🙂
[oly] oic
[tsinelas`] thats a very good idea
[trishia] i see, no problem doings
[oly] good deed ms. dee =)
* _chatviewer has quit IRC (Quit: Bye bye)
[Kingkong8] ahhh…. basta kaya, 2long po ako ate donna! y not!
[page] yeah sure
[oly] lke bantay bata?
[DonnaCruz] awa kasi ako sa bata na nakita ko kailangan liver transplant but i need to see the baby first kung totoo nga
[tsinelas`] simple deeds pero very helpful
[tsinelas`] cge..tapos post mo sa site
[page] prang yun sa maalaala mo kaya
[DonnaCruz] parang ganun. tapos yung mga pagbabago infos, development sa kid papalam ko sa inyo
[Kingkong8] kami po sa ospital, we saw a baby na parang iniooperahan.. hindi ko ata kayang tiignan..
[page] ako injection lang di ko matingnan
[oly] wow good job
[Kingkong8] yikes..kami nag-iinject ng baby!
[DonnaCruz] hindi kayo obligado ha? awa lang ako kaya kahit papano tulong.
[oly] ur like my lolo now hehe
[page] sa piso sa pasig sa april kasama kaba doings
[tsinelas`] actually, magandang project yan ate doings..
[tsinelas`] dba nga.. if ur blessed.. you should share it .
[Kingkong8] oo nga ate doings.. mapapasaya mo ang pamilya ng baby.:)
[page] talaga ang tapang mo na nman chin
[DonnaCruz] hindi ako na invite page pero before nakakanta ako dun 🙂
* inday says donna's graduation pics have already been posted, view it later after the chat… thanks!
[tsinelas`] tnx ate inday
[oly] =)
[page] tnx ate inday sipag mo talag
[trishia] galing che!
[Kingkong8] kelangan page kasi pag di baka mapahamak pa sila.
[trishia] how are you na?
[Angelic_BrownEyes] ate doings asan na cam?
[page] oo doings my record ako nun, pati nga sa metro pop narekord ko
[inday] delayed na nga yan tagal nang nabigay ni donna
[inday] trishia: ako ba ang tinatanong mo?
[tsinelas`] cno may gusto ng mangga!!! ehhehehe
[trishia] yes, che
[Kingkong8] AKO!
[Kingkong8] MANGA MANGa!
[tsinelas`] punta d2..daliii
[inday] trishia: pls see other window, thanks.
[page] oo nga e kso tkot lang talaga me lam mo ba di rin me nananahi filing ko kc ako si sliping beauty
[Kingkong8] saan ka nakatira?
[page] ako ba
[tsinelas`] california @ kingkong
[Kingkong8] ooohhh california…
[oly] mangoes from mexico over here are tasteless compare tp pilipino mango…gosh i miss max's green mango juice
[tsinelas`] asan c ate doingd?
[page] gustoko rin ng mangga
[page] ano hitsura ng mangga sa cal
[tsinelas`] hala..punta kau sa amin
[DonnaCruz] pinaka masarap dito sa cebu
[tsinelas`] korek ate doings…
[oly] did ate donna give up on us…i thought she was gonna…never mind
[Kingkong8] oo nga! masarap ang DRIED MANGOES!!!!!!!!!
[Angelic_BrownEyes] kainis kau gusto ko 2loy ng mangga
[tsinelas`] mukhang mangga pa rimn
[Kingkong8] Bili kayo sa baclaran daw, 3 for 120 pesos ata!
[oly] i promise myself m really gonna visit cebu next time i go back woohoo
[Angelic_BrownEyes] ang mahal na pala ng mangga sa pinas
[tsinelas`] ehehheheh
[page] oo sobra nung galing kami cebu mga bag namin puno nga mango mapa dried, juice and puno rin ng danggit filing ko ng amoy danggit na me that tym e
[Kingkong8] Dried mangoes po yun browneyes…. sa isang pack..
[oly] u guyz know what…
[DonnaCruz] still here
[tsinelas`] ate doings: saan kayo nagsisimba? sa redem ba?
[Angelic_BrownEyes] ay hehehe
[Kingkong8] Hi ate doings!
[DonnaCruz] nagbabasa lang
[DonnaCruz] sa casino espanol kami yung anticipated mass
[Kingkong8] Ay, gusto nyo ba si Bayani Fernando?
[trishia] cdoings, parang comics. hehehe
[tsinelas`] aahh… bakit doon ate doings??
[DonnaCruz] ok yun strict
[tsinelas`] cnong strict?
[DonnaCruz] kasi ok mag sermon monsignor dakay
[page] diba yun casino
[oly] catholic church?
[DonnaCruz] tagos hanggang buto pag tamaan ka 🙂
[tsinelas`] oh yeah… da best tlaaga ni monsignor..
[page] ay patay ako dun puro buto me
[tsinelas`] lolz
[DonnaCruz] oo naman. catholic.
[Kingkong8] yung Pari namin dito, madaling Magalit!
[oly] i cic
[DonnaCruz] ahahahaha
[page] samin bawal nakatsinelas
[Kingkong8] kaya minsan natatawa kami. ayun nakatingin sa amin!
[tsinelas`] sa second floor ba ang mass ate doings? tagal na kasi ako nde nka punta dun eh
[DonnaCruz] alam niyo yung gusto maka view sa webcam ko puro wala dito sa chat.
[tsinelas`] nde ah..
[oly] huh?
[Kingkong8] wala po akong access eh..
[Angelic_BrownEyes] ako paki approve
[Angelic_BrownEyes] plz
[page] ako nandito
[tsinelas`] baka iba lang yahoo id nila ate doings.. like me.. blumoon or babybumps id ko yahoo
[trishia] doings, like ako kanina, kasi hindi man makapasok, atleast nakikita ka nila 🙂
[DonnaCruz] hindi ko na lang accept kasi dapat dito sila di ba?
[DonnaCruz] tsinelas iba na yung casino ngayon. nakalimutan ko na saan lugar pero iniba
[Kingkong8] Oh ic…
[oly] i seeu again woohoo
[Angelic_BrownEyes] ako accept mo pls!
[oly] u look sleepy =)
[tsinelas`] ay nde na sa may velez @ ate doings
[oly] ur giving up sooon..
[Kingkong8] uy ate donna.. sleepy na daw!
[inday] hindi naman mahirap pumasok dito, try lang dapat
[Kingkong8] me kanina nagkaproblem sa pagpasok.. but then, habang may buhay, may hope.
[Angelic_BrownEyes] bilib na talaga ako sa donnacruz fans
[tsinelas`] ate doings.. and2 po ako sa chat.. babybumps nick ko sa yahoo..
[Angelic_BrownEyes] matira matibay talaga
[tsinelas`] accept nyo ako.. hehehehehe
[oly] i was having problems earlier cheryl..i caught a virus but my comp deleted it automatically
[Angelic_BrownEyes] ako sweet_debbie
[Angelic_BrownEyes] pls accept
[page] doings bat di ko maview cam mo?
[Kingkong8] 10 peeps na lang… tapos 12 uli mamaya!
[tsinelas`] lol
[DonnaCruz] hahaha hindi ako sleepy ako pa. ganyan lang ako pag puyat lumalalim mata pwede ka magswimming hehe
[oly] same here
[Angelic_BrownEyes] haha
[DonnaCruz] teka ano ba nick niyo sa yahoo messenger?
[Kingkong8] ang lalim nun ate? Pwede magswimminG!?
[page] pwede rn ba jetski
[Angelic_BrownEyes] ako sweet_debbie
[DonnaCruz] iba kasi hindi ko kolala kaya hindi ko accept
[tsinelas`] ako babybumps24 @ ate doings
[DonnaCruz] hindi pa naman ganun kalalim page swimming lang muna
[Angelic_BrownEyes] request ulit ako ha
[DonnaCruz] hehehehe
[oly] why babybumpps?
[page] ako kim_kellybelle
[DonnaCruz] ok baby bumps kita na kita
[tsinelas`] kasi ako ang baby ng family tapos.. laging ako nagbubunggo..waaahhh
[DonnaCruz] ah sus kaya pala hehehe
[tsinelas`] tnks ate doings
[trishia] c doings pa, tulog na lahat ng tao, pets pati butiki sa bahay nila, gising pa yan… joke,joke,joke!
[DonnaCruz] sino si sweet debbie?
[oly] hahah coool
[Angelic_BrownEyes] ako
[Kingkong8] ako parang may blackeye! mga eyebags ko.
[oly] how dyou know it as me?
[trishia] sweet debbie?
[Angelic_BrownEyes] ako yun!
[page] uy kita na kita ang sexy mo naman
[Angelic_BrownEyes] Sweet_Debbie
[oly] no one's eye bags can compare to mine buahaha
[tsinelas`] si ate doings.. naka pj na ah??
* Disconnected
Session Close: Mon Mar 22 02:11:03 2004
Session Start: Mon Mar 22 02:11:17 2004
Session Ident: #doingschat
* Now talking in #doingschat
* Topic is 'Anything Goes!'
* Set by inday on Mon Mar 22 01:46:11
[oly] multitasker
[Angelic_BrownEyes] nakikita ba si kuya yong sa likod?
[page] sayang di ka namin kita bihis joke
[Angelic_BrownEyes] joke hehehe
[Kingkong8] alam nyo nalulungkot ako-
[tsinelas`] lol
[oly] addicted to computer just ehehe
[tsinelas`] bakit king?
[DonnaCruz] hahahhaha xxx yan ha
[Angelic_BrownEyes] lolz
[Angelic_BrownEyes] for yong's eyes only
* inday has quit IRC (Read error: Operation timed out)
[page] wholesome pla tyo laht
[DonnaCruz] angel hindi haha! baka makita niyo itchura naghihilik hehe
[Kingkong8] kasi naalala ko yung battery exam namin yesterday.
* inday2 is now known as inday
[oly] lungkot is sad right??? wwhy?
[DonnaCruz] angel hahahahahahaha kayo ha!!!
[tsinelas`] ehehhehehhehe
[Angelic_BrownEyes] lolz
Session Close: Mon Mar 22 02:12:39 2004
Session Start: Mon Mar 22 02:12:41 2004
Session Ident: #doingschat
* Now talking in #doingschat
* Topic is 'Anything Goes!'
* Set by inday on Mon Mar 22 01:46:11
* ChanServ sets mode: +o inday
[trishia] oly;: lungkot is sad
[tsinelas`] cno sad??
[oly] mmm…
[trishia] tsinelas: c kingkong
[Angelic_BrownEyes] di pwede sad dito
[Angelic_BrownEyes] happy tau lahat
[tsinelas`] ate doings: ano color ng hair mo?? 🙂
[DonnaCruz] chin impt, u did your best and nag aral ka naman talaga di ba? 🙂 pray ka na lang
[Kingkong8] opo..
[trishia] dapat dito laging Ang Saya Saya!
[tsinelas`] bat ka sad??
[oly] oh noh talk about finals….
[DonnaCruz] brown ngayon
[oly] i did so bad in math!!!…i hate math
[tsinelas`] lolz
[Angelic_BrownEyes] me 2
[page] e bukas anpo color
[Angelic_BrownEyes] hehe
[DonnaCruz] hirap talaga math pero subukan niyo computer science may mga madidiscover kayo sa math na hindi niyo ineexpect na ganun pa siya kahirap
[trishia] oly? math, that's my favorite subject in the world, algebra & calculus
[tsinelas`] lolz
[Kingkong8] pag nagkalipatan na ng skul, nako! di ko na makikita crush ko!!!
[DonnaCruz] page kaw talaga hahaha red na bukas
[tsinelas`] ehehhehhehhe
[oly] what about derivitives???
[oly] like toxic hehehe
[inday] masaya ang derivatives
[page] bagay sayo red khit blue pa nga e lang cnbi si madam auring
[inday] kaya nakalimutan ko na ngayon
[inday] hahahaha
[tsinelas`] grabe ate doings oh… 2am na sa cebu ah..lolz 🙂
[Angelic_BrownEyes] lakas ba hilik kuya yong?
[tsinelas`] ehhehehe
[Angelic_BrownEyes] di bale gwapo parin sha
[tsinelas`] si sound sleeper sa inyo ni kuya yong, ate doings??
[oly] oh man
[Angelic_BrownEyes] pero di ko maimagine hilik sha
[oly] u can tutor me che
[DonnaCruz] ah walang tatalo kay madam auring may asim pa yun
[DonnaCruz] hahahahaha
[Angelic_BrownEyes] hahaha
[tsinelas`] lol
[Kingkong8] HAHAHAHA! napatawa nyo ko uli ate donna!
[page] datu puti
[Angelic_BrownEyes] naniniwala ba kaung mahal sha nung guy?
[tsinelas`] paano magalit si kuya yong, ate doings??
[Angelic_BrownEyes] napanood ko kasi sa TFC
[Kingkong8] pwede.
[trishia] doings: hahaha
[Angelic_BrownEyes] The filipino channel
[trishia] you ha?
[oly] ewww….that's child molestation
[Kingkong8] Age doesn't matter daw.
[tsinelas`] eehehehhehheh
[Kingkong8] hayaan nyo na lang siya.
[trishia] Brown-eyes: hayaan mo na sila
[tsinelas`] oo nga naman…. age dosent matter talaga…
[Angelic_BrownEyes] hehe
[oly] jail bait…if she was here in us she would be jailed
[tsinelas`] lol
[page] mayaman ba
[trishia] masaya naman si madam auring
[tsinelas`] ilang taon ba ang guy??
[Kingkong8] kilala siya!
[oly] my dad bad with all the remarks he has for that lady
[Kingkong8] about 20s ba?
[Angelic_BrownEyes] 20 yrs old
[DonnaCruz] kaligayahan nila yun eh and pumapayag naman yung guy so wala tayo masabi na lang
[page] 17
[tsinelas`] ngekkk..
[oly] hehehe
[Angelic_BrownEyes] 17???
[trishia] page: no, 23
[Angelic_BrownEyes] diba 20
[Kingkong8] love is blind!
[tsinelas`] nde 20 naman pala yung guy eh.. legal na yun sa states
[page] grbe kadiri noh sory for the word
[tsinelas`] hehehheheh
[tsinelas`] 23 ba?
[Angelic_BrownEyes] may asim pa nga daw
[Kingkong8] Hayaan na lang natin sila……………….
[DonnaCruz] pano magalit si yong? wala pinagsasabihan lang ako then sasagot ako then mauuwi sa away hahahaha
[oly] jail bait
[tsinelas`] happy sila dba.. kau talaga
[trishia] yes…. graduate na siya as, teacher siya
[page] diba sbi minod pa sya
[Angelic_BrownEyes] hehehe
[Angelic_BrownEyes] palaban pala
[tsinelas`] lol @ ate doings..hehehhehe
[page] minor rather
[oly] ooooo…your bad…
[tsinelas`] cno mas malambing ate doings? ikaw or si kuya yong?? cno naman spoiler?? 🙂
[Kingkong8] Patay! lagut! 5 hours na!!! pag nawala ako ibig sabihin naubusan na ng load 'tong internet card ko ah…
[page] shocks
[DonnaCruz] hehe ganun namana palagi di ba? hindi patalo pero ako kasi marunong ako lumaban sa tingin ko tama so nauuwi siya magsososrry hehe
[oly] awwww
[page] submissive ka diba
[DonnaCruz] ako malambing super
[Kingkong8] PERO AS MUCH AS POSSIBLE, Gus2 ko stay!!!!
* Disconnected
Session Close: Mon Mar 22 02:22:19 2004
Session Start: Mon Mar 22 02:26:14 2004
Session Ident: #doingschat
* Now talking in #doingschat
* Topic is 'Anything Goes!'
* Set by inday on Mon Mar 22 01:46:11
[DonnaCruz] oops teka gawa ko lang dede si belle
* ChanServ sets mode: +o inday
[tsinelas`] nag bobottle pa si belle??
[Angelic_BrownEyes] katabi ba nila sina belle
[tsinelas`] 5 yrs old na si belle dbA?
[tsinelas`] webe ate inday
[inday] ty
* inday is now known as inday_BRB
[page] di daw makatulog si belle pg di katabi c donna
[Angelic_BrownEyes] cute
[Angelic_BrownEyes] mommy na mommy
[trishia] doings! ang figure ni belle
[Kingkong8] Ano pa ba pwedeng pag-usapan!?
[Kingkong8] MAY FRIENDster kayO!?
[tsinelas`] meron ako
[Angelic_BrownEyes] yah add nyo ako
[Kingkong8] Ano name nyo!?
[tsinelas`] ano daliii
[Angelic_BrownEyes] Debbie Magno
[oly] that wa sfast
[tsinelas`] Anne Solon
[Kingkong8] i'm chinits..
[tsinelas`] add mo ako
[Kingkong8] Sige mamaya.. o bukas.. basta add kita!
[tsinelas`] ate doings: bottle pa din si belle?
[Kingkong8] add ko kayo! sana may smiley na mukha… 🙂
[Kingkong8] uy meron!
[Angelic_BrownEyes] katabi nyo pala sila ma2log
[tsinelas`] ay chin.. ano addy mo sa friendster?
[Kingkong8] hehe clap clap clap!
[Kingkong8] chinits ang user name ko.:)
[tsinelas`] @ ano??
[Angelic_BrownEyes] ano last name chin?
[Kingkong8] chincastillo7@yahoo.com
[page] uy add nyo din me
[Angelic_BrownEyes] sayang di ko nakita belle and cian?
[Angelic_BrownEyes] nasa cam ba sila kanina?
[tsinelas`] si belle at kuya yong lang..hehee
[Angelic_BrownEyes] ic
[DonnaCruz] teka kuha ako pix ni cian
[Angelic_BrownEyes] ate doings alam ba nila na artista mom nila?
[tsinelas`] ok
[page] co mas kamukah ni belle and cian?????
[tsinelas`] si cian mas kamukha ni yong..si belle kay ate doings.. dba??
[page] girl scout ha
[Angelic_BrownEyes] yah
[Kingkong8] kamukha po ni cian si Dr.Yong..:)
* Disconnected Session Start: Mon Mar 22 02:32:39 2004 Session Ident: #doingschat
* Now talking in #doingschat
* Topic is 'Anything Goes!'
* Set by inday on Mon Mar 22 01:46:11
* ChanServ sets mode: +o inday
[tsinelas`] webbee ate inday
[page] c cian kamiukha ko joke
[Angelic_BrownEyes] 00lolz
[tsinelas`] lol
[DonnaCruz] ito tignan niyo kamukha talaga ni yong
[trishia] che, disco princess ka, si doings disco queen
* inday_BRB has quit IRC (Ping timeout)
[tsinelas`] ay oo nga..
[inday] hehe matanda na ako para maging princess
[tsinelas`] parang baby yong
[oly] CUTE
[Angelic_BrownEyes] 00may dimples ba sha?
[tsinelas`] lol
[trishia] lola princess
[trishia] hehehe
[page] meron
[DonnaCruz] 13oo pareho din ni belle
[Angelic_BrownEyes] 00kasi may dimples pareho parents eh
[Angelic_BrownEyes] 00kakainggit
[inday] gotta go guys…!
[inday] thanks for chatting with us
[Kingkong8] why????
[inday] ako lang magooffline, i dont know how long doings will stay…. 5am yata
[Angelic_BrownEyes] y?
[Kingkong8] i mean..gulp!
[tsinelas`] 2log ka na ate inday? aga pa ah..
[Angelic_BrownEyes] akala ko hanggang bukas tau
[tsinelas`] este umaaga na pla dyan..ehhehe
[Angelic_BrownEyes] 00matira matibay
[DonnaCruz] che thanks uli ha?:)
[DonnaCruz] super
[oly] sorry ate doings
[Angelic_BrownEyes] 00ah ok
[Kingkong8] inabot na tayo ng bukas browneyes.
[tsinelas`] dcge matira matibay..ehehehhe
[inday] no prob, thanks din sa inyo!
[Angelic_BrownEyes] thanks ate che!
[oly] i keep losing connection with th ewebcam
[Angelic_BrownEyes] lolz
[Kingkong8] thanks ate inday!
[inday] til next time… paminsan minsan log kayo sa chatroom
[page] tnx
[Kingkong8] opo..
[DonnaCruz] k alng oly
[DonnaCruz] 🙂
[Angelic_BrownEyes] i post nyo sa friendster
[tsinelas`] ate doings: wut tym ka sleep??
[Angelic_BrownEyes] pag may chat
[oly] cool
[inday] sige, di ko na malo-log ito after ko magdisconnect
[DonnaCruz] thanks webmaster 🙂 idol 🙂
[inday] sira 🙂 ikaw ang ultimate IDOL
[Kingkong8] is diz d end of the chat?
[inday] "kapag tumibok,…"
[inday] babay everybody, stay good…! be good to donna. 🙂
[oly] awwww
[inday] no donna will stay a bit longer
[tsinelas`] hehhehhe..nite morning ate inday..sleep well
[oly] bye cheryl thank you =)
[trishia] wala ka ng magagawa kundi sundin ito!
[inday] oks babay thanks sa inyo
[Kingkong8] we're good.
[page] ang puso???????????????
[Kingkong8] Thanks ate inday!
* Disconnected
Session Close: Mon Mar 22 02:36:24 2004
***END OF CHAT***